Valentine's day is quickly approaching, and you're going to want some albums to put you and your lover in a state of romance after exchanging balloons, stuffed animals, and whatever other store-bought shit you've decided to waste the majority of your paycheck on. Oh yeah, and let's not forget about pigging out on the overpriced waxy chocolate in the heart-shaped box. After the two of you are thoroughly bloated, you'll feel the sexual vibes in the air. Light some candles, and put on one of these albums to increase the passion between the both of you on this very special day...
Fonzie Favorites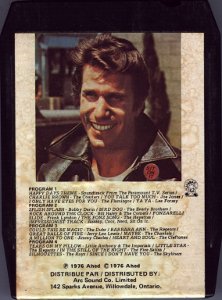 Nothing gets a woman's juices flowing faster than the coolness of The Fonz. The Impressionist Track will make her wet for any nerd, The Fonz Song will inspire her to grab your cock and sit on it, and you'll slide your salami inside and out of her while listening to The Fonzarelli Slide. If you bought the LP version of this album, there's a cut-out at the back so you can stand the album up on your night stand like a picture, and she can look deep into Fonzie's eyes as you fuck her doggystyle.
Pump along to:
Impressionist Track
The Fonz Song
The Fonzarelli Slide
Medical and Social Aspects of Venereal Disease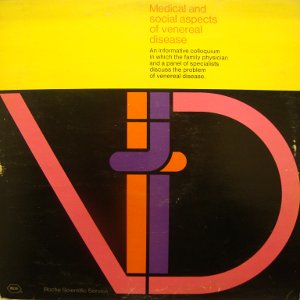 Pour your lover a nice glass of wine and surprise her with this romantic album. Put your arms around her, look into her eyes, and kiss her passionately as you listen to a panel of specialists discuss the romantic notions of foaminating urethral discharge. The both of you will be filled with ecstacy while this panel of love specialists use their low, seductive voices to discuss the treatment of Gonnorhea.
Turn yourself on to the entire album!
Teo Mance - Romance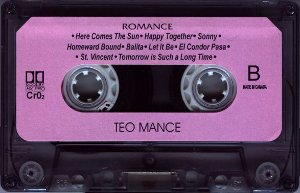 Teo is becoming a fixture here on Classical Gas Emissions, and this time around he brings us some absolutely mesmerizing music for lovers. Your partner will have immensely pleasurable orgasms as you fist fuck her to Teo's gorgeous rendition of "Happy Together". Teo Mance has put great effort into this album, and any woman will remain with you for all eternity after hearing the heart-stopping acoustic renditions of these romantic favorites.
...unless she sobers up.
Get all hot and bothered listening to "Happy Together"
I sincerely hope that I helped you and your lover cover each other in body fluids and filled you with hot passion. Feel free to use any of the above albums for your wedding reception!