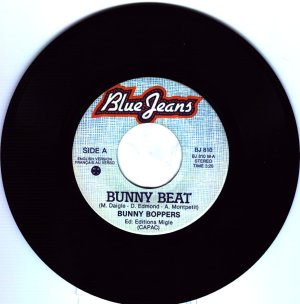 After about 25 years of searching, I've finally secured my second copy of this 45. I got my first copy at the neighbor's garage sale, probably for a quarter way back in 1983 (or so). It eventually got destroyed by a care-free childhood. I have no clue what happened to it. I picked up this copy at a record sale for a buck (goddam inflation!). I generally don't have any use for 45s, but after digging through a bunch of useless and common LPs, I said to myself, "I'll see if they got it, you never know." And there it was!
Like many records in my day, this one sounded better on the wrong speed. Played at 33 1/3 RPM, this thing sounds like the gloppy goo that came out of the 90s. But at 45 RPM, it's a new wave treat!
I believe this is the ONLY thing that the Bunny Boppers ever put out. In fact, I'm pretty sure this is a child's record. My guess is it came with a toy of some sort, as there's a french version on the flipside (which also makes it Canadian.) The cassettes that came with Barbie Dolls usually had the same type of format: English side one, French side two. If anyone knows anything about the history of this 45, please share!
Now, I'll leave you to enjoy this funky piece of happiness:
Bunny Beat in English
Bunny Beat in French