So here's a little update with what's been going on. I have a few things to wrap up with all the problems that have been happening in my personal life (and I had another major new one pop up) but regular blog postings are going to be returning to your lives! Unfortunately, there's no money for Christmas this year, so I've been trying to figure out how to put peace, love, health, goodwill, and Christmas Cheer under the tree, let alone figure out how to wrap the fucking things.
Regardless, I'm back to posting and your perfect lives are once again going to be tarnished with horrible singers, bad music, and dreadful youtube videos that nobody should be watching.
But for this post, I'm bringing you an absolutely adorable recording.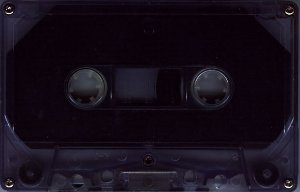 I can't remember where I found this tape, but if I ever find out who threw it away, I'm going to personally kick their ass because this recording should have been cherished. It's a recording of a father singing Christmas carols with his two kids. It's a nice break from the garbage I usually post.
Listen here