You know my 'in queue' boxes are quite full when I can pair up tribute albums of Neil Diamond. Let's face it, Neil isn't exactly the first artist you'd expect to find a crappy tribute album of. The first one is actually Elvis.
I really do like Neil Diamond... Well, at least his very early stuff. After he released Sweet Caroline, he became more of an adult contemporary artist as opposed to the rockin' 60 pop guy he started off as. He had some extremely stale albums in the 1990s. If you're gonna get into Neil Diamond, stay away from that era.
The Heartlite Band - Music of Neil Diamond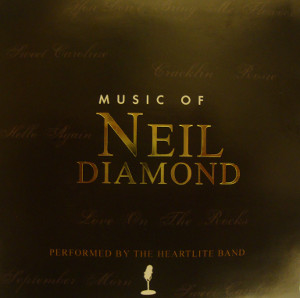 The first one on the list was purchased at Dollarama. Every once in a while, you can find a pretty cool album there. This isn't one of them. There's a lot of focus on Neil's shitty output such as "You Don't Bring Me Flowers" and "Love on the Rocks". The only real good thing about this CD is the cover which has Neil's name in that gold foil stuff that doesn't show up when you scan it. Hence the crappy photograph I took.
The guy singing on Cracklin' Rosie sounds like he's having trouble hitting those low notes, and the producer put absolutely no effects on his voice. And what kind of ending is that? It sounds like the band said "Fuck this shit, it's good enough."
Listen to Cracklin' Rosie
Avenue Recordings - A Tribute to Neil Diamond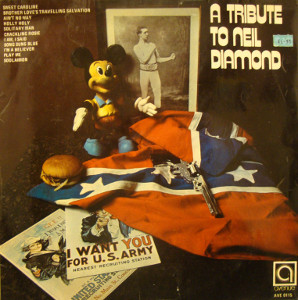 When I think of Neil Diamond, I think of guns, the US Army, cheeseburgers, and Mickey Mouse. These guys made the PERFECT album cover to represent the songs on this record. Well... maybe just the Mickey Mouse.
This is another appearance from my buddies at Avenue of America (in this case, it's just "Avenue Recordings" since this record came from England). I've reviewed a bunch of their shitty 8-tracks in the past. Up until this moment in time, I thought they were an 8-track only company. After all, any idiot with an 8-track recorder could release their garage band's piece of crap cover album. Perhaps AOA saved up enough cash from 8-track sales to press a record. Due to the credits on the label, we can point our Neil-Diamond-inspired guns at one person named Alan Caddy, who arranged, conducted, and produced this album. I'm surprised he didn't give himself writing credits, although he claims copyright on the back of the album. Copy Right? More like Copy Wrong.
While Alan was in his drunken stupor creating the album cover, he forgot to list the first song on the album. Fucking dumbass.
Anyway, I've brought you two Mickey Mouse recordings from this English record without British accents... The apparent bonus track "Shilo", and the atrocious "Solitary Man" which sounds NOTHING like what it should when it starts, and due to the incorrect lyrics, makes the singer have a threesome with at least one other man.
Listen to Shilo
Listen to Solitary Man
As a side note, the Neil Diamond CD came shrink wrapped with a Bee Gees tribute album. I haven't listened to it yet because I don't like the Bee Gees at the best of times.