I was out and about browsing for new music the other day. Of course, I found some. I can always find new music if I make an honest effort. I went to Cash Converters (a really neat + tidy pawn shop) where I bought 4 CDs and got the 5th one free. I went around the store to see if I could find anything interesting or unique. I came across something that I never though I would find in Canada. It's a Muntz 4-Track Player. Now, if you know nothing about these units, they pre-date the 8-track tape. If you know nothing about 8-track tapes, they pre-date MP3s. Nuff said.
I was surprised that this unit (likely made in the 1960s) was in such nice shape. It's covered in what looks to be chrome, and it was only ten bucks! This is a unit that mounts under your dash board. Even the mounting bracket is chrome! Needless to say, I bought it.
Now, as with most things I buy used, it comes with its own share of problems. First of all, it doesn't have a connector plug with cables so I can hook the speakers and power up. Second, I don't own any 4-track tapes. Well, I did once when I was 7 years old. But back then, I didn't know what the heck it was. It didn't sit in the 8-track player right, and it didn't play. So, I promptly destroyed it.
Other than that one time, I have never seen any other 4-track tapes. Since I need a tape to test how well this unit works, I decided to make one out of an 8-track tape. I have enough shitty tapes laying around, so I plucked one of my favorites:
I'm a huge fan of Roger Whittaker, and I have great respect for his work. Unfortunately, the track arrangement on 4-tracks is different than 8-tracks. I won't get into too many technical details, but I needed to record music on programs 1 and 3, while erasing programs 2 and 4. This should essentially give me a somewhat decent tape that will play on the 4-track player.
Now, since I couldn't keep Roger's wonderful lullabys for testing purposes, I decided to record another one of my favorite bands over top:
I took the time to record four Judas Priest songs: Screaming for Vengeance, You've Got Another Thing Coming, Desert Plains, and Living After Midnight.
After recording the tape, I had to give Roger's album a new title: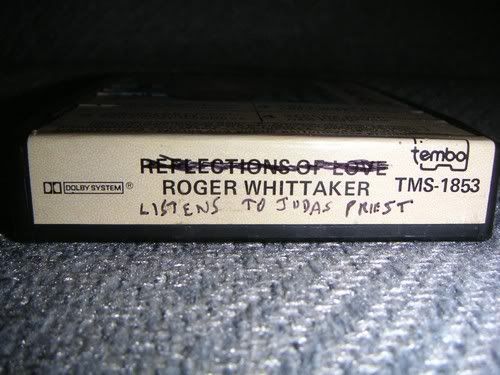 Now, to get a bit on the technical side, a 4 track player has its pinch roller built into the machine which pops up at the moving of a lever, and pushes the tape against the capstan in order to move the tape. An 8-track has the pinch roller built into the cartridge itself, so you just pop the tape in and do nothing. For this 8-track to work in a 4-track player, I removed the pinch roller and used my trusty dremel tool to cut a hole in the bottom of the cartridge.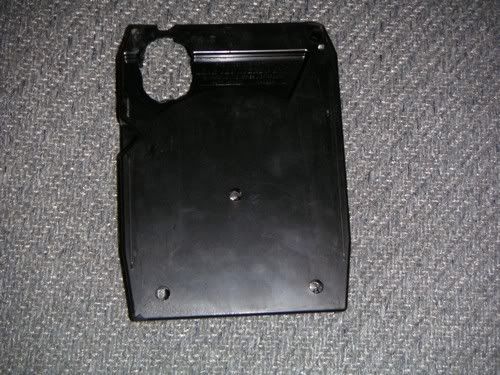 I buggered this one up once by removing the post to hold the tape in place, so I had to destroy another 8-track: "Dick Nolan sings Folsom Prison Blues and other Johnny Cash Songs".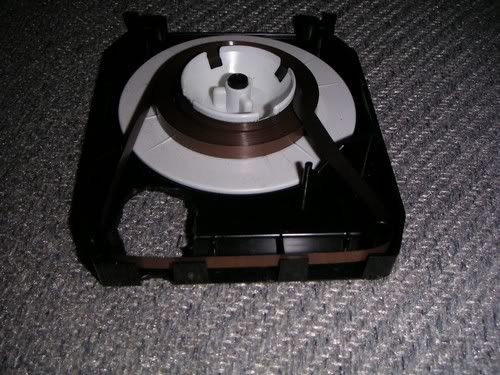 Just as a side note, I chose a black cartridge because the black plastic seems to hold up much better than other colors (ie yellow).
After putting my new 4-track Roger Whittaker album together, I tried it out in the 4-track machine. It stays nicely in place, and the pinch roller engages flawlessly.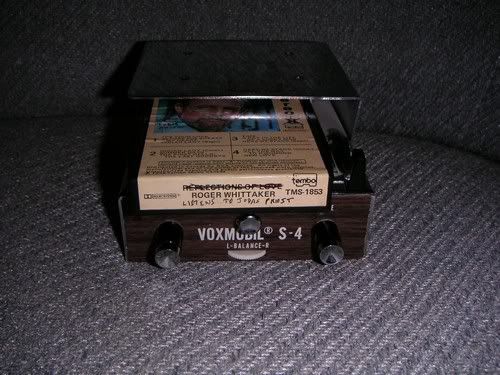 Stay tuned for Part 2 when I actually do some work on the machine.