I've spent days torturing myself with bad cover songs and dirt-quality vinyl records to bring you this discography.
The House of Random was a Winnipeg cover band (likely consisting of a constantly changing line-up). Their albums were recorded mainly by a group called "The Eternals" who founded Century 21 Studios. To the recording studio's credit, they produced some of the most kick-ass Canadian bands from the 70s and 80s. Century 21 went tits up in 1998 (The band AC/DC bought the bulk of the recording equipment for their own studio, so I guess that says something.)
Surprisingly, there's a
discography at rateyourmusic.com
. Here's a screenshot I took of it which ironically displayed an ad for Gravol because they know these albums will make you puke: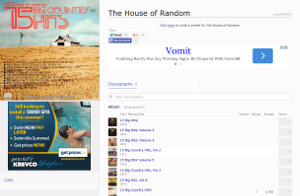 Here's a bit of history on the whole thing if you care.
Then there's the history according to the back of 15 Big Hits Vol.3: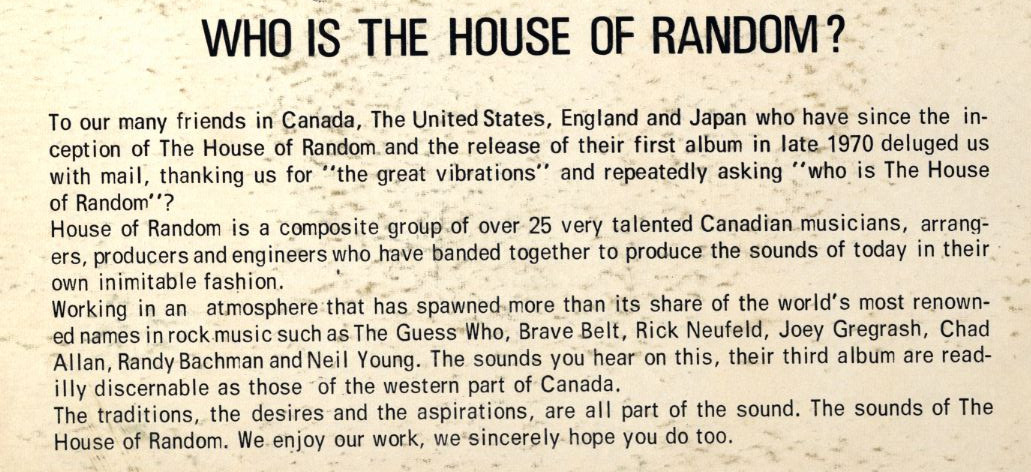 The backs of the record albums are pretty damn interesting. On the back of "15 Big Country Hits Vol.1" they gloat about how awesome they are for tricking people into buying their knock-off albums; so much that they apparently had three gold records.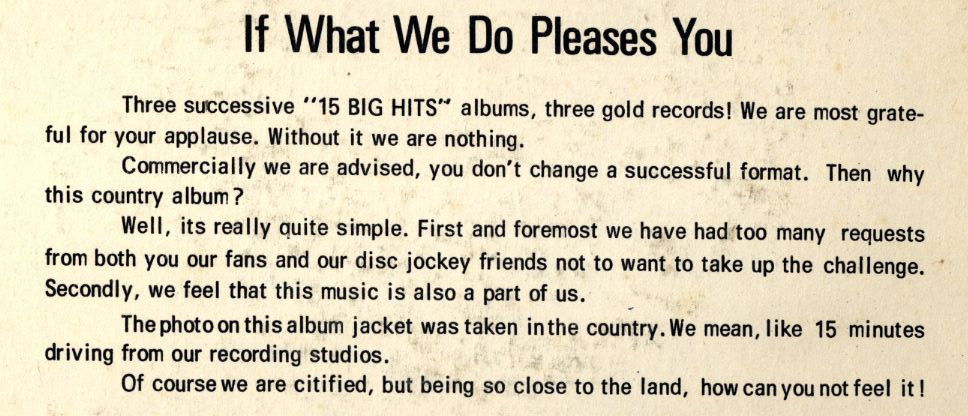 Somewhere down the line, The H.O.R. albums went from being produced by CHIMO Records to CSP Productions (or is it the other way around?) but kept the same logo. It appears that RCA had a bit of a hand in the production of these albums.
The quality of the vinyl used for these albums is atrocious. I'd play one song, laugh at how bad it is, go to play it again for transferring, and it skips like I wrote "Fuck Winnipeg" on it with a piece of broken glass. After dealing with three of these records that either skip or sound like the groove walls are crumbling, I've come to the conclusion that the 8-track tapes are the definitive format to collect sound samples from. On the plus side, since the 8-tracks were distributed by RCA, the cartridge itself is the same quality as you'd find with any other RCA release; The splice is intact, the pressure pads are the spring & felt type, and there's a big fucking rivet holding the cartridge together, requiring you to use explosives to open it should you need to do some repair work. However, the labels were glued to the cartridges with nothing but hopes and dreams, which I'm finding is not very adhesive.
So I've decided to dedicate this entry to the entire discography of The House of Random, and random it is! You never know how shitty they're going to sound! I've touched on them in an earlier entry, but as time wears on and money exits my pockets, I find myself more interested in doing entire discographies on these pieces of crap that I find. The House of Random put out a lot of albums, and I keep finding myself frustrated with not knowing if I own the ones I encounter (I'm starting to find duplicates in my blog queue boxes). I'm currently missing four albums (as far as I know): 15 Big Hits Vol.2, 15 Big Country Hits Vol.2, 15 Big Country Hits Vol.4 and The Best of The Carpenters. They will be added once I find them. I'll also be replacing the shitty vinyl copies when I find the corresponding 8-tracks since they sound and play better.
So won't you join me in reviewing each album and hearing the butchered tracks? Yes? Well then, you shall hate yourself by the end of it...
15 Big Hits Series: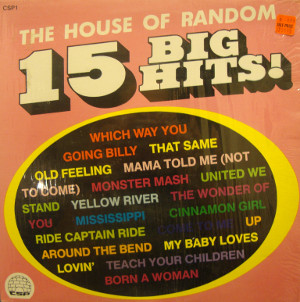 Vol. 1
(CSP1)
download link
01 - Up Around The Bend
02 - Which Way You Goin' Billy
03 - My Baby Loves Lovin'
04 - Yellow River
05 - United We Stand
06 - Ride Captain Ride
07 -
The Wonder Of You
08 -
Mama Told Me (Not To Come)
09 - Teach Your Children
10 - That Same Old Feelin'
11 - Mississippi
12 - Come To Me
13 - Born A Woman
14 - Cinnamon Girl
15 -
Monster Mash
The album cover was done by Brigdens of Winnipeg, the same guys who made the Eatons Catalog!
It isn't enough that The House of Random is from Winnipeg, but they have to ruin another Winnipegger's music. Poor, poor Neil Young. Also, if you don't want any kids banging on your door this Halloween, playing this version of Monster Mash will surely have them running home to mommy.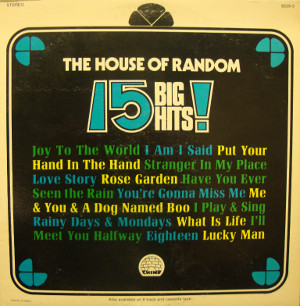 Vol. 3
(9229-3) (8-TRACK)
download link
01 -
I Am .... I Said
02 - Joy To The World
03 - Rainy Days and Mondays
04 - Me and You and a Dog Named Boo
05 - Put Your Hand In The Hand
06 -
Lucky Man
07 -
Eighteen
08 - I'll Meet You Halfway
09 - Stranger In My Place
10 - I Play and Sing
11 - Have You Ever Seen The Rain
12 - You're Gonna' Miss Me
13 - Theme from "Love Story"
14 - What Is Life
15 - Rose Garden
Lucky Man doesn't fade out and that keyboard solo is more annoying than the one in the original. The Alice Cooper song was recorded after a few drinks were had. The album cover was done by Avant Design (they still exist!)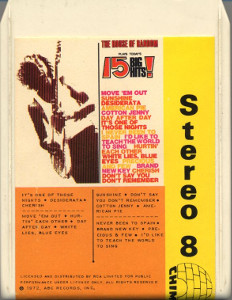 Vol. 4
(8229-5) (8-TRACK)
download link
01 - Move Em' Out
02 - Hurtin' Each Other
03 - Never Been To Spain
04 - It's One Of Those Night
05 -
Brand New Key
06 - Precious And Few
07 - Desiderata
08 - Sunshine
09 - Don't Say You Don't Remember
10 - Day After Day
11 - Cotton Jenny
12 -
American Pie
13 - Cherish
14 - I'd Like To Teach The World To Sing
15 - White Lies, Blue Eyes
You've got a brand new pair of rollerskates, I've got a brand new 8-track by House of Random. I think you got the better deal. This version of American Pie is a tolerable 3:21 (including the dead space between songs)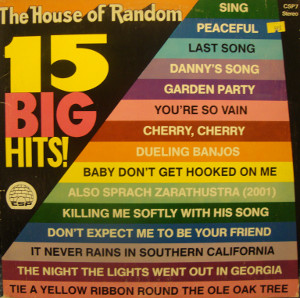 Vol. 5
(CSP7)
download link
01 - Killing Me softly With His Song
02 - Cherry, Cherry
03 - Sing
04 - Tie A Yellow Ribbon Round The Ole Oak Tree
05 - The Night The Lights Went Out In Georgia
06 - Garden Party
07 - You're So Vain
08 - Also Sprach Zarathustra (2001)
09 - Danny's Song
10 - It Never Rains In Southern California
11 - Peaceful
12 - Don't Expect Me To Be Your Friend
13 -
Last Song
14 - Baby Don't Get Hooked On Me
15 - Dueling Banjos
Cover was done by Brigdens of Winnipeg. Such talented people! And yes, they did Dueling Fucking Banjos. That was the last song they didn't write for you. That horn player sounds like he's overdosed on Nyquil.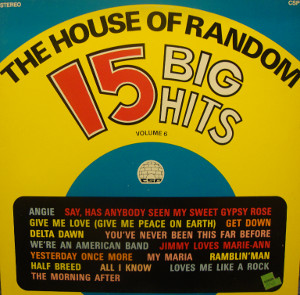 Vol. 6
(CSP9)
download link
01 - We're An American Band
02 - Give Me Love (Give Me Peace On Earth)
03 - All I Know
04 - Get Down
05 - Say, Has Anybody Seen My Sweet Gypsy Rose
06 -
Angie
07 - Delta Dawn
08 - Half Breed
09 - Loves Me Like a Rock
10 - The Morning After
11 - Ramblin' Man
12 - My Maria
13 - Yesterday Once More
14 - Jimmy Loves Mary-Ann
15 - You've Never Been This Far Before
Keep those album covers coming, Brigdens!
Angie is a sad shell of what she used to sound like. Here's a riddle... How many people does it take to make an extremely shitty cheap imitation album? The answer is 21. How do I know this? Because all everyone got credit on the back of the album:

15 Big Country Hits Series: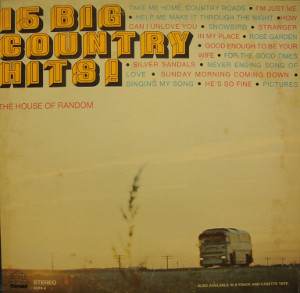 Vol. 1
(9229-4)
download link
01 - How Can I Unlove You
02 -
Take Me Home Country Roads
(skips)
03 - For The Good Times
04 - He's So Fine
05 - Snowbird
06 - Never Ending Song of Love
07 - Rose Garden (skips)
08 - Help Me Make It Through The Night (skips)
09 - I'm Just Me
10 - Pictures
11 - Singing My Song
12 - Sunday Morning Coming Down
13 - Good Enough To Be Your Wife
14 - Stranger In My Place
15 - Silver Sandals
The Vocal Delivery on Take Me Home Country Roads is actually nicely done. Too bad it skips like a dog with three legs. The artwork was done by DISPLAY PHOTO. Where was it on display?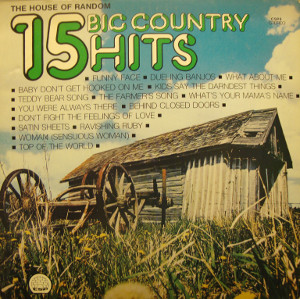 Vol. 3
(CSP8)
download link
01 - Top Of The World
02 - don't Fight The Feelings Of Love
03 - Satin Sheets
04 - Ravishing Ruby
05 - Funny Face
06 - Woman (Sensuous Woman)
07 - Kids Say The Darndest Things
08 - Dueling Banjos
09 - You Were Always There
10 -
The Farmer's Song
(skips)
11 - What About Me (skips)
12 - Behind Closed Doors
13 - What's Your Mama's Name
14 - Baby Don't Get Hooked On Me (skips)
15 - Teddy Bear Song
Artwork done by "The Awarehouse". We actually have lots of dilapidated farms like that in Manitoba. Vinyl quality is the absolute shits here. I tried cleaning this record, and I cleaned some of the grooves off it. The songs skipped worse afterwards. I've never seen vinyl disintegrate like that before. Farmer's Song is worth listening to regardless of whether you know it and whether or not it's the original. And yes, you get to hear Dueling Banjos again.
Artist Series: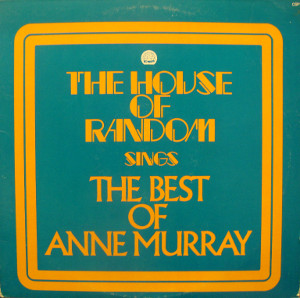 The House of Random Sings The Best of Anne Murray
(CSP11)
download link
01 - Snowbird
02 -
Danny's Song
03 - Cotton Jenny
04 - What About Me
05 - Stranger In My Place
06 -
Put Your Hand In The Hand
07 - Love Song
08 - It Takes Time
09 - Sing High, Sing Low
10 - Fire And Rain
11 - Talk It Over In The Morning
12 - Robbie's Song For Jesus
Yes! You get to hear Snowbird, Cotton Jenny, and Danny's Song all over again! However, the mixes on here seem to be the original ones, as they sound more raw than the ones on the 15 Big Balls series. The artwork was done by The Awarehouse, and you can see how much effort they put into it (about 20 minutes). The quality of the vinyl's a bit better here, but the performances are not. Their rendition of "Put Your Hand In The Hand" hits a few wrong chords.
You'd think that H.O.R. would leave it up to the Arc label to do an entire Anne Murray tribute album. Well guess what? Arc never covered a single Anne Murray song, and here's why: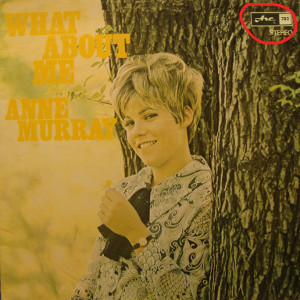 They fucking HAD Anne Murray!
If you put out enough albums by people nobody knows, you'll eventually hit a good one. Not only was Anne Murray cute back then, but the album's pretty good too! When she signed with Capitol, she turned into the sensible, well-dressed, boring crooner we've all come to ignore.
And that's it for this discography. I've got others I want to cover, but these take a while to put up. Perhaps I'll do a video for my next entry. Everybody loves movie time!