Halloween is upon us, and I actually have some content this year. I think I could classify this as more revolting than scary, but I'll let you be the judge of that one. Let's get to it...
Drew's Famous - Kids Halloween Sing-a-long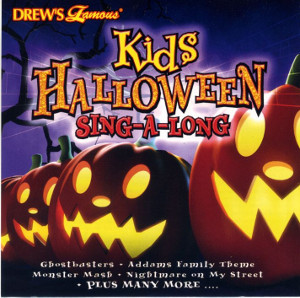 I covered this last year on the Junq Tour, except with a different cover. This is how we fund Drew's drinking habit.
Drew's Famous - Kids Pop Halloween Songs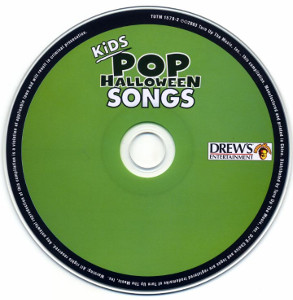 Should have been called "Kids Poop Halloween Songs". This CD came in the wrong case, although it's another Drew's Lamous album so it doesn't really fucking matter. We have some more kids singing on this one. Just like the previous one, there are absolutely no effects on the kid's voices. Apparently the only thing Drew was mixing that day was screwdrivers.
There are some repeats on this one (like the Addams Family theme), but we have some new garbage as well. Michael Jackson heavily rotates in his grave every time this copy of Thriller is played. You can tell that this was an older recording with the children's singing sloppily mixed over top. The Mini Pops are more professionally recorded than this shit.
You also get the already terrible song Elvira, made even more terrible with the singing kids.
"Remember kids, Crown Royal over crowning achievement!" - Drew
Listen to Walk Like an Egyptian
Drew's Famous - Sounds of Fear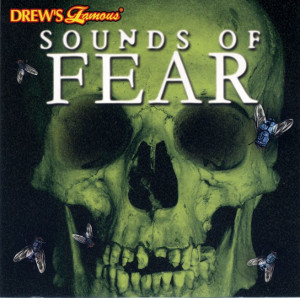 Bad sound effects. I mean these are REALLY bad. You can get a 3 CD collection of stuff pulled off old records that is more realistic and usable over this garbage. What an absolute fucking waste of money. The purchase of this CD buys Drew another bottle of scotch.
Wicked Ax: Someone changing channels on an old TV.
Run: Someone breathing into a microphone cupped in their hand. I made that sound effect when I was a kid.
Let It Burn: Motorcycle
The Black Cat: Someone fucking around on a synthesizer with the treble turned down
Bone Appetite: Same as Black Cat
Monster Walks: Same as Black Cat
Out of Time: Same as Black Cat
Horror Sounds of the Night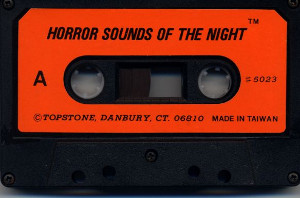 I'm pretty sure this is one of those cassettes you used to be able to get at the dollar store. They came in a bubble with a carboard backing and no case. To make it even more cheap, they just used an old Lloyds record and cassette combo stereo and recorded sound effects from a couple of scratchy old sound effects records from the 1950s. It doesn't get any more low budget than this. On the plus side, the sound effects are much more high quality than that Drew's Lamous shit.
I've decided to not include the whole thing, but I'm going to share a snippet of it. The sound effect of the woman screaming sounds like she's being raped. The sound effect of the cats meowing sound like a woman being raped while making cat noises. I genuinely find it disturbing listening to this stuff.
Listen to Horror Sounds of the Night
Well, that wraps up another Halloween being ruined. Stay tuned for the continuation of the Junq Tour!