It's time to re-visit some really bad Elvis tributes! I've done some of these before (here and here), but I've accumulated a few more to tackle, and this is probably the worst batch so far. So let's get to it!
The Kool Kats - Music of Elvis Presley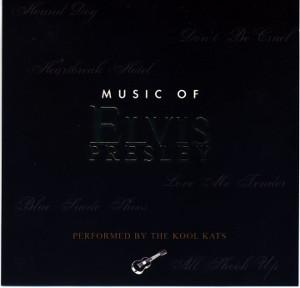 Well, the cover has some shiny embossed gold lettering on the cover which is nice, but it doesn't scan well. Honestly, this CD is the best one of the lot. The covers are actually quite faithful to the originals, but you can tell this isn't Elvis. They were kind enough to make "Performed by The Kool Kats" in small dark text to fool all the baby boomers into buying this. How nice of them to rip off people on a fixed income.
Big Ross & The Memphis Sound - Elvis Presley's Golden Hits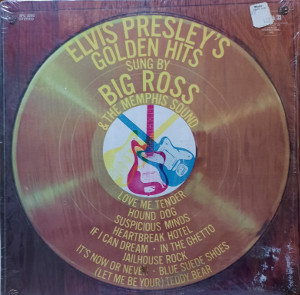 Pickwick was kind enough to boldly state that Big Ross is the one singing on this album, but somebody obviously saw the name "Elvis" on this record at Woolco and wasted their $1.77 on it. Pickwick did a really excellent job mixing in a low buzzing noise throughout the whole recording.
The song "Suspicious Minds" is absolutely flat and lifeless, and the back up singer (yes, there's only one) sounds like she's bored out of her skull. On the plus side, they actually did the false ending on it. Most Elvis tribute albums don't bother with it because they already have the shopper by the balls with the word "Elvis" on the cover. "It's Now or Never" keeps the lifeless trend going, but Big Ross tries to make it fancy by doing his over-the-top vocal performance. All the other songs are pretty mediocre.
Jesup Singers - Heartbreak Hotel, Don't Be Cruel, and others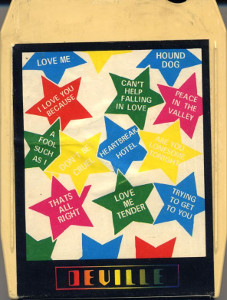 We know who this is just by the extremely loud cover art.. It's our friends at Fantastic F / Deville / Thunderbird Productions! Why did this company need so many different names? What are they trying to hide? Drugs? Deep fried peanut butter & banana sandwiches? 8-tracks that kill people during the first play? Who knows!
These covers are pretty bad, but we've come to expect that from Fantastic F. The guy talking through "Are You Lonesome Tonight" sounds like he's reading out a list of camping supplies that he can't use because of the pandemic. When he's singing "Hound Dog", he sounds like he's got a really bad chest infection. The guy on the guitar thinks he's Jimi fucking Hendrix. After the singer downs a bottle of Tequila, he slobbers his way through the song "Love Me". What glorious talent!
Listen to Are You Lonesome Tonight
Elvis Wade - It's Been 10 Years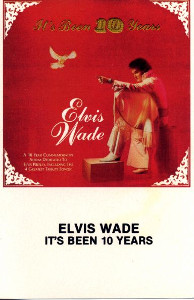 So what's even better than a bunch of shitty Elvis covers? How about a bunch of shitty original songs about Elvis sung by a guy trying to sound like Elvis? The original songs occupy about half of the album with the other half being mediocre covers. My copy is autographed by the fake King himself. Each of the original songs are about how dead Elvis is, and make this album a truly miserable listening experience. One of the songs (The King is Gone) was written by another Elvis Impersonator named Ronnie McDowell who I covered in one of my previous entries. There seriously needs to be an intervention to stop Elvis impersonators from writing songs.
Wanna know something crazy about this guy? He's married to Sandy Posey! Honestly, I'd rather listen to her music instead of this piece of junk.
Listen to What's Gonna Happen To Your Memory
Listen to Memories of the King
Various Artists - Tribute to Elvis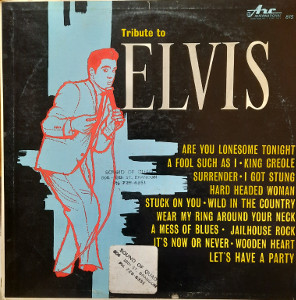 There's a lot of people in the record collecting community who scoff at Pickwick's albums. Little do they know that Pickwick was simply distributed much better than the grotesque steaming shit that came from Canada's Arc Records. Personally, I found the Pickwick Elvis album to be of better quality than this one. This disaster was distributed by Arc International and apparently made it's way into my hands from England. I feel like I must apologize to all the Brits out there on behalf of Arc Records for stinking up their country.
The most unique thing about this record is that it contains Elvis songs that aren't generally found on other Elvis tribute albums. Some of the odd choices are "Wild in the Country", "Wooden Heart", "A Mess of Blues", "King Creole", and "Let's Have a Party". Not only that, all the artists are actually credited on this album. Although it's a sign of decency, it's not a sign of quality.
The covers are fucking terrible. The performances are fucking terrible. The quality of the vinyl is fucking terrible. I've had bad luck trying to clean records from Arc because the vinyl usually degrades with every cleaning. I wouldn't be surprised if they chopped up previous performers who didn't sell enough records and threw the body parts into the vat of molten vinyl to help keep the costs down. In summary, I transferred a fairly dirty and noisy LP.
The singer of "Hard Headed Woman" decided to sing "Ah-heh-heh" instead of "Uh-huh-huh", making it sound like he's giggling from someone tickling his balls with a feather. "I Got Stung" sounds nothing like the original. "It's Now or Never" has become a really bad spanish song with a shitty Engelbert Humperdinck impersonator singing it. "Jailhouse Rock" is sung by a guy with a bad case of rabies. I wouldn't be surprised if he ate the band after the performance, which may actually be a good thing.
Wow, that was really bad. Perhaps we should take a break from the knock-off artists and review some genuine ones. Could it really happen??? We shall see...