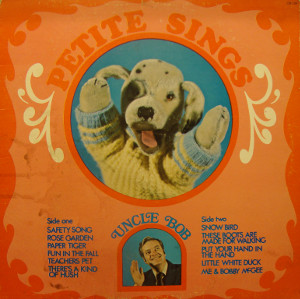 I've been looking for another (playable) copy of this album for YEARS. I owned it when I was a child. This is the fourth album I own by Uncle Bob, Archie Wood and company. The others are
Doggie In The Window
,
Funtown
, and the
Christmas album
. Uncle Bob and his array of puppets had a live children's TV show here in Winnipeg. I watched the tail end of the series in the early 1980s. As a child, I snapped up this album and Funtown at the neighbour's garage sale and played the shit out of them. Over the years, they eventually got pretty beat up and were slated to the garbage after they became unplayable.
As with the Funtown album, the songs sung by Petite are actually the original records played at 45 RPM with dialogue inbetween songs. Marvin Mouse has been put aside for most of this album and he's pretty pissed off about it. However, he gets to sing one song (Little White Duck by Burl Ives) just to cheer him up a bit. Also featured is the spiffy moog version of the TV theme song to open and close the album. This album revisits the song "Put Your Hand in the Hand" but has the Loretta Lynn version as opposed to the version on Funtown which I believe was the Anne Murray version.
I slowed down the recording and tried to identify the artists. It appears that Uncle Bob was pretty crazy about Lynn Anderson and Loretta Lynn this time around. Yee-haw! There were quite a few that I wasn't successful identifying and I don't think we'll ever know who did them unless I get my grubby mitts on Bob Swartz's record collection (which will likely never happen because he's been dead for 20 years).
Side A:
Archie Wood & Friends Theme
The Safety Song - Archie Wood & Friends
Rose Garden - Lynn Anderson
Paper Tiger - Sue Thompson
Fun In Fall - unknown
There's A Kind Of Hush - unknown
Side B:
Snowbird - Lynn Anderson
These Boots Are Made For Walkin' - unknown
Put Your Hand In The Hand - Loretta Lynn
Little White Duck - Burl Ives
Me & Bobby McGee - Loretta Lynn
Listen to Snowbird
Listen to Teacher's Pet
The interesting thing about this album is it was put out by Pickwick whom we all know was another shit label for shit artists. Well, I guess I can thank them for some pretty good childhood memories in this case. There's absolutely no indication what year this album came out, but I'm guessing it was somewhere around 1980.
As far as I know, the only Uncle Bob / Archie Wood album I'm missing is "FUNTOWN: Favourite 20 Selections" which was released on K-Tel records. I've never seen it in person. WFMU posted Archie Wood's rendition of "Snowbird"
here
and Tammy True's version of "All My Loving"
here
.
And just because I'm on a Winnipeg nostalgia kick, here's a flashback from Bundy's Late Night review with an ad promoting a shitty Beavers movie at the Imax theater (which is now gone)
Until next time, always think safety! Here on CGE-TV!