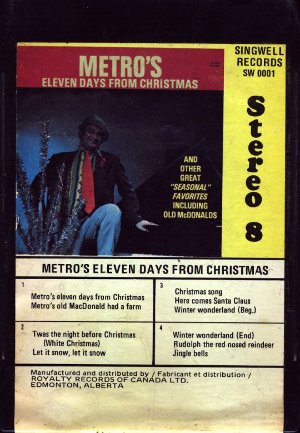 I've been meaning to put this album up ever since I started this blog.
Metro's Eleven Days From Christmas
is a Canadian Christmas album done by a Ukrainian guy who plays the Kazoo. All of these Christmas songs are parodies done with a Ukrainian flavor, and they're pretty funny!
This album has been sadly out-of-print either since it's original release in 1975, or since Singwell Records went belly up. It's a favorite of mine to play during the holiday season, and now it can be yours too!
Listen to Christmas Song
Download The Entire Album!
As an after-thought, I figured it would be a good idea to make a Christmas jukebox for this time of year containing some of the bizarre Christmas songs I own, but I really don't have the time for it before Christmas. Perhaps I'll make this a goal for next year.