Size Small was a children's television show that aired in 1982 in Canada. The show was initially filmed in Winnipeg, Manitoba, starring the entire Lumby family (including the septic guy from the Red Green Show). This show came out at the exact right time for me to enjoy it, and enjoy it I did. I even had the first Size Small album on cassette. Remember when they sold cassettes that were attached to an empty record sleeve? It didn't happen often, but that's how it came when I begged my parents to buy it for me.
As time went on, the show started making some spin-offs including Size Small Country and Size Small Island. I'm not entirely sure why this was necessary and why the show couldn't continue to entertain children in it's original format. Even as a kid, I thought spin-offs were kind of a dumb idea. As I got older, I eventually lost interest and the show eventually ended. One interesting thing to note is each of these albums is labelled "volume one", so I'm guessing there was an intention to release more of these, but I can't confirm anything exists beyond these first volumes.
What I have here are (or were) two still-sealed copies of Size Small albums. As per usual, I have opened them up and made a digital transfer of the first play. I can't tell you how much I love doing this. Children's records generally never survive the hands of children and ultimately get destroyed to the point of being unplayable. I'm hoping that someone out there will appreciate these digital transfers.
Size Small Island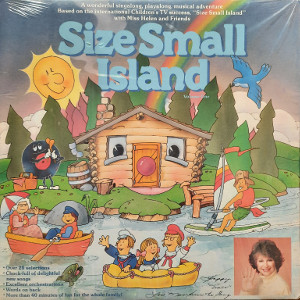 With the exception of the characters and voices, there really isn't much left from the original series. However, this album flows much like an episode of Size Small, but inclues favourite songs from the show such as "The Cooter Tooter Ho Ho Line". I AM NOT KIDDING HERE. "Cooter" is the name of one of the characters (the coyote I believe), and he sings about how much he loves trains. Or it's about an escort service. This song is amazingly followed up by "Five Little Beavers" and "Pussy Willow". Perhaps Miss Helen was a dirty little whore deep down under her modest dress.
Also, there's a really odd splice on the track at the end of side one. You can hear a very audiable speed change. Quality isn't always a priority when it comes to children's albums.
Listen to Cooter Tooter Ho Ho Line
Size Small Christmas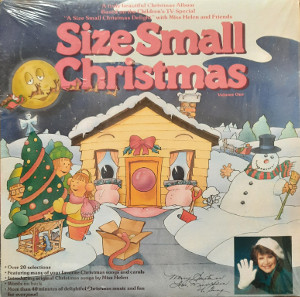 This album doesn't have the same flow (nor is it pressed on the same quality vinyl) as the other one. It's mainly just Christmas songs done in the style of Size Small, and you get all your favourite holiday songs such as "The Cooter Tooter Christmas Ho Ho Line" Yes, this song is so amazing that it deserved a Christmas version. You'll have lots of fun offending your families during Christmas (next year)!
The music on this album is very 1980s Casio-tastic. Surprisingly, Jesus is laced throughout this Christmas album. These days, it seems all the Jesus stuff is left for the Christian artists to enjoy. As a side note, I'm not opposed to having this stuff on a Christmas release. After all, it's a large part of what the holiday stands for. It can't be "Rudolph" and "kissing Santa" stuff all the time.
To end off the Christmas entries for this year, I figured I'd leave you with Miss Helen kissing and blowing into the microphone for all those who have a fetish for middle-aged children's entertainers.
Listen to We Wish You a Merry Christmas
Listen to The Cooter Tooter Christmas Ho Ho Line
I'm quite certain that I have all the other Size Small Albums, and I'll eventually get around to posting them. However, I'm probably out until the new year comes along, although I found something really interesting that I'm dying to post. Hopefully our world will become a little less diseased and criminalized in 2021, but I won't hold my breath. At least we have Miss Helen's socially-distanced kisses to make our lives a little more romantic. See you in 2021!