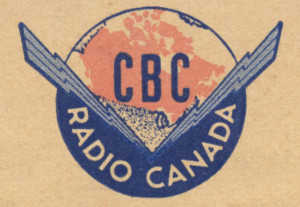 A few weeks ago at Value Village, I found a huge lot of acetates / lacquers / transcript records (whatever you wanna call them) that came from the Canadian Broadcasting Corporation (CBC). The CBC is Canada's national public broadcaster which transmits programs via radio and TV and has separate stations for English and French which are Canada's two official languages. Thankfully, these records are in English.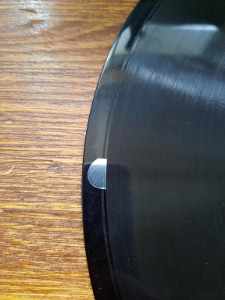 When I found these, there were two records in the lot that were completely unplayable. All the lacquer containing all the grooves had flaked off, leaving nothing but the aluminium core. However, there were still 8 records that looked playable, so I grabbed them. A couple of them are chipping on the edges which leads me to believe that they have a fairly limited life.
I'm an absolute sucker for these discs, probably because I'm likely the only person who owns a copy of whatever's recorded on them. I am unsure if the CBC has copies of these or not. It seems like some CBC employee just took these home and stuffed them in his basement to rot over the last 70 years. All of these records date from 1952. I'm only speculating that the guy who took these got fired for stealing company property.
The logo you see above is quite interesting. The lightning bolts have a silver shine on them which doesn't scan accurately. Some of the records play from the inside outward.
These records were absolutely filthy, so I cleaned them with nothing but distilled water and a record cleaning brush. I figured using any sort of chemicals would likely deteriorate them further. I tried playing them with both a 33 RPM and a 78 RPM stylus. The 33 RPM one sounded better, although I'd probably get better results if it was just a bit thicker. However, I'm not in the market to buy a ton of styli just to transfer 8 records without gaining any kind of profit. You get what you get with these digital transfers.
Anyway, let's begin our audio adventure, going in chronological order. Click on the titles to hear the recordings.
Record 1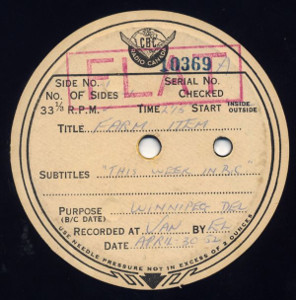 Side 1: This Week in B.C. (April 30, 1952)
Farming and weather coverage for the last week in B.C. This was recorded on an Audiodisc record. I'm very unsure why there's a "FLAT" stamp on the record. Did they test these to make sure they were usable? Did recordable records often show up that weren't flat? Could someone shed some light on this?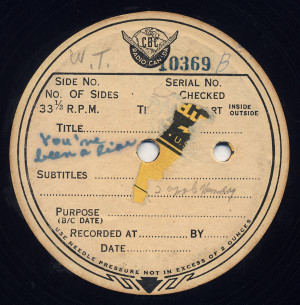 Side 2: You've Been a Liar
Well, this starts off with the William Tell Overture, followed by some jazz shit, and then we get a performance by Fred Astaire & Jane Powell which is probably the most enjoyable part of this side of the record.
Record 2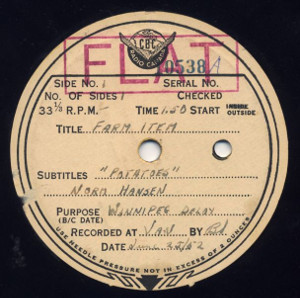 Side 1: Farm Item: Potatoes (June 25, 1952)
If you like potatoes, you'll love this record! It appears that Winnipeg's potato shipment has been delayed. Along with learning about where potatoes go and where they come from, we get to find out how much potatoes cost... 10-11 cents per pound, and $105 per tonne. Why would anybody complain about this???
This was recorded on an Audiodisc record.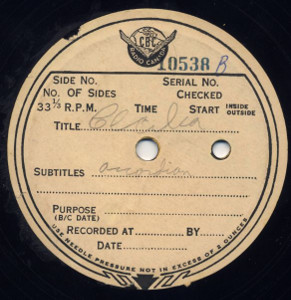 Side 2: Cecilia
This is a performance of a song originally by Jack Smith. I have no clue who the two people are performing it, but I think it's better than the original version. That dude has a really low voice! Then we get an accordion music break followed by another performance by the same two people.
Record 3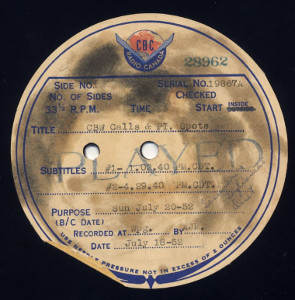 Side 1: CBW Call #1, CBW Call #2 (July 20, 1952)
These records were obviously made in Manitoba (more specifically, Winnipeg). These two calls mention a democratic convention that was to be broadcast on July 21, 1952. They were to be used the day before and the day of the convention. It's interesting to note the days in which these records were recorded, the initials of the person who recorded it, and also the "PLAYED" stamp on it. I believe this record, along with all that follow were recorded on Presto blanks.
If you want to read about the actual convention, here's a Wikipedia link. However, I found this piece to be the most relevant and interesting:
The 1952 Democratic convention was the second political convention to be televised live, coast-to-coast (following the Republican Convention weeks earlier).[5] Experiments in regionally broadcasting conventions took place during the Democratic and Republican conventions in 1948, however 1952 was the first year in which networks carried nationwide coverage of political conventions.
Side 2: Tassinari
An absolutely horrendous opera performance by some guy named Tassinari.
Record 4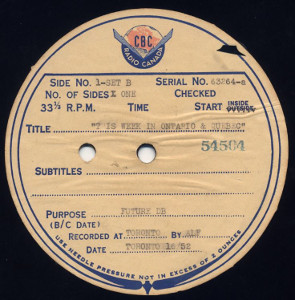 Side 1: This Week in Ontario & Quebec (Aug 16, 1952)
Apparently, there was a really bad outbreak of Foot & Mouth disease (I've had it in my adult life which was NOT fun). You also get to learn about cattle and poultry.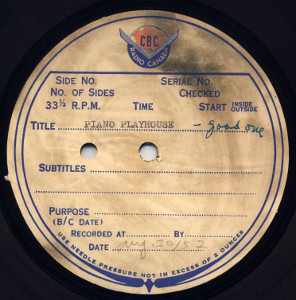 Side 2: Piano Playhouse (Aug 30, 1952)
Exactly what it says.
Record 5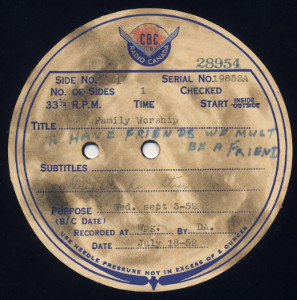 Side 1: Family Worship (Sept 3, 1952)
Apparently, the world required a short program called "Family Worship" every morning of the week. With this particular episode, you learn how to get friends.
Side 2: De Styx
I can't make out the first word because the label is all mouldy in that spot, but it's another god awful opera performance. People in the 1950s really enjoyed shitty music.
Record 6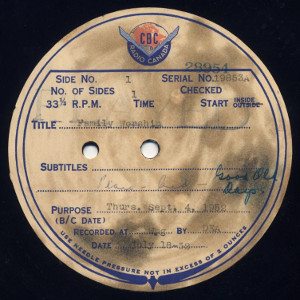 Side 1: Family Worship (Sept 4, 1952)
A word-by-word analysis of the phrase "Give us this day our daily bread". Perhaps one day I should analyze the deepness of a digital camera manual that was poorly translated from Chinese to English and release it on vinyl.
Side 2: Good Old Days
Some piano music for your enjoyment.
Record 7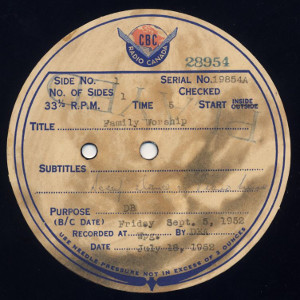 Side 1: Family Worship (Sept 5, 1952)
You get a story about how a guy failed to measure the depth of an ocean and how the Lord's love is that deep, except more "wordy" in a religious kind of way.
Side 2: Scarf Dance & Piano Playhouse
A classical music piece, followed by a pretty decent piano medley.
Record 8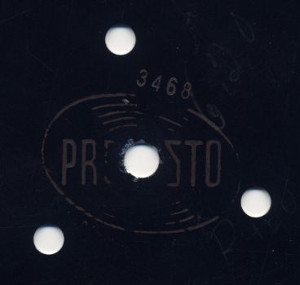 Many of these records seemed to come unlabelled and the CBC glued their own label on them. I should have searched a bit more at the thrift store for the label that had likely just fallen off this record. Oh well.
Side 1: Some German Guy
Your guess is as good as mine as to what this guy is talking about. This record played from the inside out.
Side 2: Johnny Standley - Little Bo Peep / Mrs. O'Malley
This was a very famous comedy sketch during the early 1950s. You can find cleaner versions of it floating around. This version has most of the Mrs. O'Malley song chopped off, but there's a little bit of commentary at the end from someone working at the CBC.
Well, that was fun! I absolutely love finding radio station stuff out in the wild. Unfortunately for these records, I don't count on them being playable the next time I come across them. They will likely deteriorate into an unplayable state in the next few years. At least we have digital copies now.