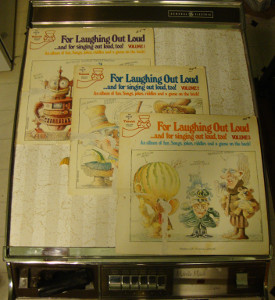 Pictured here on my vintage top loading dishwasher (my kitchen table is currently the temporary home to two vintage computers), you will see three albums released by the record label "Mr. Pickwick". I bought these albums for one sole reason... They each have a song by a character named "Disco Dog". When I came across these, the endless possibilities rolled through my mind of how songs by "Disco Dog" would sound. At worst, my guess was that it could be a dog howling to Disco music. I wasn't too far off with this suspicion. The only thing I was wrong about was the disco music. That's right, Disco Dog doesn't sing along to disco music. He's simply Disco Dog in name, appearance, and theme song only. What a bloody fucking disappointment.
It's quite evident that these albums were made for children with ADD. Every song on the album is interrupted with really terrible jokes. I suppose Mr. Pickwick thought he was a funny guy. There are literally no gaps between the songs, because Mr. Pickwick doesn't need the children's attention going toward something more interesting, like a set of keys laying near an electrical outlet.
I'm missing Volume 4, so sadly we may never get to hear the swan song of our friend Disco Dog. Perhaps the reason I didn't find Volume 4 is because creepy Mr. Giddles murdered Disco Dog before the recording of it. At least that's the impression I get from the cover of Volume 2.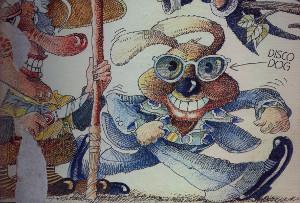 So now, I bring you three songs by the incredibly annoying Disco Dog!
Comin' Round The Mountain
Strollin' Through The Park
The Whistler and His Dog
My apologies for being incredibly absent lately. I'm in the middle of the winter blahs and haven't been modivated to do much other than surf the skies for interesting satellite wild feeds. Spring will soon be around the corner and garage sales will be popping up, and my already expanding queue boxes will be bursting at the seams.
As a side note, I've also begun hosting some of my own videos instead of having Youtube remove them. I can finally feel more confident in tackling the swaying pile of VHS tapes I have.