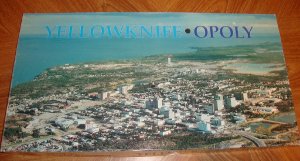 No, I'm not kidding. THIS IS REAL. Yellowknife-fucking-opoly. For those of you who have no clue what a Yellowknife is, it's a crappy little city in the Northwest Territories that nobody wants to visit. It's cold, and judging from the elements of the game, there's piss-all to do up there.
The board game is obviously derived from Monopoly, but is made up entirely of advertisements from businesses in Yellowknife. Well, maybe except for Beaver Lumber since they no longer exist. For the curious, it seems that this game came out in 1997 to commemorate 50 years of the city's existence. Hooray for longevity!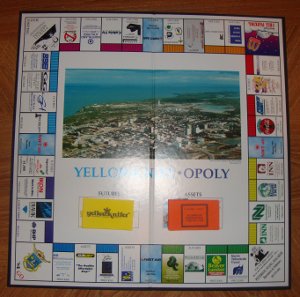 Yup, there's the board. It seems that McDonald's briefly had the slogan "Great food, Free parking". Makes me wanna eat there since I'm sick of paying for parking at Burger King!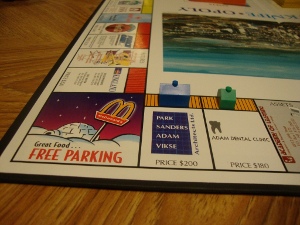 The houses in the game are standard green, but the hotels are an oddball blue. Oh wait, I'm sorry... Those aren't houses and hotels, they're retail outlets and office towers. Nobody really lives in Yellowknife, it's just a big business park. At least that's the impression I get from the game.
Even the cards are laden with advertisement. Check out these winners: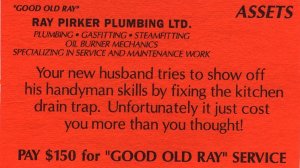 I apparently have a husband because I'm apparently gay. Fuck you, Good Old Ray!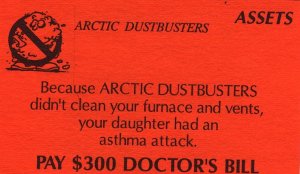 We also apparently don't have a health care system in Canada, so we pay doctor's bills. I suppose my doctor forgets to bill me each time.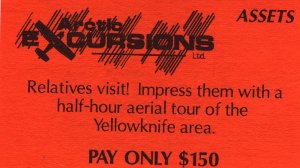 Aerial tours are apparently the 'thing to do' in Yellowknife. Yay fun.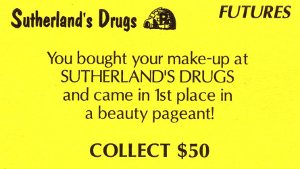 Yeah, I always buy my makeup at Sutherland Drugs. That's what married gay men do, right?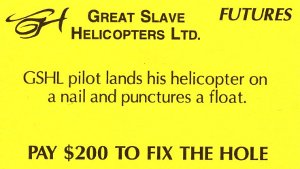 Apparently, the streets are full of nails (thanks to Beaver Lumber blowing up)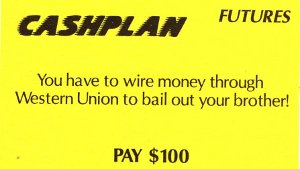 Your brother probably comes from my city... Winnipeg.
The rest of the game is pretty much a Monopoly clone - the deeds, the Railroads (in this case, Airlines) and the play money (Chamber Bucks) are all pretty generic replacements for their Monopoly counterparts. The playing pieces are generic and super lame, so I found some interesting ones to use instead...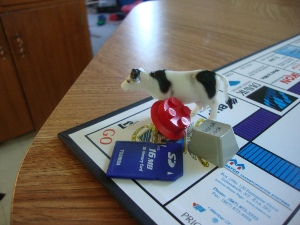 I found a bit of the story behind this board game from
here
. Those crazy Yellowknivers! So proud of their city! We also need more Monopoly games based on Canadian towns and/or cities with unique names. Two that come to mind are Flin-Flon-opoly and Dildo-opoly. Tell me those aren't winners!
But seriously, I can't wait to have a group of friends over for a cut-throat game of Yellowknife-opoly. May the player with the most blue office towers win!