I figured I'd focus on some local stuff, so I dug around in my pile of 45s and came up with three interesting ones. Well, I honestly don't think the first one is all that interesting, but who am I to say Manitoba-based music isn't interesting? Let's begin...
Len & Karen - Manitoba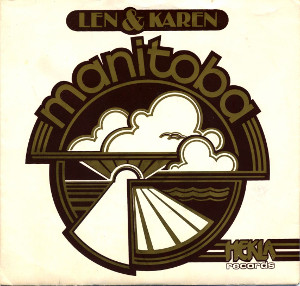 I've never seen anything on the "Hekla Records" label before, and the catalog number of "HR 2001" leads me to believe I will never see anything on this label ever again. Len & Karen (and their kids and their kids' friends) all sing on here, although Karen must have been singing while buried in the back yard because I can barely hear her. The song "Manitoba" isn't the official Manitoba song (which I reviewed
here
and
here
), and instead is just something they threw together.
This recording is so Manitoban that it was recorded in Vancouver, BC. I guess our shitty province just wasn't good enough for these songs to be recorded here. The flip side is only mildly more enjoyable, and encaptures that 1970s pop sounding string "arrangement". It seems to be just some mushy love song and has nothing to do with Manitoba.
Listen to Manitoba!
Listen to Over and Over Again!
Manitoba Games Song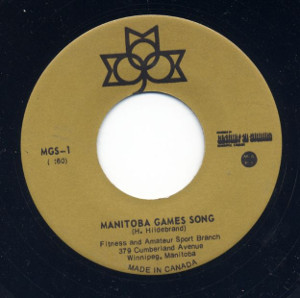 There's no credit to the band here, and I can't say I blame them. There's only one minute of music, and it consists only of a guitar and a group of people singing about playing ping pong and eating pizza. Side two has absolutely nothing on it, not even any grooves. So if you have a record cutter kicking around the house and happen to own this 45, feel free to record some Judas Priest onto the other side.
Other than this being recorded at Century 21 Studios, I have no other information about it. It's a very bizarre little record, engulfed in mystery. Google searching the "Fitness and Amateur Sports Branch Manitoba" led me to a bunch of dead ends. So let's enjoy the happy little tune that it is.... The entire ONE MINUTE of it!
Listen to Manitoba Games Song
Allyson Taylor - Manitoba Cities, Manitoba Towns / Lord Selkirk Song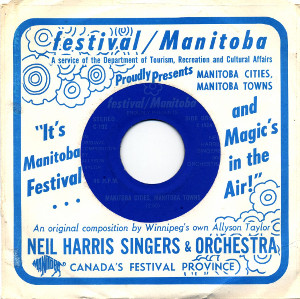 I was able to track down a date for this record, since the Venture Manitoba promotion took place in 1978. This 45 appears to be some sort of souvenir which was probably sold in a gift shop. It also appears that I own Allyson Taylor's personal copy, since she wrote her name on the label. In fact, I may have purchased it directly from her at her garage sale. The two ladies running it gave a slight laugh when I picked it up and asked how much it was.
The song "Manitoba Cities, Manitoba Towns" is another attempt (as with Len & Karen) to make a theme song for the province, although from what I gather, there actually was something called the "Manitoba Festival". It probably consisted of a bunch of Manitobans eating maple syrup, drinking whiskey and building snow sculptures, but I could be wrong. The song is pretty generic and boring. However, the B Side is the song that grabbed my interest...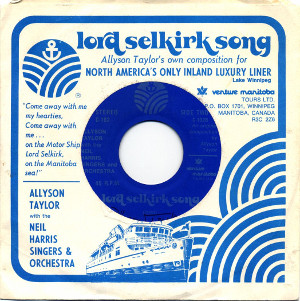 The "Lord Selkirk Song" is about a ship called the "
MS Lord Selkirk II
". You see, our rivers used to host lots and lots of boat tours. We had the huge Lord Selkirk II for the snobby rich folks, the Paddlewheel Queen for people who love paddlewheels, the Paddlewheel Princess for poor people who love paddlewheels, and the River Rouge for poor people. I used to see all these boats cruising up and down our rivers. I was on the Paddlewheel Queen when I was a young boy, but I've been on the River Rouge many times, mainly because it's been the most consistent ship in operation. Here's a picture of me and my friend James on the River Rouge...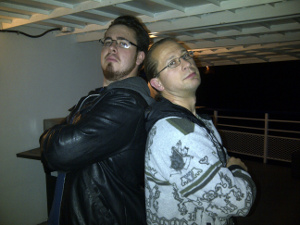 The Lord Selkirk II was very notable for it's large size. It cost $1.5 million to build in 1969 (around $10 million in today's dollars). It was very large and beautiful.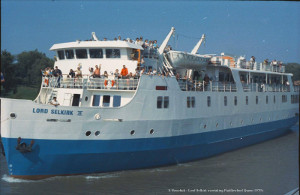 Then one day it got rusty...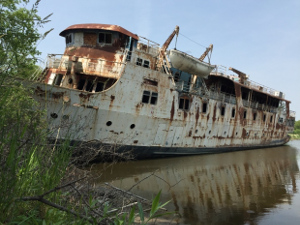 Then one day it caught fire...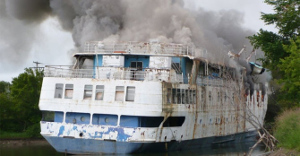 Then one day it was dismantled for scrap...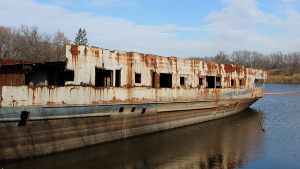 This poor boat was in service for only 17 years. It went through 5 owners who tried to make money with it (and failed). In 1991, the poor ship was pretty much abandoned by it's owner. After that, it went through 4 more owners who wanted it for scrap metal. It was finally dismantled in 2015.
The record came out during the "Venture Manitoba" promotion when the Lord Selkirk II was happily sailing the Red River. The song is awful which I guess contributed to this poor ship's curse.
So come away with me, my hearties! Come away with me! With a song that's shit! Lord Selkirk! oh yay oh yay oh gee!!!
Listen to Manitoba Cities, Manitoba Towns
Listen to Lord Selkirk Song
I've got a load of unfinished entries that I've been slowly but consistently working on. Two of them are fairly substantial, and one will likely be split into two parts. I never forget about this place which makes me wonder if I have a mental illness.