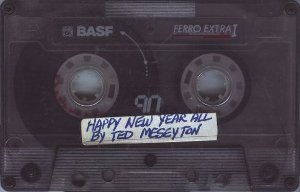 Ted Meseyton (whoever the hell he is) entered a song writing contest by writing this timeless-sounding classic. Well, I can only assume he submitted it. If this was the cassette to be submitted, I doubt it made it to the contest because I found it in a box of crap someone threw in the trash, along with the
Unicity Taxi video
I posted a while back.
I hate this song. The trash was a good place for it.
Download it here.
Ted, you sound like you're really old. Please find something better to do with your retirement. Take up jigsaw puzzles or peeing in your wheelchair.
And on that note, we've pissed away yet another year on Classical Gas Emissions. Make way for 2012 which will have yet ANOTHER Armageddon threat, and more posts about junk I find. See you all in the happy happy happy new year!