When I'm looking for records to post (or records to buy in general), quality is a major factor in whether I purchase them or not. I'm not going to throw a piece of sandpaper onto my turntable just because it's a rare piece of sandpaper. Records have to meet a certain quality standard before I buy them. Unquestionably, still sealed is the highest quality you can get. What is extremely rare is finding children's albums that are still sealed. Most children (like me 30 years earlier) ended up destroying their records by leaving them on the floor, in the sun, and had no problem grabbing the beautiful black vinyl with popsicle-juice-covered fingers and carving their names on it with a rusty pair of scissors. Records that I had from my childhood were largely unplayable.
Today I present three formerly still-sealed children's albums. They are formerly still-sealed because I wanted to give them their first pass with the needle while transferring them digitally. Giving a vinyl record it's first play is a truly magical experience because it sounds crisp and clean. Records end up sounding shittier with every play, so the first play is most certainly something to cherish.
So join me for the first play of these "classic" records. They won't disappoint!
Care Bears Movie Soundtrack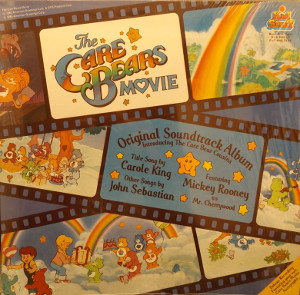 I had this album when I was a kid, so it was a great pleasure to find it sealed in cellophane. This is by far the best sounding record out of the bunch.
One thing that's very noteworthy about this album is that the song "Home Is In Your Heart" is different from the movie version. The mix here is much nicer, but the voice of Lionheart has been replaced with some old dude with a really cool low voice. A lot of people on the internet have complained about the album version for not including the movie recording, but that guys voice is amazing! If you have a vagina, put it up to your speaker, turn up the bass, and play this Care Bears song. The guy with the low voice will give you an orgasm that blasts you all the way to Care-a-Lot!
Carole King and John Sebastian (from The Lovin' Spoonful) also make vocal contributions here. John Sebastian did all the campy stuff on here, but if you've ever heard him talk, campy should've been his middle name. The Carole King song "Care-a-Lot" is pretty as hell - well at least for 1985. Actually, I find the Care Bears song quality (as campy as it may be) to be some of the catchiest songs I've ever heard.
Now check out how clean the vinyl sounds!
Listen to Home Is In Your Heart
Listen to Care-a-Lot
Download the album
The Starlight Children's Chorus - E.T. I Love You and Other Extra-Terrestrial Songs for Children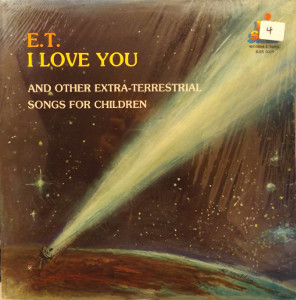 I'm quite hard-pressed to find extra-terrestrial songs for adults, but perhaps I haven't been looking hard enough. This record is bizarre. It was also pressed on the shittiest vinyl they could find. It's hard to believe this is a first play compared to the Care Bears album, and they're both on the same record label. The last song has groove-farting at the end. I was quite surprised by the amount of noise on this record and it caused me to question whether or not I was hallucinating when I carved the hole in the cellophane.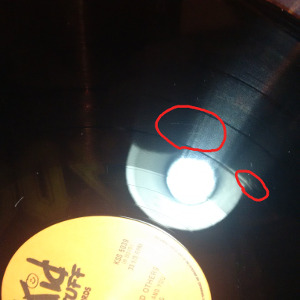 While shining a light on the record, I was able to see some light scratching on both sides. I know this didn't come from my mis-handling of the record. Someone at the record factory must have dropped it onto the floor before putting it into the sleeve. Thanks a lot, you stupid clumsy asshole! I hope you died while choking on Reese's Pieces in 1984!!
The first two songs are fucking weird. (
I previously mentioned "E.T. I Love You" here
). The E.T. Overture is just some kid who got into their parents' drug stash. The best song has got to be "Please Phone Ring-a-Ling". The kid answering the phone desperately needs therapy from the alien probe lodged into his ass two weeks before recording this album.
The song "
E.T. I Love You
" is actually a cover which was originally done by Buckner & Garcia. The song was rejected from the movie. You can hear the original version
here
. If you want to do one better, some really talented guy with his acoustic guitar covered it
here
.
Even though it's not really that clean, I'm putting the recordings up anyway.
Listen to E.T. Overture
Listen to Please Phone Ring-a-Ling
Download the album
Mini Pops Wanna Have Fun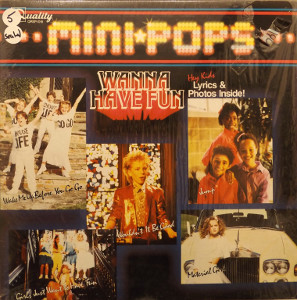 Of course I saved the best for last!
I missed out on getting this Mini Pops album as a child, and I've been trying to find a decent copy of it since 1987. Who knew that I'd get a mint copy of it at age 38! I didn't miss out on much. This was the first Mini Pops offering on Quality records, and it's not very good. There's lots of Medleys to be had, and the songs that aren't medleys are of medley length. I only remembered them hacking down one song on their previous albums. It was "Abracadabra" by the Steve Miller band, and it was hacked down for good reason. A young boy shouldn't be singing about black panties with an angel's face.
Anyway, we're back to the nice clean and crisp vinyl again! There were no evil surprises here, except for the atrocious cover of "Smooth Operator". I'm also throwing the Madonna Medley at you for just plain fun. Surprisingly, the Madonna Medley isn't much different from real Madonna.
Listen to the Medley with Smooth Operator
Listen to the Madonna Medley
Download the album
And now I'm off to babysit my very sore, itchy feet and hands. I also have to clean all the blister juice off my keyboard. See you next time when I'm feeling better!