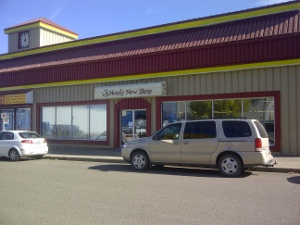 I can't remember if I mentioned this before, but my boss has cut back our out-of-town trips, so there won't be as many installations of the Junq Tour in the coming years. But I'll certainly be taking advantage of the ones that come my way!
For the past few trips to Brandon, I was stumped when it came to the thrift stores. It seemed that nobody knew if or where they existed. This time, I was pointed in the right direction. Besides the crappy Value Village, there are two other thrift stores - the Nearly New Shop and the MCC (which I forgot to take a picture of) being the goldmine. As a side note, I ran across yet another copy of
Teo Mance's "Inday"
album. The guy probably spent an entire year, traveling the country to donate copies of his album to every Thrift Store known to mankind.
This entry is a bit long, so feel free to bite in small chunks to avoid choking and death.
Bruce Innes - Brandon Centennial Song (Yesterday's Dream - Tomorrow's Future)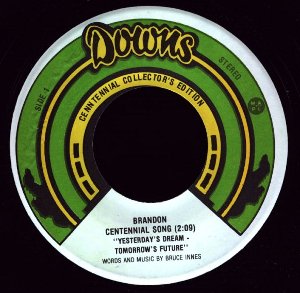 The greatest way to begin this Junq Tour entry is to feature a song from the city I visited. This charmful duet will have you deleting the file from your hard drive in no time. This special collector's edition 45 RPM record is so rare that there were only three other copies at the Thrift Store. Side 2 has a guy with a very noticeable French accent talking about his experiences in the city of Brandon. REALLY EXCITING SHIT HERE!!! Why don't we have more talent coming out of Brandon, Manitoba? (Probably because many are inbred wheat farmers.)
Listen to the Brandon Centennial Song
The Consumer Goods - Happy Bidet -or- A Scientific Inquiry Into The Non-Denominational Same-Sex Marriage of Social Justice and Scatological Deflectors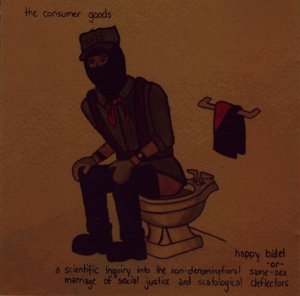 There's so much about this album that made it prime blogging material, regardless of how good the content was. First of all, the album title is way too long. It's in competition with Tyrannosaurus Rex's "My People Were Fair And Had Sky In Their Hair, But Now They're Content To Wear Stars On Their Brows" as one of the longest album titles in existence.
Second, look at the cover. The guy is sitting on a bidet, blasting the crunchies that are swinging from his ass hairs. So what could go wrong with purchasing this album? Well, for one, I'm big on judging a compact disc by it's cover. This album was either going to be magnificent, or it was going to be as awful as a protate examination.
Unfortunately, these guys are talented. The melodies are actually quite nice, they play their instruments well, but the lyrics.... Well, it's mostly frustration and sarcasm rooted in politics. We're presented with songs such as "Happy Bidet (Let The Balled Eagle Soar)", "The Kiss Army", "Eat A Dick, Cheney", "Mafeking Shithouse", and a tribute to our lousy Winnipeg mayor, "And the Final Word is Yours, Sam Katz". The song "Let's Have Another Round Of Applause For The American Empire!" is actually 29 seconds of nothing. Absolutely brilliant.
I wasn't going to post anything from this album, but with the recent news of our mayor Sam Katz
fucking things up
again, I posted the song about him...
Listen to "And The Final Word Is Yours, Sam Katz"
Gerry Perkin - All Strung Out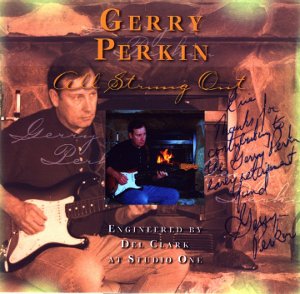 Dear Gerry,
Please use a click track next time you decide to record an album. Your multiple guitar tracks are all over the bloody place like a kid who got hit by a semi truck.
I like how you put a picture of yourself in the fireplace. Please consider putting the master tapes from your album in there too.
Thanks for autographing your CD. I'll bet the ego boost made you feel good enough to record another album.
Sincerely,
The author of classicalgasemissions.com on behalf of the readers of classicalgasemissions.com
Listen to All Strung Out
Stories That Live - Adam & Eve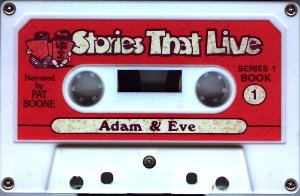 Normally I would leave cassettes like this alone, but this one is narrated by Pat Boone. Yes! PAT FUCKING BOONE! You may remember him from his hits "No More Mr. Nice Guy", "Enter Sandman" and "Crazy Train". Before Pat Boone entered into the heavy metal scene, he narrated children's cassettes. After listening to this tape, I ultimately realized that there is absolutely no limit to Pat Boone's talents. The guy is absolutely magnificent in everything he touches as an artist.
So where is Pat Boone these days? Well, he's doing infomercials, selling walk-in bathtubs to old people. So much fucking talent! Pat Boone should be Knighted and inducted into the Rock n' Roll Hall of Fame.
Listen to Pat Boone tell the story of Adam & Eve
Ed Stozek - Light a Candle Tonigh
t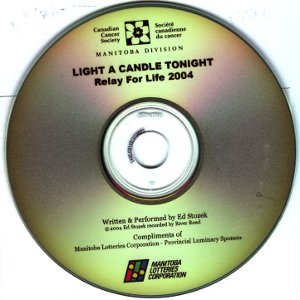 So, this is supposed to be some kind of benefit song. You'd think with all the money that Manitoba Lotteries makes from old ladies stuffing their grandchildren's inheritance into slot machines, they would hire someone who could record something remotely professional. This shit sounds like it was recorded in a mothball-filled basement closet and was mixed in 12 minutes. After such an extensive production job, it was then sent off to the lottery corporation to inspire billions of Manitobans to think about dying from Cancer as opposed to hearing this CD again.
As a side note, the CDDB identifies this CD as "Kissing Willie" by Jethro Tull. I really do wish this was a Jethro Tull CD. At least they were talented.
Listen to Light A Candle Tonight
Kenny Parrott - Volume Two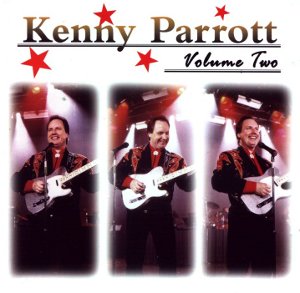 This one's autographed too! With all the autographed albums I've acquired in my blogging career, I should be able to sell them on ebay for $5000 each and take a nice early retirement.
There's been another Kenny Parrott album sitting in my "in queue" box for about three to four years now. I did try getting around to writing about it at one point, but never completed it. Now that dear Kenny has weaseled his way into the Junq Tour (and into my ever-growing list of oddball discographies to collect), I'll make it a point to review it in the next few months.
Kenny tackles many songs that have been covered on many other albums I've featured on Classical Gas Emissions. Songs like "Are You Lonesome Tonight" and "Blue Eyes Crying In The Rain" have been done to death by everyone. However, Kenny does grace us with a few songs that nobody else has touched. His covers are extremely bland and he just carbon copies every original that he touches. Seriously, what's the purpose of this album? To think that Volume One exists makes me dread the day when I'll no doubt find it in the thrift store and have to review it as well.
I've decided to let you hear Kenny Parrot and the Fucked Edition do a lousy version of a Kenny Rogers and the First Edition song. If Kenny really did lose his limbs in that crazy Asian war, we wouldn't be listening to this crap.
Listen to Ruby, Don't Take Your Love To Town
????? - ??????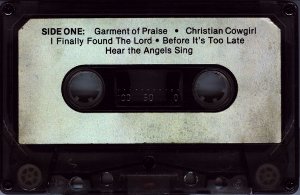 This cassette did not come with an inlay card. There's something to be said about a band who doesn't put their name on the cassette label.... "We're not important enough to be credited, so we'll just let Classical Gas Emissions christen us with a band name - yes that "Christ" pun was intended!" So from this point on, we'll refer to this Christian band as "Creamin' and The Bible"
Creamin' and The Bible appear to be made up of a musical family who pleases us with Christian songs such as "Christian Cowgirl", "Kid Talk", and "The Lord's Prayer". All of them seem to take turns at singing, and their voices range from mediocre to pavement-scraping awful. The album sounds as if it were recorded on a piece of plywood, and then mastered with a layer of lead paint and holy-water. The lyrics were obviously written by the children in the family who were dropped on their heads while being baptized.
My cassette player has a music search feature, but it has great difficulty finding the spaces between songs because there's some other audio bleeding through. My guess is that Creamin' and The Bible recorded over cassettes that contained Satanic messages, thereby corrupting the minds of anybody listening to this album. While you listen to it, I'm going to burn some crosses and sing Judas Priest songs backwards.
Listen to Kid Talk
The Little Birds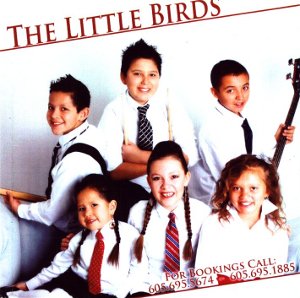 Remember The Mini Pops? They were great. Licking on the boot-heels of the Mini Pops are The Little Birds. It's a band made up entirely of children, and even I can feel the shame that their parents must feel. Ever hear a 4 year old kid sing? It's cute isn't it? The only reason it's cute is because it's short-lived. Take that 4 year old kid, stick him in a recording studio, make an album, and then figure out the best way to end your life, because you'll need to after you listen to the entire thing.
The Little Turds tackle songs such as "Stupid Cupid", "Rockin' Robin", the Ike & Tina version of "Proud Mary", "Smoke On The Water", a sloppy dogging version of "Wipe-Out" which you swear is going to fall apart into a million pieces at any second, and the shittiest cover of "Smells Like Teen Spirit" that I've ever heard in my entire life.
I really thought that
Courtney Smith
album was the worst one I'd ever heard done by a child, but this one completely takes over the number one spot. Every cover song on this album is terrible to extreme degrees, but I've narrowed it down to the two worst...
Listen to Wipe Out
Listen to Smells Like Teen Spirit
Anybody left out there??? Anybody??? The content of this entry was painful to listen to. Anyway, I hope you enjoy the next entry as much as I'll enjoy the brief silence after making this one.