All of this stuff came from the "Hope" thrift store in Morden. Hope turned into a blessing of musical thrash. I completely avoided the other thrift store since I never find much there and it's usually overpriced anyway.
The Stories of Ethel Barrett For The Children Vol. 3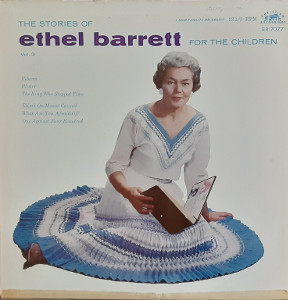 This lady scares me. She has angry eye brows and she's not smiling. This is the kind of woman who looks like she'd beat her kids with a wooden spatula. Also, it took me forever to figure out what the hell was peeking out from under her dress. It's her stinky toes! The only way I figured that out was by realizing that this woman still had her legs. I initially thought her dress was a round throw rug.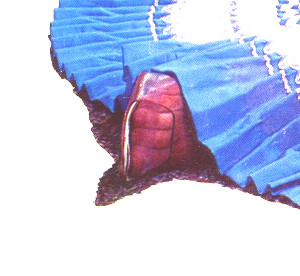 Also, what's with her earrings? They look like 3v coin cell batteries. Perhaps that's why she appears to have a shockingly evil look on her face.
Anyway, most of the stories on this record are bible stories. I would recommend reading the bible instead of listening to her interpret them for you. However, there is one story on here that isn't from the bible. It's a story of how she and her cousin were left at home as young children (which is thankfully illegal now) and how they decided to defend themselves against a burglar by getting Ethel's dad's gun (which is also thankfully illegal now). The story would have been much more interesting if there was blood shed, and Ethel looks like she's perfectly capable of it.
Listen to What Are You Afraid Of
The Wiebe Family - Send The Light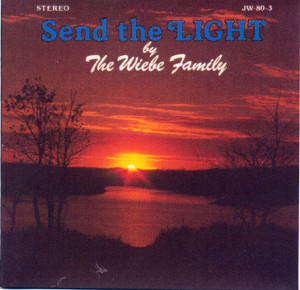 Oh look! It's the Christian sunset again! I have to wonder if there's a particular mindset when choosing this for an album cover, or if it's a requirement of a particular religion? Here, let's see if I can make my own sunset album cover...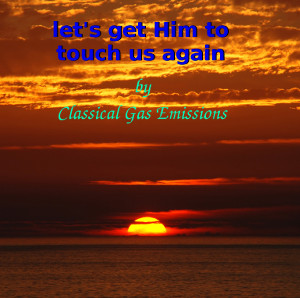 Wow, I should contract my work out to everyone in the Christian Wheat Belt.
According to the cover, this is the stereo version of the album. I would have been much happier with the mono version.
This album is full of organ, accordian, bass guitar, and people who can't fucking sing. Surprisingly, I can't hear any male voices on this recording. They were probably hard at work making the album cover. If I were to give the Wiebe family a piece of advice, it would be to hire better singers for their next album.
Listen to Will There Be Any Stars
The Stutzman Sisters - It's Raining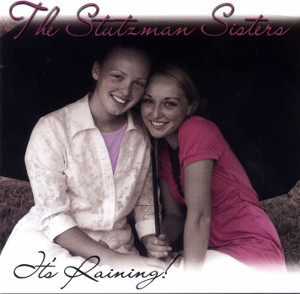 It's raining men! Or maybe boys. Or maybe chastity belts.
This is a very clean, well-produced sounding album. The artwork is well done, the liner notes are informative (except for a lack of release year), and it's almost worthy of getting tossed into the trash for being too mundane and mediocre for this blog. However, the youngest Stutzman sister (who is five years old) made one appearance on the album, and it's the most disgusting song that no child should be singing. We'll get to that in a moment...
Three of the four websites listed on the album are dead. Two of them show up in the Wayback machine, and they're just boring blogs that were kept by the two girls on the cover. According to the actual Stutzman website, this family has made 13 albums in total. Why aren't they more famous? You'd think they would have landed worldwide stardom by this point.
Anyway, enough yapping from me. Let's get to the filthy little number (or two numbers in this case) that should make most people cringe.
Listen to Daddy's Hands / I Want To Marry Daddy
All Together Now: 13 Songs Made Popular by The Beatles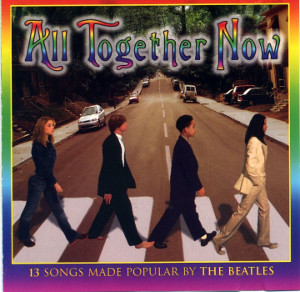 There are only four kids on the cover, but it took 36 people to record this piece of shit.
Apparently, this is the sequel to the "All You Need is Love" album which I'm sure is in my queue box somewhere. Given how terrible this one is, I can only guess how bad the other one will be.
This album has a (2000s era) modern arrangement for these classic (and not-so-classic) Beatles songs. I like a lot of the Beatles' material, but I wouldn't exactly say I'm a die-hard fan which explains why there are some songs on here I don't know. Apparently they dug into some album cuts that the average person won't remember. However, there's plenty of well-known Beatles songs that you will no longer recognize. These songs may as well have been done by that Crazy Frog fad. If anything I would have preferred a Crazy Frog arrangement over this electronic pop-centric garbage.
There is nothing on this album that's appealing to anybody. It's fucking terrible. Why make a kid's Beatles album? Why not give them a real Beatles album? I'm sure a copy of the red or the blue album would be sufficient and much more enjoyable than this eletronic vomit-fest.
We've got three stops in Winkler, but we won't get to those until 2022. The new year promises to have a plethora of more lousy finds, so fasten your seatbelts and cover your ears!