Before I get to the album review, I just want to clear up the item that I was hoping to have in my hands that I had mentioned in my last blog entry. It was a roll of film I found in a thrift store that I had developed. Unfortunately, the negatives look black until they're held up to light. I'll try and pull some images from them, but I make no promises.
Now that that's out of the way, I present the album Khool Yule by Khool and Friends which I bought still sealed at a thrift store for 25 cents.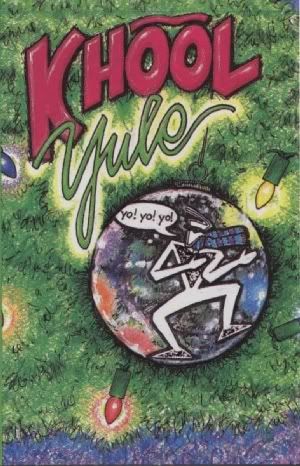 A better title for this album would be "Shit Yule" because it's determined to kill and destroy any Christmas spirit you may have. The songs suck, and there's really bad commentary inbetween tracks, which I will post for your listening pleasure. I'm apologizing to my poor Onkyo deck which had the unfortunate experience of processing the output of this lousy excuse for a holiday treat.
Here's the songs:
01) Have A Real Khool Yule
This sounds like a really bad Milli Vanilli rip-off. Perhaps these guys should've killed themselves instead of that one guy from Milli Vanilli. At least they (almost) got to keep their grammy.
02) Joy To the World
This song was highly unrecognizable when it first came on. It sounds like a bad Debbie Gibson nightmare. Definately worthy of getting out of your chair to hit fast forward.
03) Give Them The Gift
Hey, this kinda sounds like Motown Philly by Boyz II Men. But these guys aren't as cool as Boyz II Men (and that's pretty pathetic). It's more like Men II Pansies.
04) Wonderful
This is the only decent song on the album because it sounds like Tiffany. But Tiffany was cool, and she would probably kick this chick's ass.
05) It's Christmas Time
OH NO! Not Christmas Rappin! In case you haven't guessed yet, this is a Christian tape. What's worse than Christian music? Christian RAP music otherwise known as C.RAP. Have I told you that this album REALLY sucks? I'm not through the first side yet, and I wanna tape over it just because owning this music is wrong on too many levels.
06) What Child Is This?
Apparently it was a rejected child. This is yet another Christmas Classic that is almost completely unidentifiable because the arrangement is shit. Reminds me of that 80s band Debarge, but this piece of crap shouldn't even be compared to a band who at least had one good song.
07) O Come, O Come Emmanuel
Who the hell is Emmanuel? Yeah, that's a real good thing to stick on a Christmas album. "When I think of Christmas, I think of Emmanuel". I personally think of my
neighbour Stephanie myself. She left her curtains open one too many times while she was giving away some holiday cheer. Anyway, enough of that. This song sounds like a bad Mariah Carey impersonator with Kenny G thrown in for that nice saxophone solo. I can guarantee Emmanuel is spinning in his grave like a slot machine.
08) Hark! The Herald Angels Sing
Even though I'm not religious, this is one of my favorite Christmas songs. To completely destroy the little respect I had for this album, not only is it another bad Milli Vanilli rip-off, but the singer is that fucking irritating bastard who has been providing commentary between the songs.
09) Silent Night! Holy Night! / The First Noel
Oh great. Not only does it sound like Backstreet Boys, it's got the musicians from New Kids on the Block. NEXT PLEASE.
10) Have A Real Khool Yule (Reprise)
Yeah, like I needed to hear this again.
Anyway, here's a recording of the commentary and short clips of the songs. Feel free to shut it off when you've had enough.
Click Here to Listen!
So in conclusion, I give this album 0.5 out of five stars. I got the 0.5 from that Tiffany-ish song and the cover is kinda neat. But this album became outdated in 1989 (pretty bad considering it was released in 1991).
If you would like to buy a copy of Shit Yule,
click here
or
buy the copy that's going for $4.99 on Ebay right now.