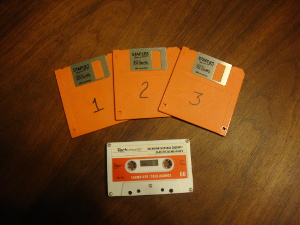 I hope you guys are bored at work today (and maybe tomorrow). I've got something great to entertain you!
I found these 4 items in a huge box that contained cassettes, CDs, book, and floppies. I'm kicking myself for not taking pictures of the box these came in, because the items were quite telling of the person who owned them. It contained a LOT of Spanish language teaching materials and cassettes of the band UB40.
Most of the floppies contained Spanish language tests and exams... except these three. These disks have a collection of emails that were sent to the owner (Ana) from a lover named Michael. Michael's writing style is unique, humorous, and highly entertaining. Dare I say that this collection of writings is more interesting and addictive than
Agnes's journal
which I posted years ago.
The emails come to a dead halt just before Christmas. What happens afterwards is anybody's guess. As a bonus, you also get to hear Ana's answering machine tape.
Feel free to put your workload aside, and waste some of your employer's time by reading this moving, heartfelt, and humorous love story.
CLICK HERE TO READ!