Happy new year! I'm celebrating Elvis's birthday a bit late here, but he's dead so I doubt that he's going to mind. I figured I'd bring you three more Elvis tribute albums for fun. These things accumulate quite quickly, so I'm trying to keep on top of them. It's not working too well.
Alan Presents The Elvis Presley Story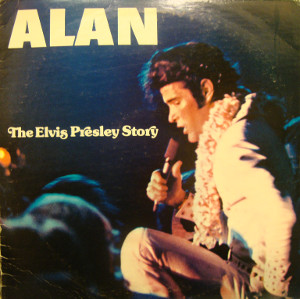 Alan? Alan? Who the fuck is Alan???
I'd be more than happy to tell you what Alan's last name is, but unlike the rest of the band members, it's nowhere to be found on the album credits. With regards to how closely our three contenders sound like Elvis, this Alan guy wins hands down. The record is an interesting piece of work in itself. Between songs (which are NOT marked by blank spaces on the record, making each song impossible to find) Alan gives you little pieces of his Elvis knowledge.
The band's renditions are... well... okay for the most part. Apparently, "Treat Me Nice" is Alan's favourite song, but the rendition on here sounds like everyone downed a six pack before recording. The lyric "make me heel at home" is evident that drunken Alan was expressing his foot fetish during the recording. However, I have no clue what "piss off a head of cheese" means. Feel free to listen for yourself.
Listen to Treat Me Nice
CMG Music - Hits Made Famous By Elvis Presley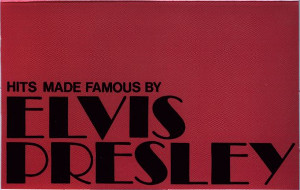 HOLY SHIT, look at that cover art! Must have taken the art department WEEKS to come up with that.
I have a number of cassettes manufactured by CMG Music. I haven't really touched upon them because they're sitting in my personal cassette collection. I bought most of them in the 1990s brand new at K-Mart at a price somewhere between $1.99 and $2.99. CMG Music uses shitty artwork, shitty tape stock, shitty editing, and pretty much shitty everything when they make these cassettes. They *usually* print a warning on the back of the cassette that says the recordings are NOT by the original artists, but they seem to have forgotten about it on this one. So the person who originally purchased this thought he was getting genuine Elvis. Poor guy.
These songs were recorded in 1974 which means that CMG Music likely bought them from some other ass-crack recording company for the price of a blowjob. If I ever find the original release of this, I'll be sure to let you know.
Anyway, the songs here are very dry. There's just something wrong with them, complicated by the fact that I couldn't get a good azimuth alignment on the tape head for the highest quality playback. CMG also has a history of being the cheapest bastards on the planet when it comes to actual tape usage. The beginning of Return To Sender on side one is slightly chopped off by the leader. This is certainly not the first time I've seen this from CMG.
The tape is full of dropouts, with the exception of the intentional one near the end of Suspicious Minds. The song quickly gets faded out and leads right into the cue tone to stop the duplication machine from wasting the cheap tape stock (which disintegrates significantly every time you play this cassette).
If someone out there happens to find a copy of this with my lost chunk of "Return to Sender", please let me know. In return I will give you a reward... A sealed Glen Campbell tribute 8-track.
As for the performance of Suspicious Minds, all I have to say is that it was a nice try.
Listen to Suspicious Minds
Various Artists - Tribute To Elvis Presley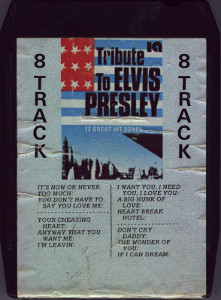 It's always a treat when they label the tape as "Various Artists" and it's the same group of nobodies performing throughout the entire album. They used a cheap echo feature on the recordings which makes it sound... well... cheap.
As for the cover? I don't know what to think of that. It's like a bastardized American flag with a picture of... ummm.... city landscape and an ocean liner??? It's not even the square shape of an album cover. Perhaps they cropped it to save on the cost of colour ink.
So I've brought you two songs: "I Want You, I Need You, I Love You" and "Heart Break Hotel" (sic). Nobody seems to be able to spell the name of this song correctly.
My last Elvis entry
contained an error with this song title as well.
"I Want You" is just a terrible performance. This song will give you an idea of what Kermit the Frog would sound like if he was an Elvis impersonator.
"Heart Break" starts off with the wrong lyrics. Way to go Various Artists! How could you guys fuck this one up? There should be at least ONE guy in the band who knows how the lyrics go, and you would think he'd pull the singer aside and say "Hey buddy, you fucked up the first verse!" But then again, these guys were out to make a quick buck and probably didn't care that they got parts of the song wrong. After all, there's good money to be made in 8-tracks.
Listen to I Want You, I Need You, I Love You
Listen to Heart Break Hotel
And now we close off another batch of Elvis tribute albums. I have more, and you'll get to hear them eventually.