Happy new year and welcome to 2016! I was ready to come into this year kicking and screaming due to a horrible Christmas gift I purchased for myself and was ready to post a nasty review of the product along with the service I received. It remains to be seen whether my issues are resolved. If they are not, you'll have the pleasure of seeing how pissed off I can get. The video and written review are currently on hold, although they're completed and are waiting for me to push the "post" button. In the meantime, I figured I'd finish up one of my leftover entries from 2015.
Winnipeg is an interesting city to say the least, mainly due to the strange people living here (myself included). Where else could you find not one, but TWO albums highlighting a contest where a bunch of Ukrainians get together and play the Cymbaly for trophies? Before I go any further, perhaps I should describe what a Cymbaly is.
A Cymbaly is basically the offspring of a xylophone and a harp. It sounds like a piano having passionate, beautiful, orgasmic anal sex with a harpsichord. Here's a video of a hot Ukrainian chick playing one:
The two albums I'm covering here were released by V-records, who also sponsored the contest. V-records is home to some very magnificent Ukrainian musicians such as
Roy Mykytyshyn
, Mickey & Bunny, Auntie Mary, and
Neil Young
.
Anyway, let's get to the albums...
V-Records Ltd. Annual Cymbaly Contest 1972 Winnipeg-Manitoba-Canada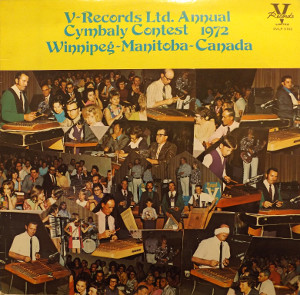 There's nothing quite like a bunch of Ukrainians getting together, drinking whiskey, and playing the Cymbaly. The cover is obviously a bunch of photos of the contest which are cut "artistically", laid down on a table, and photographed. The 7 year old Ukrainian boy who assembled this received a "nice try" ribbon for his creativity.
I shall be honest, I REALLY enjoyed this album! The music is interesting, the banter in-between the contestants is witty, but unfortunately the biggest let down was that they eliminated the announcement of the winner at the end of the record. Luckily, I was able to pull some info about it off a now-defunct website (spelling errors inclusive):
Peter [Hnatiuk] entered may cymbaly contest and won many trophies. Hiss most prestigious award was winning the annual Cymbaly Contest in 1972 in Winnipeg. In this contest, Peter played and sang while being blindfolded.
You can see a picture of Peter blindfolded on the album cover.
I have many of Peter Hnatiuk's albums and plan on doing a discography on him in the future. However, he released at least a dozen albums and also guest starred on many others, so it's likely going to be an incomplete discography even once I get around to it. Regardless, his stuff is quite enjoyable. Personally, I think this contest was fixed since he was a recording artist on the V-Records label, was favoured by the MC, and got to perform a non-cymbaly song. Peter unfortunately died in 1994 at the age of 60.
Side B is the winner here, since it's the most entertaining. I've given you some interesting clips from the album, and also put the entire thing up if you care to listen. Enjoy!
Listen to Wipe Out
Listen to In The Mood
Listen to Peter Hnatiuk's non-cymbaly song
Listen to Side A
Listen to Side B
V-Records Ltd. Annual Cymbaly Highlights Contest 1973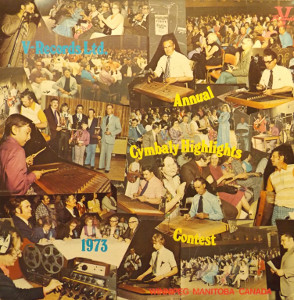 After hearing the magnificent 1972 album, I anticipated what goodies lay in the grooves on the 1973 album. Unfortunately, it doesn't live up to it's predecessor. It was handled more professionally, seriously, and as a result there isn't as much fun to be had here. The music is still great, the sound quality is much richer, and Peter Hnatiuk appears yet again. Sadly, the charm of the first one doesn't seem to be there. What I find extremely odd about the album is how the MC tells everybody where the contestants live. I suppose if you lose the contest, you'll be able to go to the winner's house and beat the piss out of him with his Cymbaly.
Again, the winner has been omitted from the album. I suppose if you wanted to find out who won, you could always go knock on some of the contestants' doors and ask them.
If you'd like to hear "Amazing Grace" played on the Cymbaly, just start listening to Side 2. Otherwise, the whole thing has been put up which will bring joy to the Ukrainian inside of you. Eat Perogies while listening!
Listen to Side 1
Listen to Side 2
After listening to these two albums and being exposed to Cymbaly music since I was a child, I think I'd actually like to buy one and learn how to play it. Watch out Kijiji, here I come!
As a side note, the album covers shown here were taken with my brand new Fujifilm FinePix S8600 camera!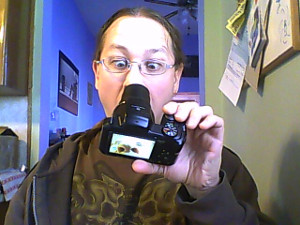 It's brought me as much joy as a man with six free prostitutes. This camera takes magnificent photos and video. If you need a suggestion for a new camera, get one of these. You won't be disappointed!