Since I haven't been around much lately, I figured I'd treat you guys with a trip to the zoo. There are many animals that live at the zoo, so let's learn a little bit about them!
Take It Easy: The Eagles Tribute Band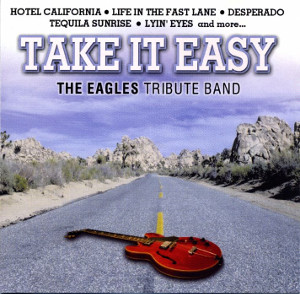 There's nothing quite as depressing as a roadkill guitar. I hope it didn't suffer any pain.
This isn't the worst thing I've ever heard. It also clearly states on the cover (in non-microscopic text) that it's a tribute band, so I'll give them credit for that. Here's some interesting text in the inlay:
The Eagles Tribute Band perform admirable versions of ten of the very best of these West Coast classics, faithfully reproducing both the sound and the spirit of the times.
"Admirable" is a far stretch. The singer sounds like he's not very fond of singing any high notes, or any of these songs at all for that matter. I'm also puzzled by the "live" version of "Life In The Fast Lane" on here. I find it extremely hard to believe that these guys rented recording equipment to record ONE BLOODY SONG from one of their live performances. They must be making a scrotum-load of money selling these crappy CDs.
Zoo Fact #1: Eagles sound like shit when they're taking it easy!!
Listen to Take It Easy
The Dead Dog Lady - Unleashed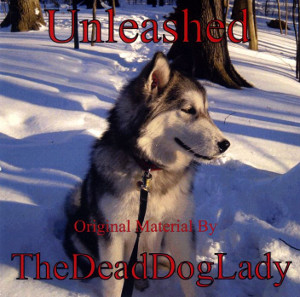 Apparently, she got her name from a song she wrote about her dead dog. I'm guessing that the dog on the cover is the dead one. There is one major problem I have with this album... The fucking CD doesn't work, and I spent two dollars on this goddam coaster. I was anxiously looking forward to hearing songs like "The P.M.S. Song", but the Dead Dog Lady decided to be the Dead Compact Disc Lady.
It gets worse... I went and visited
her website which is surprisingly still up
, which looks like a 14 year old's Geocities nightmare. I figured I could go there and buy a working copy of the album, but when I clicked on the link, it didn't work. She also seems to be The Dead Hyperlink Lady.
Zoo Fact #2: Dead dogs cannot make any noise, and therefore do not need to wear a muzzle or record an album!
Goats for Haiti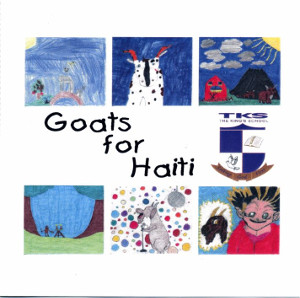 Every time you buy a copy of this album, The King's School will purchase one goat and ship it to Haiti. This album is awful, and I cannot see Haiti's goat population increasing significantly from sales of this album.
You get all your favourite hits on this 6-track CD such as "1st John 3:1", "A New Command (John 13:34-35)", "Daniel 2:20", and "A New Command (Remix)". Also, the album cover will go down in history as one of the most cut-throat art contests in the history of Winnipeg.
Zoo Fact #3: Goats like to eat children who cannot sing!
Listen to Before I Go To Sleep Today
Shirley, Squirrely & Melvin - Live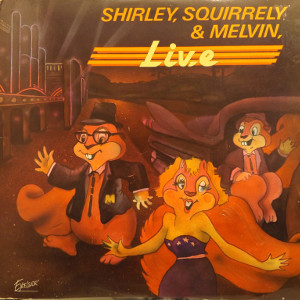 The Pickwick record label can certainly bring a lot of strange joy to people who should be committed to a mental institution for their taste in music. My commitment date is May 2nd.
I've gone over this entire record sleeve, and I cannot find what city or venue this live album was recorded in. I also have to wonder if Shirley, Squirrely & Melvin actually did a tour to record this album, or if it was made in Pickwick's basement with their audience being made up of mice and cockroaches.
Anyway, there's some odd song choices here. Surprisingly, their hit song "
Hey Shirley
" isn't included on this album. Why not? Isn't it a tradition to include your greatest hit on your live album? I'll bet a riot broke out at this concert after they buggered off and didn't play it.
Instead we've got Carl Perkins' "Blue Suede Shoes", Janis Joplin's "Mercedes Benz", Jackson Browne's "Boulevard", and two original pieces of shit nobody cares about.
I also have the single for Soul Man / Blue Suede Shoes: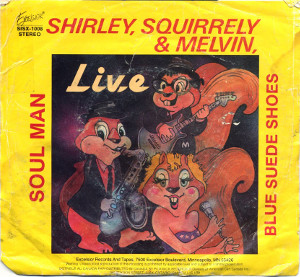 Personally, I think The Chipmunks are better than these shitty rodents.
Zoo Fact #4: Squirrels use 1950's jive music as their mating call!
Listen to Blue Suede Shoes
Listen to Mercedes Benz
So I've decided to solve a huge problem I've been having with blogging. I have two highly overflowing bins of stuff waiting for me to pick through. Since my queue pile is so incredibly massive, I've decided to start throwing together pre-chosen collections for blogging. This should speed up the process of me getting things posted here instead of rooting through two overly-full bins of cassettes, 8-tracks and other shit.
Stay tuned for more!