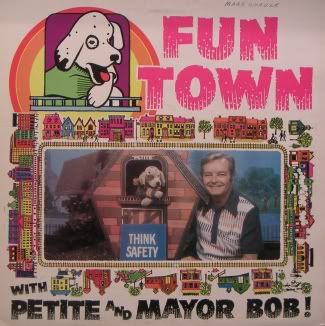 This is an album I initially purchased at the neighbor's garage sale when I was around five years old. Of course, my copy has since been scratched to shit and went up in the house fire. I got this copy at a thrift store (naturally).
Mayor Bob (Bob Swarts) had a local television show here in Winnipeg. The other main characters (puppets) were Petite the dog, Marvin Mouse, and a wooden dummy named Archie Wood. The show was cancelled A couple years after I got this album. A couple years after the show was cancelled, Mayor Bob died. (As a side note, the show was basically replaced with another one called "S'kiddle Bits" hosted by Joey Gregorash)
This album is music piracy at it's very best. If you look at the track listing, you may recognize some of the songs on it. The truth is, these songs are ALL the original recordings by the artists who made them popular (the exception is
Put Your Hand In The Hand
). You'll also notice that there is NO CREDIT given to the musicians who recorded these songs. Instead, they're all credited to either "Marvin" or "Petite"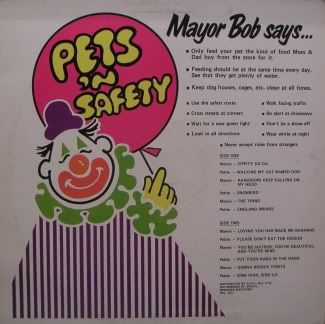 Marvin's songs are all unaltered recordings (with the occasional audible tape dropout). However, to achieve Petite's higher pitched voice, the original 33 RPM record releases are played at 45 RPM!
To give credit where credit is due, here's the track list with the CORRECT musicians credited:
1)
Zippity Do Da
- This one is actually Marvin Mouse's voice but I don't know the backing track
2) Walking My Cat Named Dog - Norma Tenega
3) Raindrop Keep Falling On My Head - BJ Thomas
4) Snowbird - Anne Murray
5) The Thing - Phil Harris
6) England Swings - Petula Clark
7) Loving You Has Made Me Bananas - Guy Marks
8) Please Don't Eat The Daisies - Doris Day
9) You're Sixteen - Ringo Starr
10) Put You're Hand In The Hand - (I'm guessing this is Anne Murray's version)
11) Gonna Boogie Tonite - Tony Orlando & Dawn
12) Sing High, Sing Lo - Anne Murray
As we can see, Mayor Bob had a hard-on for Anne Murray albums.
There is no copyright listed (probably a good thing) and there is no year of release. I can only guess that this came out in the mid to late 1970s given that Mayor Bob mentions that
You're Sixteen
"came out recently" (it actually came out in late '73). However,
Sing High, Sing Low
was released in 1977.
For your enjoyment, I've taken a page out of the book of Mayor Bob and have put Side 2 up on the net for your listening enjoyment. I think Side 2 has the more interesting songs. Unfortunately, to meet Houndbite's 15 minute limit, I've cut out the intro and closing music, and cut the shitty "Put your hand in the hand" song short. Other than that, it's fun listening to the stupid dialogue between the songs, and Anne Murray singing like she got fucked up on speed and sucked on a helium balloon.
Click Here to Listen!
On a side note, if you can find the full version of "Loving You Has Made Me Bananas", get it. That song is cool, and Mayor Bob chopped off the beginning.
I also had another album called "Petite Sings", but I'm still searching for a copy that doesn't look like it was used as a crazy carpet on a gravel hill. I do, however own a copy of the Christmas album in mint shape. Perhaps I'll post about it when Christmas is just a bit closer.
If you have the tolerance to watch a full episode of Fun Town,
there's one here.