Yes! Version 3.0 of the Garage Jukebox has been built! So much for me waiting two years to build it. The thing is, I found the perfect PC to build it. It's an old IBM 300GL desktop. I've been wanting to reduce the size of
the heavy, bulky, power-hungry mess that v2.x was.
This version contains some nice upgrades and even a few downgrades. Here's the specs:
Pentium 199MHz (Faster by 66 MHz!)
64M RAM (Half of what the other machine had)
2 GB Compact Flash Card for Hard Drive (Bigger by .3G, no moving parts!)
1 DVD-ROM Drive (the old one had four)
USB 2.0 Card
Hacked USB hub internally mounted
Three 8G USB Flash Drives for music
OS: Damn Small Linux v3.4.11
There's an extra bay for another CD/DVD drive, but maybe I'll use it to install an 8-track player or something.
Here's some pics of this beauty: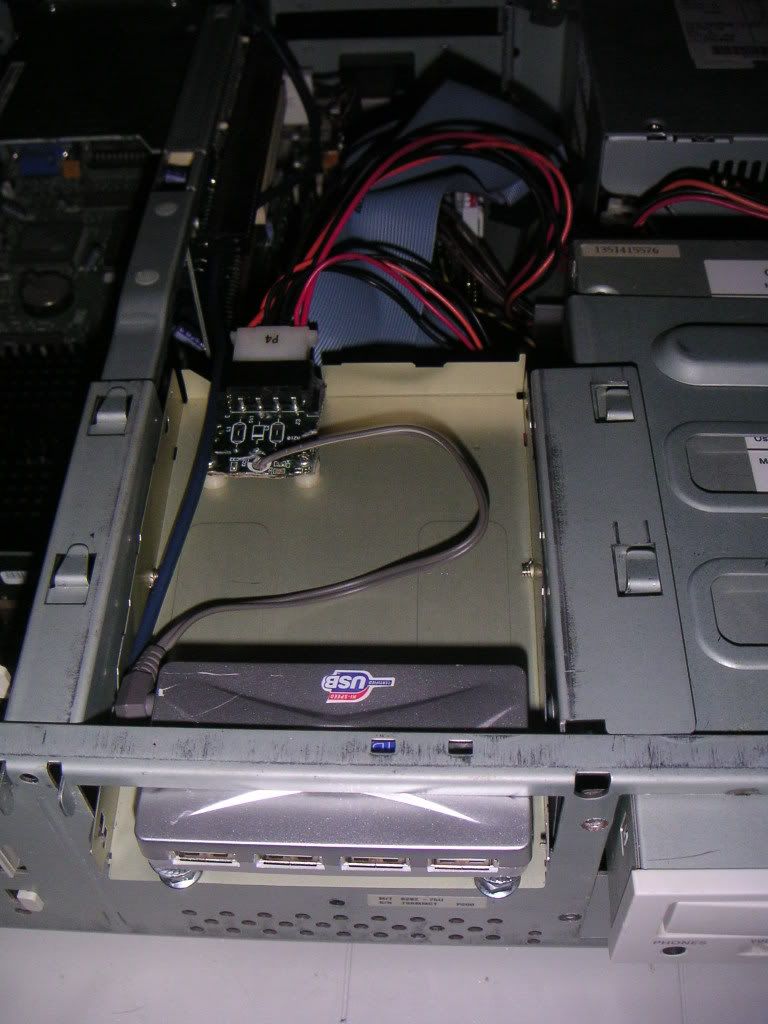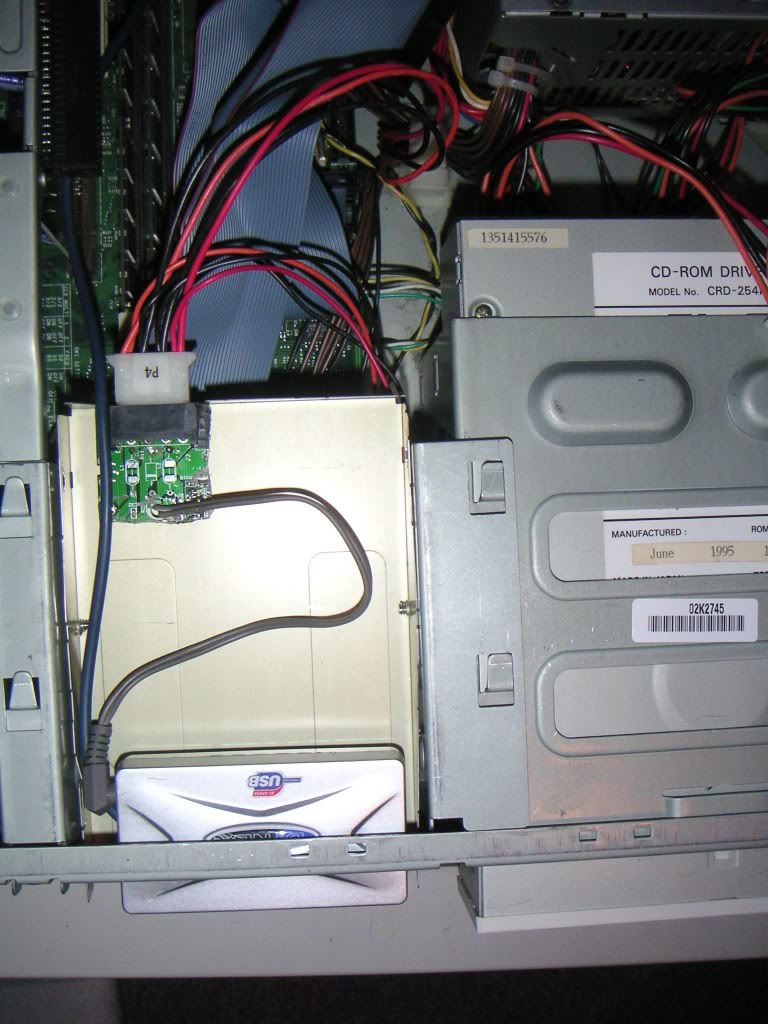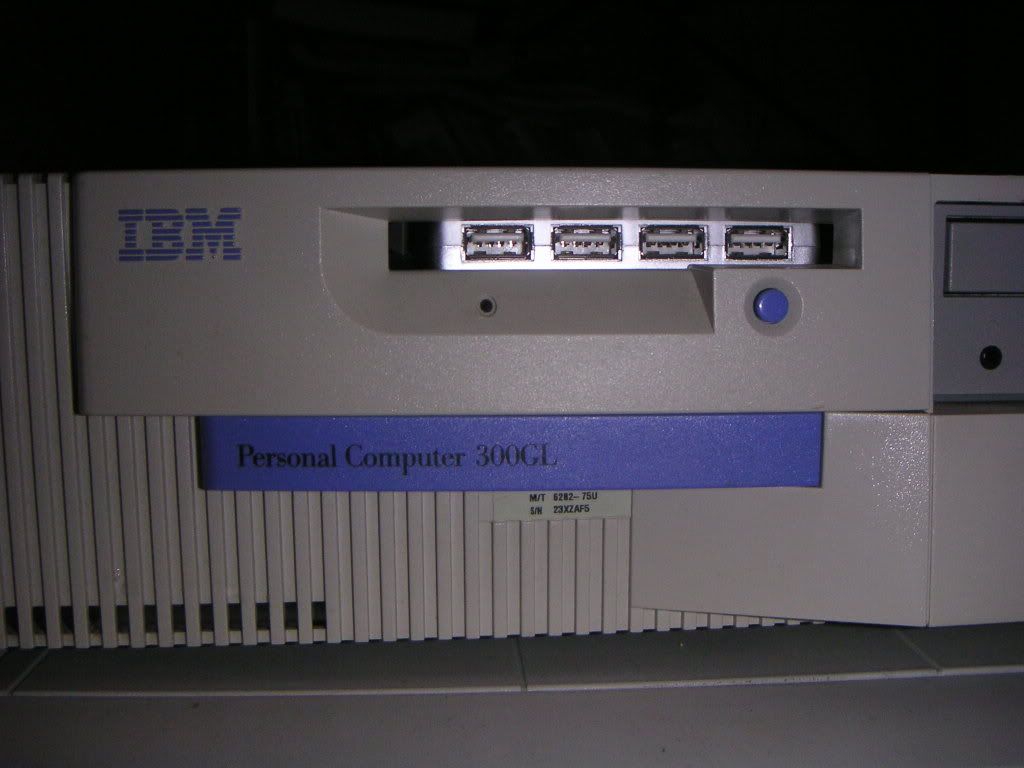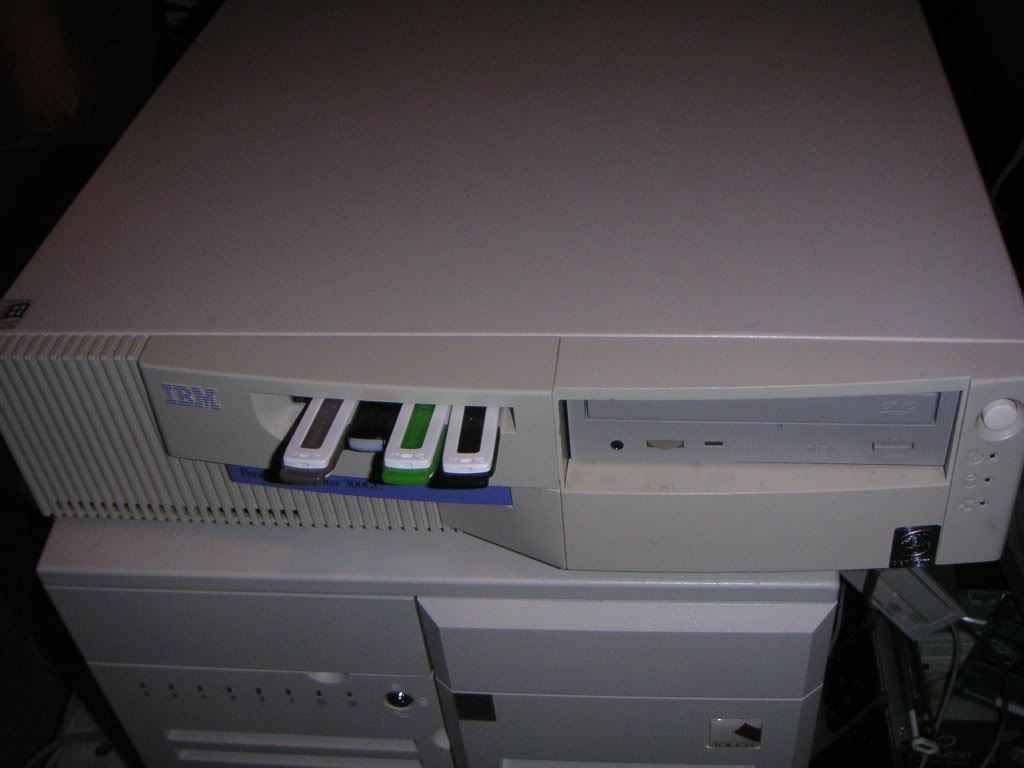 The desktop hasn't changed very much which is why I didn't bother with a screenshot. The only real difference is I put an alternate skin on XMMS.

I knew I was serious about my Garage computer when I started spending money on building it. Version 2.x was built with junk I had kicking around, and junk I picked up dirt cheap. I actually spent around $100 building this new version, the costs being the 2G Compact Flash card, the USB hub, and the 8G Flash Drives.

The rest of it was junk I had kicking around. The computer itself came from someone's trash. It originally had Windows 95 installed on it, and if you're wondering if there was anything interesting on the hard drive... there wasn't. From what I recall, it didn't even boot as someone had sabotaged the OS.

I had to modify the hard drive / floppy mounting bracket to mount the Compact Flash adapter. Thank god for drills! To mount the USB hub, I took the bottom (or maybe top) half of an old floppy drive, drilled some holes in the hub enclosure and drilled some holes in the floppy shell. I used a dremel tool to cut a power connector out of an old CD-ROM drive, and soldered on a cable I stole from an old cordless phone adapter to power the USB hub. I also had to remove the USB connector going to the hub, and solder a USB cable directly as there was no room to plug in the cable. So much for warranty!

I made a bunch of really cool optimizations for this version. After it boots, the XMMS music player automatically loads. All USB flash drives are automatically mounted. Any CD-ROM or DVD in the drive will also be automatically mounted. The drives are then scanned for MP3s which are automatically added to the XMMS playlist. In other words, all you have to do is power it on and leave it to load everything up (unless you want to play an audio CD). To shut it down, just click on the "KILL" icon and it automatically unmounts the drives and shuts itself off.

The old version was a pain because I never put these optimizations in it. It required you to baby it for adding music or shutting it down. This version is VERY low maintenance.

I went with flash drives for one sole purpose... I wanted to use this thing in the Winter time, and the DVD drives were failing in -15 degrees celcius (or lower). I also didn't need the hard drive failing which is why I used a Compact Flash card instead. If you're worried about the limited amount of writes to the card, I'm not. The OS creates a RAM disk, and only writes an archived backup file to the drive on shutdown, minimizing the amount of writes. My old workplace used Compact Flash cards in a few custom built PCs, and Windows 98 (which is constantly writing to the hard drive) would last 2-3 years on those machines. This optimized Linux install should provide a much longer life.

The playlist has only increased slightly, but I'm close to 3000 MP3s. Feel free to browse it by clicking here.

A few days after it sat in the garage, I tried booting it in -29 degrees celcius weather (nevermind the -42 degrees windchill). It successfully booted, mounted the flash drives, and played music while I shovelled snow!