With all the commotion going on in my personal life right now, I'm still making an effort to pump out the occasional blog entry. Yay! I'm also currently suffering the mid-winter slump, which is pretty good considering it's April and once the weather is behaving somewhat reliably, garage sales will be upon us and treasures will flow from every orifice of Winnipeg.
But for now, here's three more albums from the teetering stack of albums nobody has ever heard of, nor wants to buy - and for very good reason. I have yet to come across one that screams "I'm awesome! put me into your regular music rotation!" Instead, these albums are like smelly fruit that's been sitting in the fridge for a few months. They make your face wrinkle up, much like what that fruit will look like once you finally locate it.
This is also the Cover Version special, and all of these songs are on CD, so quality attempts to grace your ears!
The HADDs - Never Mind The Re-Org, Here's The HADDs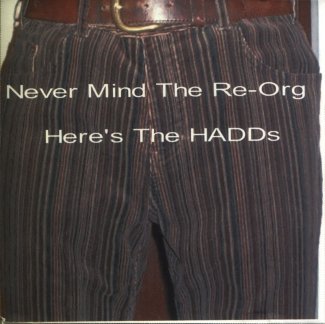 I had high hopes for this one. The name is obviously a parody of the first album by The Sex Pistols which I enjoyed immensely. However, all relation to the Pistols is lost when you press play and hear an extremely bland and shitty version of "Blue Suede Shoes". Here's the track listing on the disc, all covers:
1) Blue Suede Shoes
2) Jukebox In My Mind
3) The Dance
4) Heartbreak Hotel
5) Knockin' On Heaven's Door
6) Wonderful Tonight
7) Poncho & Lefty
8) Just A Matter Of Time
9) Ruby Baby
10) Love Will Keep Us Alive
11) A Fool Such As I
12) Stand By Me
13) Brown Eyed Girl
The drummer is a synthesizer. The singer is some average guy (nicknamed 'da Soulman) who shouldn't give up his day job. Also, whoever decided to put The Fucking Dance by Garth Brooks on this album should have their teeth flossed with their guitar strings. I hate that goddam song.
Also, I have no clue what "Re-Org" nor a "HADD" is. From the cover, I'm guessing HADD stands for "Horny Asshole's Droopy Dick"
But if you like bland rock covers, you'll enjoy this uninteresting version of Brown Eyed Girl:
Click Here To Listen
Tonia & Donna - Insieme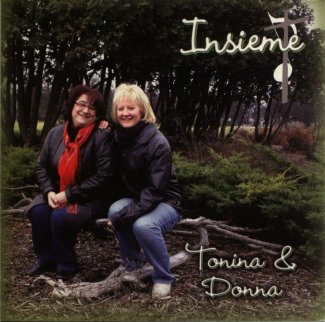 Here's two old ladies who put together a collection of boring piano-backed cover songs. They look pretty happy considering how depressing the song selection is. I had to ask myself, why would ANYBODY put together a CD of such miserable music? Then I looked at the back cover...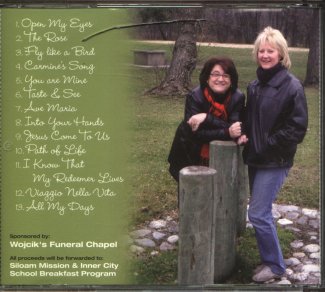 Yes! Of course! The music is depressing because this wonderful album was funded by the good people at Wojcik's, Winnipeg's finest funeral chapel! There is actually a third member to this group, but he was unable to get out from his coffin to play the guitar which is noticeably missing from the recordings. Wojcik's put on a nice service for him and played this fine recording which enhanced the bawling and sadness of the family and friends who attended. May the third member rest in peace.
Please take home a piece of this funeral by listening to Tonia & Donna's painful rendition of "The Rose".
CLICK HERE TO LISTEN!
Yvette - Love, Light and Blue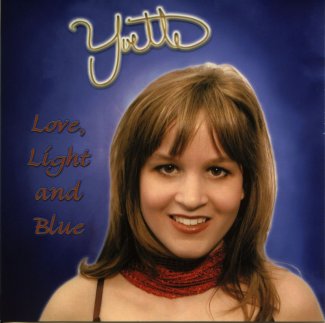 This album borderlines on driving me insane. When Yvette Rochon hits some of those high notes, it makes me want to drive my index finger through my skull. Don't get me wrong, with the right song, this singing style can be quite enjoyable and a few of these songs are. I'd love to hear Yvette do a version of Pineapple Rag. Speaking of which, if anyone knows who did
this version of Pineapple Rag
, please let me know. I'd love to find a complete copy instead of this hacked up cassette I recorded off the radio back in 1984.
Anyway, this trio perfoms songs that aren't as irritating as the garbage on the Kathie Lee Gifford album, which is a good thing. However, calling this a "trio" is somewhat a mistake. It's mostly Yvette singing and a lady named Jo Ann playing the piano. Whenever the guitar player actually plays, he is totally fucking useless. While Yvette and Jo Ann are doing their thing, the guitar player just starts dicking around with the strings, playing NOTHING of ANY relevance to the rest of the performance. The occasional "plunk", "plink" and random chord pulls a somewhat decent performance down to the bottom of a three month old outhouse, where bad musical groups live and munch on human feces. His guitar playing sucks, and he should be fired from "Yvette".
Click Here to listen to "Things Are Looking Up"
And another round of "Garbage Albums from Inner Winnipeg" has come and gone. As the pile grows, I'll get around to more of them. If you see an album in this list or any of the previous ones that you would like made available for download, please don't hesitate to ask. I have lots of webspace just dying to be used!