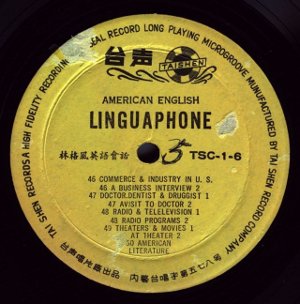 After a short break, it feels great to be writing in here again!
A few months back, I picked up an interesting record for 49 cents. This record is made by a company called "Linguaphone" which specializes in aids for learning new languages. Obviously, this one was to aid the student in learning English.
There's two things that make it odd. First of all, it must have been recorded sometime in the 1950s. Life isn't quite like the way it was back then! The second is the stories that the voice actors go through. They're completely unbelievable, and there is almost nothing for emotion in their voices!
So let us enjoy three of the best selections from this thing...
Car Trouble
Thank god for the crank when the battery fails!
Buying Cigarettes
Can't leave that one out! Six cigars, two pack of cigarettes, flints, and a box of matches for under five bucks.
A Visit To The Doctor
This guy should be fucking dead! Instead of admitting him to the hospital, he's been told to eat vegetables and take a nap.
Yes, this record has been brought to you by the most educational blog in Canada. Now you know how to speak proper English. Good thing they don't teach you how to spell since the label is full of typos.