It's been a while since my last post. I've been busy with health issues, spring cleaning, building a new computer because my old one crapped out, and trying to get the artwork done for the album I recorded. I swear it's going to be released this year, but I didn't anticipate how much it sucks to do album artwork. I could take a lesson from some of the artists that I review here and just use a photocopied picture of myself and put NOTHING in the inlay card, but if people are gonna pay for my album, then I want to give them some pretty pictures to look at and maybe some crap to read on the inside. I'm attempting to do a nice job on it, and then it won't qualify for me to make fun of on this blog.
Before I get to the albums, I feel the need to write a review on an ebay user named
snowbunnielisa
. For my birthday, I decided to buy myself something from this user. They didn't ship the item even though it had been marked as shipped, I complained, they "re-shipped" it, it showed up well over a month past my birthday, and the item arrived broken. I sadly did not get a refund.
So, I decided to write a poem for my dear friend
snowbunnielisa
...
The item arrived at my house today,
Too bad it didn't work.
You're a filthy scammer on ebay
And you're a fucking jerk.
May cancer invade your breasts my dear,
And I hope they get cut off too.
May your husband fuck a busty cashier
Much hotter and younger than you.
And when you're getting on in years,
You'll fall down many a-stair.
You'll live out life crying many tears
And suffer in a wheelchair.
GOD HATES YOU.
And now, onto a selection of crummy tribute albums that all of you have been missing from your lives...
Top Chart Hits of Today Vol. 2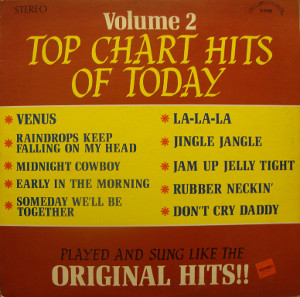 I reviewed Vol.3 here.
Allshire actually seems to do a half decent job of these covers. They even say right on the cover that these are a bunch of hacks trying to sound like the originals (although they do a nicer job of saying it than me.) I actually enjoyed their cover of the Shocking Blue song "Venus". I figured I was going to have trouble picking a song from this one. BJ Thomas's "Raindrops Keep Falling On My Head" was pretty faithful.... until the end. The trumpet player and the guitar player take all the faithfulness of the cover, and drunkenly mess it all up. The trumpet player can't keep the beat and the guitar player... well, who knows what the fuck he's doing. Probably trying to get raindrops to come out of his head by rubbing his guitar against his crotch during the recording session.
Enjoy Raindrops Keep Falling On My Head
Top Chart Hits of Today Vol.4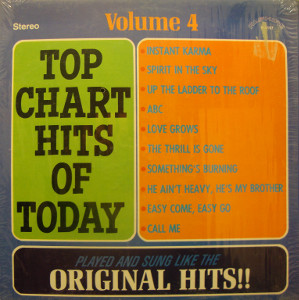 Yes! I found volume 4! I have no clue if there's a volume 5. Unfortunately, I'm a completist, and my soul is forever going to be tortured until I find the first one. By the way, these seem to be manufactured by some subdivision of the Arc label, and we know how many crappy albums I've reviewed from Arc.
Let's see what we have here.... The cover of "Instant Karma" is pretty underwhelming. It sounds like half the band said "Fuck this shit, let's be roadies for The Bay City Rollers" and left the remaining three guys to record it by themselves. "Spirit in the Sky" slogs along as if each person in the band drank a bottle of extra-drowsy cough syrup. The Kenny Rogers & First Edition song "Something's Burning" was actually done quite well.
Now, one of my all-time favorite bands is The Hollies. There's very few Hollies songs that I hate, and they recorded a LOT of stuff over three decades. So when some dickwad in a gay-closet recording studio decides to ruin a Hollies song, I get a little bit upset. Dude, you sound NOTHING like Allan Clarke. You sound like a transsexual who is overdosing on testosterone pills trying to man up your voice, but instead have grown testicles in your throat. The positive side to all this is you have to put in very little effort when you try to suck yourself off.
Listen to He Ain't Heavy, He's My Brother
The House of Random - 15 Big Hits Vol.6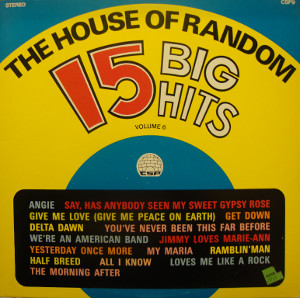 I've seen lots of albums by "The House of Random" and I have a bunch sitting in my "In Queue" box. The back of this one has something that every other cheap imitation album is lacking.... CREDITS! How exciting! All the musicians are listed, although we have no clue which ones played on what songs. Another thing I didn't know is The House of Random came right out of Winnipeg, and recorded at Century 21 Studios.
So, because these guys are from the same city as Me and Burton Cummings, it means that these covers are awesome, right? Hehe, nope! Even though this album is produced quite well as compared to a lot of others, it's still showcasing some lousy talent.
First of all, let's talk about the cover. It was done by Brigden's of Winnipeg Ltd. WHAT THE HELL IS THAT??? I tried to Google that shit, but the best I can gather is it's an art group from the University of Manitoba or something. So judging by the artwork on this cover, you'll be able to use your art degree to get a job making lame-ass album covers for a crappy cover band nobody cares about. Mom and Dad will be so proud of you!
There's lots of great songs here to pick on, but I chose The Rolling Stones song "Angie". The vocalist is Ray St. Germain or Tony Francis or Bob Deutscher or Daryl Gutheil or Don Gutheil. Whoever he is, he did a great job at sounding like a Downs Syndrome version of Mick Jagger. The guitar player Ron Halldorson or Bob Deutscher doesn't play the beginning very well, so the song starts off on a bad note.
So now, I'm gonna shut up and let you listen to The House of Random Winnipeg Musicians!
Listen to Angie
The House of Random - 15 Big Hits Vol.3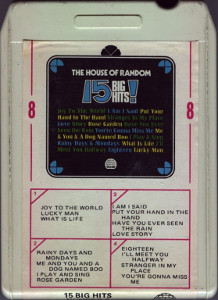 Yup, I have another one. I probably have another ten, but I don't feel like digging through my entire box of crap to find more, and I don't want this blog entry to be too long. Are these the same musicians? Who knows. There's no credits on the 8-track, and the "House of Random Sings The Best of Anne Murray" record I have doesn't have any credits on the back either.
The cover of Ocean's "Put Your Hand In The Hand" is damn near identical to the original. With the exception of some sloppy playing, their version of ELP's "Lucky Man" isn't bad either, and that includes the annoying futuristic-sounding keyboard at the end (although this one is a bit more obnoxious.)
There are two losers here... The vocalist on Creedence Clearwater Revival's "Have You Ever Seen The Rain" sounds like Trey Parker, creator of South Park. The other song is Neil Diamond's "I Am I Said" which I'm featuring here. The guy sounds nothing like Neil.
Listen to I Am I Said
Well, the old clock on the wall says that you shouldn't buy anything from
snowbunnielisa
. Thank God for clocks. I should have listened to it the first time when the clock said "Get a refund because they haven't fucking shipped it. Anyway, enough bitching for now, and it's time to get some more blog entries up now that my computer is pumping and fisting at 100%. Be back soon!