I cannot believe I found THREE albums by this guy in the course of one month. It's like he exploded out of nowhere and took the thrift stores by storm! I'm not entirely sure if that's a good thing for one's music career, but they certainly caught my attention.
The music is the typical run-of-the-mill old-guy cover songs that I've seen on countless other self-made albums. And the music? Well... The tunes are certainly identifiable, but it all just sounds so bloody disjointed. Anyway, let's get to the albums...
Polka & Waltz Across The USA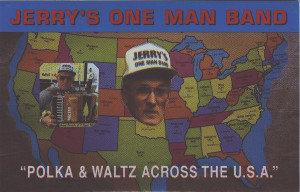 Judging from the album cover, it appears that Jerry is not only talented at playing a ton of instruments at once, but his head is amazingly able to detach from his body and float into orbit! With his super magnification glasses, he is able to peer into sexy women's bedroom windows. Google Earth has NOTHING on Jerry!
For this album, Jerry travels the US and plays anthems belonging to many of the states. Well not literally, he probably avoided traveling and recorded them in some guy's basement. Since my background is Ukrainian, I'm cocainely addicted to a good polka or waltz. The sad thing is Ukraine does not belong to the USA, so there's pretty much nothing here that I recognize. I chose to feature the Pennsylvania Polka. It may be the cocaine talking, but I swear I hear SOMETHING in the background of this recording. I don't know if it's a baby in a blender or the usual demons found in polka recordings, but I'm pretty sure something odd made its way into the background.
Listen to Pennsylvania Polka
Variety Pack No. 1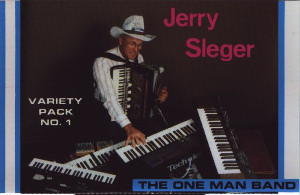 The album cover shows us that Jerry owns way too many fucking keyboards. It's that, or he's got five hands to play them all. Given the fact that his head detaches and floats, the probablility of him having five or more hands doesn't seem to surprise me all that much.
Jerry covers the classics here, from "Green Green Grass of Home" to "Please Release Me". I was personally looking forward to his version of Welcome To The Jungle, but I guess there's only so much good stuff you can pack into the first volume.
Because I love Disney so damn much (LIE) I figured I'd include the amazing happy version of It's a Small World. If Disney could do one thing right in their lifetime, they could start using Jerry's version of the song on their amusement park ride.
Listen to It's a Small World
Plays 28 Songs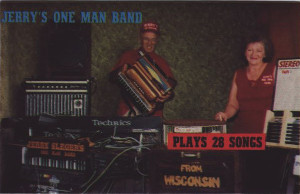 YES! 28 FUCKING SONGS! You don't even get that on a Green Day album anymore! Here, Jerry seems to void the name of his band and feature his wife on the cover. Well, maybe not. I mean, she's not a man so it's still a "one man band", but there's one woman too.
There's lots of polkas and waltzes on this one, but Jerry throws in some classics like "Been Working On The Railroad" and "When The Saints Come Marching In". I decided to go with a favorite Elvis song of mine for this one. The drum fills don't really work, and it's disjointed as hell, but it's an Elvis song... Well, I doubt Elvis actually wrote it, but he recorded a nice version.
Listen to Blue Moon to Gold
I ended up doing a Google search to see if Jerry has any more albums floating around out there (he does), and I found him on Youtube. There's a bit of an interview here and you get to see him play his pile of junk live! The fact that he hacked the shit out of an old accordian and made it do weird stuff totally earns my respect. Check it out:
There will probably be more Jerry albums featured here in the future, given the fact that it didn't take me long to find three of them. I can totally see him joining the ranks of Arnie, Teo Mance, and Kevin Harcourt, all who love to have their wonderful music featured on Classical Gas Emissions! Well, maybe except for Arnie. Arnie kicked the bucket a while back.