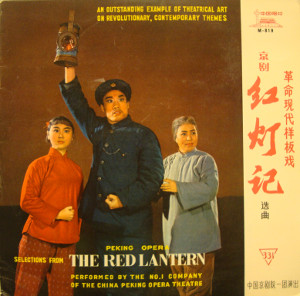 THIS RECORD IS REALLY FUCKING ANNOYING. What a way to start off a blog entry! Just cut all the shit and get to the point. This ten inch record is like Chinese torture. Wait.... it IS chinese torture! My poor ears have torn themselves from my head and flushed themselves down the toilet.
I got this in a batch of free records, and I hate it. They've taken two annoying things (chinese singers and opera music) and have put them together into this ugly collection of noise. I don't know if this is a play, a musical or a movie, but it should be thrown in the garbage.
With titles such as "Telling the Family's Revolutionary History" and "The Poor Man's Child Shares The Household Burden From Early Age", you'll be sure to grab your puke bucket and heave. This music is PAINFUL. It's the equivalent of putting your pet goat and some rocks in to a blender, and putting it on LOW speed while someone is standing beside you smashing trashcan lids together. You can actually pick out the moment when they turn on the blender.
My turntable has crawled into a corner, and is sobbing uncontrollably.
Listen to Chinese Woman in Heat!
Listen to Goat and Rocks in Blender!