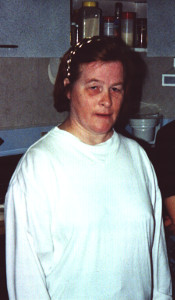 This is my Aunt Margaret. The best way I can describe her is... well... she's special. She likes Michael Jackson and .... well.... that's pretty much it. She also phones my parents A LOT and likes to leave messages on the answering machine.
The other day, I went over to my parents' place with my laptop in tow. My dad had saved some of the messages where she was singing songs, so I recorded them with the full intention of putting them up here for your entertainment.
And they're very entertaining!
So this is my way of wishing all my readers a Merry Christmas. I hope you enjoy the soothing voice of my Aunt Margaret, and her extra-unique renditions of these popular songs.
Jingle Bells
Six Little Ducks / Frosty The Snowman
I'm Gonna Knock On Your Door / Bye Bye Love
Deck The Halls
Happy Trails
And in case you missed it,
here is my Christmas appearance on Amateur Hour
. There's some great stuff in there too!