Back in March, I was "sick" from an "accident". You can read that as "Ben pooped his pants and got a rash" if you wish, but it caused me to miss work for a few weeks. As part of my self-imposed therapy, I took a drive out to Ashern Manitoba and spent a few hours going through the piles of junk at the thrift store. I had obviously been a while since I was there, because I walked out with about 20 CDs (yes,
only
CDs) that looked absolutely atrocious. I've retained 14 of them for this entire visit. Since there was so much, I decided to break up the Ashern visit into two entries.
I found I had a couple of decent discs out of the batch, but the crap certainly outnumbers the good. Let's get started...
Brandon Beemish - Islandbeams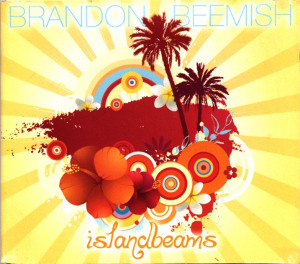 Might as well start this entry on a good note. Just think of it as enjoying a really fantastic meal before going to the toilet to eliminate your previous meal where you ate nothing but candy. You know it's going to be a really long one, so take pleasure in the good things before crunching your eyes shut, and enduring the pain of an extremely hard cluster of shit.
Brandon Beemish has recorded some wonderfully sugary-sweet power pop. I'm currently very much into power pop, so this stuff is just right up my alley. The music reminds me of a cross between The Shore and Josh Rouse. This is very summery music, so if there's an album you should play while laying on the beach, this is the one to get! I'm only going to post one song and leave it up to you to support the artist and
get the rest of the album
. Good artists deserve money for good work!
If you get a chance, go to his youtube channel and click
HERE
for his excellent cover of "Long Long Long" originally done by The Beatles.
As a side note, this album is going into my personal music collection. That doesn't happen very often, but this one deserves it!
Listen to So Softly! You won't be disappointed you did!
Razzmatazz For Kids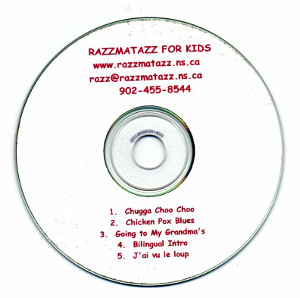 I really wished this was the Nazareth album. That would bring me much more joy.
You know things are starting to go downhill when we start singing about herpes. To be fair, this isn't the worst CD in the batch. The musicians sound mostly talented, even if none of them are members of Nazareth.
Everybody sing along now...
I had the chicken pox (FUCK! FUCK! FUCK!)
Listen to Chicken Pox Blues!
Guardian Angel - Wind and the Sea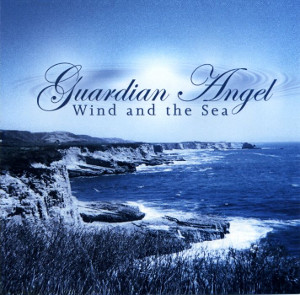 After the CDDB detected this disc as the cd single for "Ride" by The Vines, I was hoping it was a genuine error. No dice...
Sometimes I pick up albums that are still sealed and wonder why the previous owner did not open it and play it. They must be able to pick up vibes through the cellophane.
This CD has three songs that sound almost exactly the same and are the same length. Creativity stopped after the first song was written. The production work is terrible. If you've ever felt the need to vomit while meditating, I'll have no problem selling you my copy of this.
It was really difficult to figure out which version to give you for your listening pleasure, but it's all identical with the exception of things being mixed louder than others in each mix. Congrats to the guy who mixed this for discovering volume controls!
Listen to Guardian Angel by Guardian Angel!
"No Rewind" To Be - Released Fall 2007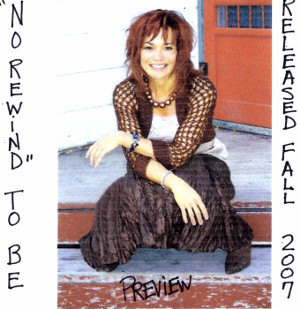 So here's a nice lady named ""No Rewind" To Be". She seems nice. She likes to wear brown. She's not a natural red head. I'd tell you more about her, but there is absolutely nothing else to go on but the cover and the song titles written on the CD.
She has a nice voice, but she ruins the fuck out of "Let It Be" by The Beatles. Why do so many people feel the need to butcher this song? It's almost as popular as "The Rose" and "Bridge Over Troubled Water". If Paul McCartney were alive today, he would be certain to cut her leg off.
Listen to "Let It Be"
The Smudge Fundaes - Sing For Your Supper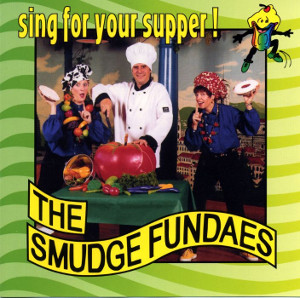 It takes real balls to clone "Sadeness" by Enigma (with a hint of "All That She Wants" by Ace of Base) and turn it into a song called "Alex The Alligator".
These songs are supposed to be amusing and funny, but the people singing it sound like they need a couple of doses of Paxil to cheer them up. There is no happiness to be found in their voices, and I can't blame them when they're singing these crappy songs. I can't help but wonder how many members of The Smudge Fundaes have ended their lives.
Listen to Alex The Alligator
Listen to Coconuts
Lyle E Style - Singled Out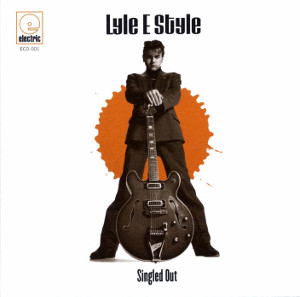 In the world of music, you have exactly 10 seconds to make an impression upon your audience. Lyle E Style decided to fill that 10 seconds with the sound of someone urinating on the sidewalk. This sums up his music quite well, since the lyrics are whiny and pissy. They are also very poorly written.
Here's a sampling of the garbage I've been subjected to. I'm guessing these are all first drafts:
So I drown my sorrow and swallow my tears
Hoping that this feeling will dissapear
But the very next morning, it's still the same
I wake up crying... Her name is Pain.
and
Girl take this heartache with you when you walk out that door
There's no sense trying again cause I can't take no more
When things go wrong once, they'll go wrong again
I've been around this world, there's other women
and
But princess you'd be fun
Come & play with me hon
Anytime, anywhere, name the place
And baby I'll be there
You'd be fun.
and
How am I going to live a Christmas without you here
It's hard to accept that now you're gone girl, I'm I'm filled with fear
Baby, can you hear me singing to you now?
So how many of you took your lives while reading that bullshit???
I like how he looks all tough on the album cover, and he's crying like a little bitch in his songs.
It's oh so difficult to choose a horrible song off a 4-track sampler when all 4 songs are pieces of depressing shit. So I picked the one with the bad pick-up lines in it.
Listen to You'd Be Fun
Major Conrad Flapps - World in a Flapp: Musical Take-Offs From Around The World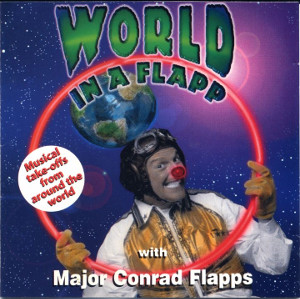 You just know the album is going to be awful when you have a clown pilot on the album cover and he's named after the act of masturbation. It's a shame that he wasn't clowning around (or fapping) while flying his plane, leading to a horrendous crash before recording this album. On the plus side, with all the violent clowns in the news lately, Mr. Fapps probably has limited time left on this Earth to be putting out shitty albums.
Allow me to summarize what you're about to hear...
Flafrica - You won't be missing the rains down in Africa with this song. It sounds like awful taco bell jungle music. The animals in the jungle consist of one stupid clown pilot making unknown animal mating calls and fart noises. The name of the song is the joining of "Flatulent" and "Africa" - a true masterpiece of shit!
Sakura - If your children like smoking weed, this is a great stoner song to help them on their trip!
Cross Walk Jive - If you like good rapping, go to another website and listen to something else. This song absolutely hurts my brain, and it's SIX FUCKING MINUTES LONG.
I'm only guessing that this album is aimed at children, but I cannot imagine how ANY child, regardless of how developed (or underdeveloped) their brain is, would enjoy this album. My girlfriend flipped me the bird when I told her to take this CD to her daycare.
Listen to Flafrica
Listen to Sakura
Listen to Cross Walk Jive
I'll get part 2 up shortly, but I'd like to get a Halloween entry up this year. There's always more horribleness on the way, so keep your eyes peeled!