Guess what? I have enough stuff to make a Halloween entry this year! Halloween items are actually quite difficult to come across. Most of the time I'll have to skip over Halloween, but not this year! Well technically, almost everything I post is scary as hell, but when you take something scary and make it even more scary, it's DOUBLE scary! You'll have thoroughly pissed your pants by the end of this blog entry, so let's get it done with so I can laugh at you...
Famous Ghost Stories with Scary Sounds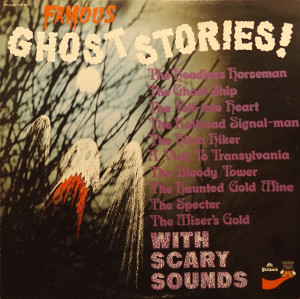 Pickwick is one of those record labels who either puts out some really cool stuff, or bottom of the barrel garbage. I didn't have much hope for this one, but honestly it's quite well done! It's basically a collection of scary stories with a bunch of cheesy sound effects added into the mix. Most of the credit goes to a Pickwick employee named Wade Denning who produced this album, adapted some classic tales, and even wrote a few of his own. Some of the classic stories include The Headless Horseman by Washington Irving and The Tell-Tale Heart by Edgar Allen Poe.
For this round, I chose to focus on a Wade Denning original called "A Visit to Transylvania". It's probably the lamest track on the album, but that's why we're here.
Listen to A Visit to Transylvania
Andy Forray - Drac's Back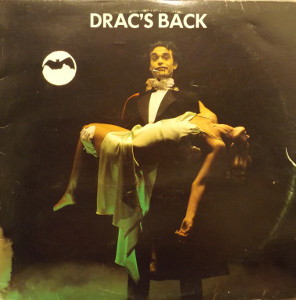 This strange song combines a dumb idea with a groovin' disco beat! It's about Dracula going down to the discotheque to find his victims. He sings "I wanna suck your..." followed by a group of ladies singing "Ooooooh!" as if he actually wanted to suck on their pussies. Actually, I think that would have made a more interesting song idea than this one. The B-side is even worse with a dumb and uninteresting song called "Carry on Sharon" which has nothing to do with Halloween, and is therefore not included here.
Listen to Drac's Back
Hallmark Cards - The Sounds of Halloween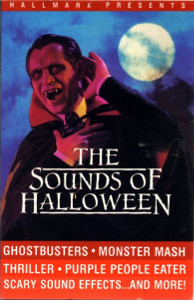 Hallmark Cards decided to make their mark on Halloween-themed merchandise by recording a bunch of shit and selling it to people stupid enough to shop at their expensive stores.
Side one is 20 minutes of some of the WORST sound effects I've ever heard in my life. These have been enhanced by a tape-echo effect and someone playing with the speed control on the tape recorder. The screaming is hilariously bad. I would love to see a video of the lame-o studio actors screaming into the microphone.
Side two has some exotically shitty covers of Halloween-esque songs. I've heard a lot of bad covers of Monster Mash, but this tape has the absolutely WORST version I've ever heard. The guy doing the vocals sounds like he smoked a goat turd and is flying higher than a kite. The backup singers fuck up the background vocals half-way through the song, and end up singing the wrong part. This makes the rest of the song sound awkward and stupid. The producers in the Hallmark recording studio must have just said "fuck it, the first take is good enough"
The cover of Michael Jackson's "Thriller" will have you laughing at the get-go. The guy making the howling noises mostly just sound like a drunken dipshit who thinks he can dance and sing. The vocals are done by a female, which has been typical for all the Michael Jackson covers I've heard. She does a decent job on the vocals, but the song becomes handicapped when the part originally done by Vincent Price is tackled by a guy who's scary voice would make grizzly bear fall over in hysterics.
Listen to Monster Mash
Listen to Thriller
Listen to Sounds of Halloween
That's it for this round! I'm going to be back on air with Kent Davies on November 16th. We'll be having a grand ol' time playing some of the terrible stuff I've found recently. If you're in Winnipeg, tune into 95.9 FM at 5:00. If you're not in Winnipeg, then I'm sure nobody will mind if you fly out here and stay at Kent's house for that day. He won't be home anyway.