Happy new year to all my devoted and tortured readers! I'm a bit late to the party this year, but perhaps this may be useful for next year.
First of all, allow me to explain why it took two months to get around to this post. At the beginning of January (when I was initially working on this entry and was nearly done), my dad went into the hospital. I visited almost daily until his passing on February 19th. After that, I had to deal with all the things that go along with a passing family member. So that's where my time has been spent as of late.
In the spare time that I had, I've been trying to get the second episode of Tech of the Century edited. I didn't realize that I had recorded hours upon hours of footage of me refurbishing my Coleco Adam computer, and the initially planned 30 minute episode has turned into 10 or so videos, each about 15 minutes in length. The entire series should be up within then next few weeks, but I really needed to put something up on the blog in the meantime.
So now that I have your forgiveness, I shall make you hate me all over again....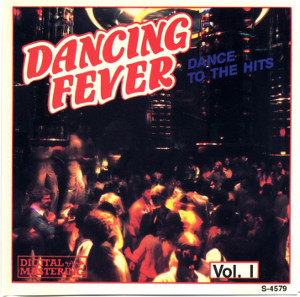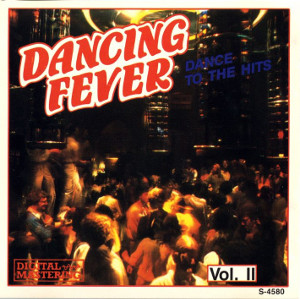 We're going to take a look at these beautiful CD compilations released by Madacy. Madacy is a shitty budget Canadian record label who probably released other crap that I don't care about. I recently reviewed their awful
Muppets release
I owned when I was a kid.
Today, we're going to dance our asses off with volumes one and two of "Dancing Fever". I think it's funny that they use a phrase from the disco era on these compilations which cover songs from the 80s and 90s. The first volume has been sitting in my queue pile for about a year. I found the second volume about a week before I started writing this entry back in January. I honestly had no clue that a second volume existed!
Both of the album covers are almost exactly the same. The album cover boasts in a dark-purple-on-black-background text, "Dance to the Hits". There's no exclamation mark in that statement, so don't get too excited about cutting the shit out of your rug. I like how these albums brag about using digital mastering, but digital mastering doesn't make a turd more beautiful and pleasant-smelling. Perhaps a more accurate phrase would be "Digital Bastardizing".
Volume one is riddled with terrible covers of rap songs from the late 1980s and early 1990s. Here's some of the "highlights"...
Pump Up The Jam
This one requires an apology. It awful. I don't know what accent that's supposed to be, but it sounds like someone with a speech impediment trying to sound like they're from the south. The music is full of magnificent Casio goodness.
Wild Thing
Funky Cold Medina
Tone Loc's less talented wanna-be cousin makes two appearances here. All the samples that were used in the originals songs (Van Halen's Jamie's Crying and Kiss' Christine Sixteen) have been replaced by a real guitar and a Casio's attempt at making drum noises. I think the cowbell might be real too.
Buffalo Stance
This Neneh Cherry cover is actually not too awful except the intro is nowhere close to the original.
Me, Myself and I
This De La Soul cover cries because this version needs to be taken out back and beaten to death with a shot gun.
For Volume two, you are treated to a plague of lesser known hits from the 1980s. As a person who knows a LOT of music, I have to be honest and tell you that I don't know most of these songs. However, I will post the ones I'm familiar with.
La Ilsa Bonita
Madonna starts off the album by leaving the recording studio, and all we're left with is that same fucking Casio keyboard and someone who aspires to look and sound as sexy as Madonna. It's probably the same chick from "Pump Up the Jam". This song also appears on another Madacy album called "Today's Power Hits" which I briefly touched on in my dreadful
Whitney Houston tribute
. Incidentally, that version of "I Wanna Dance With Somebody" is on here as well.
Let's Go
I'll be honest and tell you that the version of Wang Chung's "Let's Go" included on here is the first one I ever heard. Back when I was a stupid kid, I purchased a two tape set called "40 Super Hits of 87" (also in my Whitney Houston tribute) and this version was the first track on it. It's difficult for me to comment on this version due to hearing it for the last 28 years. From what I can tell, it's a decent cover, but I'll let you be the judge of that one.
Two Of Hearts
This Stacey Q cover is a nice attempt at duplicating the original, but trips over the Casio keyboard and the whole thing falls on it's face, making an extremely glorious racket.
And those are the only ones I know on here!
I really need to dig out that "40 Super Hits of 87" tape set and review it. It's loaded with bastardized Bon Jovi, fucked up Fleetwood Mac, phooey poopy Huey Lewis and the News, shitty scummy Eddie Money, and many other horrible attempts at scamming you out of your money.
So yeah, I'm back in business. I know you all missed this kind of shit. In other exciting news, I'm planning an extreme two day Junq Tour across Manitoba where I visit some of my favourite thrift stores of old. That should be happening in August, and I'll hopefully be putting my adventures up on Youtube.
Until then, keep watching for new entries and a whole shitpile of Tech of the Century episodes!