I recently turned 40 years old which officially makes me half way to dead. In other words, you have about 40 more years of me posting crap onto the internet. Hooray for you.
Anyway, let's start with the festivities! We need some official birthday songs to celebrate and blow out the candles on this cake I got from Safeway: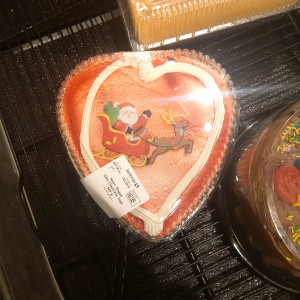 I think Safeway needs to start hiring 4 year olds to decorate their cakes instead of whoever the fuck they have now. Love did not go into decorating this, and it can't decide on what holiday it is.
Sets In Order - Party Series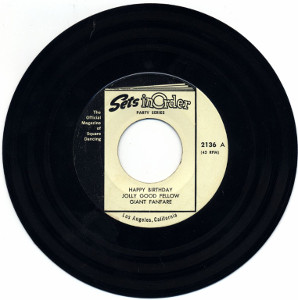 This record has six grooves on it. Don't try to correct me on the technical details because each of the six songs finish in an endless loop. So let's get all get together and sing Happy Birthday to me. I've also included "He's a Jolly Good Fellow" which is not fitting in any way because I'm a miserable asshole. To end it off, we'll all make fun of me for being an old gray mare.
Listen to Happy Birthday
Listen to Jolly Good Fellow
Listen to Old Gray Mare
Download all the songs
Now that we've eaten cake and did all that traditional shit, let's look at my Horoscope. I'm a Pisces, so let's find out a little bit more about me from Linda Goodman's all knowing cassette tape...
Linda Goodman's Sun Signs - Pisces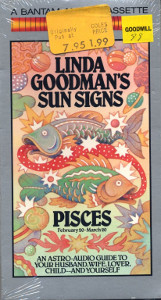 Lots of pretty music on here!
According to this cassette, I'm destined to be poor unless I marry into money. I also have small, dainty size 11 feet. I also have tiny fragile and exquisitely formed hands with which I'm typing this blog entry with. I also don't take good care of myself, do yoga and delve into the occult. Satan is my master!
Other than these highly truthful anecdotes, I'm either one extreme or the other, so we cover every single base when it comes to describing me. Thanks a lot for narrowing it down, Linda Goodman. You suck.
Listen to Side 1
Listen to Side 2
Now it's time for some party music!
40 Pieces of Gold (Tape C)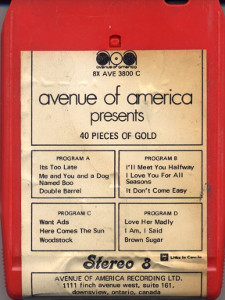 This should have been called "40 Pieces of Shit". Unfortunately, I only have the last of this 3 tape set, so there's only 12 pieces of shit to enjoy here.
I've touched on Avenue of America's garbage before, and some of these are repeats from other "compilations" that I've examined before. However, we have a version of "Me and You and a Dog Named Boo" that I actually think is a bit better than the original, the exception being that they didn't also do "Country Feelings" which is the precursor on Lobo's "Introducing Lobo" album.
We also have a somewhat bare bones version of The Doors "Love Her Madly" which is missing a bunch of the instrumentation. The Rolling Stones song "Brown Sugar" is an absolute atrocity, and I can confidently say that Mick Jagger is a vocal god in comparison to whoever the fuck is singing this.
Listen to Me and You and a Dog Named Boo
Listen to Love Her Madly
Listen to Brown Sugar
Download the whole tape
40 Super Hits of 87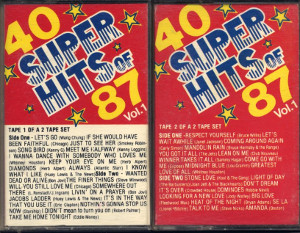 When I was a kid, I purchased this two tape set brand new at Woolco back in 1988. It came in a slip case (which is long gone) and I haven't seen another copy of this 2 tape set since. It's quite amazing I've held onto it for so long. However, even back when I bought this, I knew I had flushed my $7.98 down the toilet after listening to it. When you're a kid in the 1980s, $7.98 is a LOT of money.
Some of these renditions have popped up on the blog in the past (performed by the Countdown Singers or some bullshit), but it just marks the transfer of ownership of the shitty master tapes, and I can't help but wonder how much they were purchased for. Nobody knows who the hell does these songs, but I believe they all originated here in Canada.
The beginning of "Don't Dream It's Over" doesn't sound like "Don't Dream It's Over". The Bryan Adams song "In The Heat of the Night" doesn't sound like Bryan Adams. The Eddie Money song is actually pretty close to the original except for how low the singer's vocals are mixed and how crummy the female vocals are. Bon Jovi's "Wanted Dead or Alive" is completely ruined here, along with "Livin' On a Prayer".
All the songs on these cassettes seems to have some unintentionally added vibrato, as if the duplicating machine had a wad of chewing gum stuck to it's capstan. You'll also notice that all the high end on this recording is distorted as fuck, as if it was played through a drum cymbal before being mastered.
Most of the other songs are relatively unknown or weren't very popular. Hell, I didn't know Herb Alpert was recording music in the 1980s. I have more of these tapes made by CMG Music, and I plan to eventually get around to reviewing them.
Listen to Don't Dream It's Over
Listen to In The Heat of the Night
Listen to Take Me Home Tonight
Listen to Wanted Dead or Alive
Download Tape 1
Download Tape 2
And that's it for my birthday! I hope you had a great time celebrating it with me, and hopefully you'll go apply for a cake decorating job at Safeway to make my 41st birthday a little bit better.