Hey everyone! I decided to go digging into my queue box for something other than cheap imitation compilation cassettes. I found a bunch of country "artists" who, for the most part, aren't very artistic and try to do their own cheap imitations. All my efforts and you still get terrible song covers. Oh well, you can't blame me for trying! So grab your horse and throw him in the mud while we attempt to stuff cow shit into your ears.
Mike Woods - Life in a Song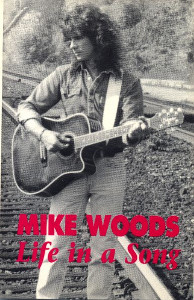 To be honest, this is the best tape in the bunch. Although this guy is apparently country music, he doesn't have the typical wad of toffee in his mouth and an over-used whiny-ass slide guitar. He's just straight up original, and might I say quite listenable. He also has hair that I want to run my fingers through.
My only complaint about this album is he split the songs down the middle, putting all the soft acoustic stuff on the first side and all the electric and upbeat songs on the second side. I prefer it when artist intertwine the songs so the album doesn't get boring. However, the songs on here are perfectly enjoyable regardless of what side you're listening to.
Sorry, I know you were expecting something shitty. Don't worry, we have three more albums coming your way...
Listen to Life in a Song
Bennie Karman Plays a Little Bit of Everything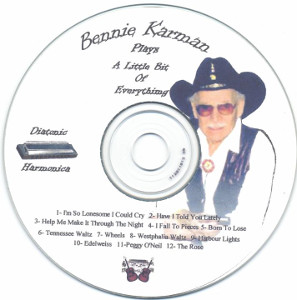 So I'm looking at the songs on this disc, and I'm not seeing any Iron Maiden, Celine Dion, or even any 2pac. The fact that Bennie sticks to old country songs (except for another cover of The Rose) means this album title is a dirty fucking liar. This is NOT a little bit of everything. I was hoping to hear some Kanye West on the Diatonic Harmonica. Speaking of which, why the hell did this harmonica get it's own space on the CD label? What is the significance of it being diatonic? Perhaps some space should have been reserved for Bennie's sweaty old DIATONIC cowboy hat.
As I hinted in the above paragraph, all these songs are played on the DIATONIC harmonica. Most of them are played decently, but the rest of the band is a bunch of midi instruments. The DIATONIC harmonica is the only real instrument on here.
Most of these songs on here have been covered to death, so I chose to feature the song "Wheels". The funny part is I don't even know who the hell did the original version of "Wheels", so I can't really knock Bennie's rendition of it. However I have never heard it played on the DIATONIC harmonica.
Listen to Wheels
Clarence Snow Stefanson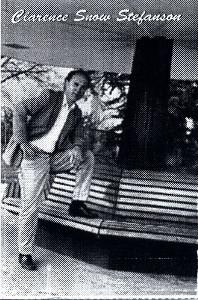 If you look at the cover, you'll see it's snowing very heavily..... or it's the newspaper half tone quality. Either way, nobody gives their kid a middle name like "Snow". If his middle name actually is "Snow", then someone needs to take their steel toe boots over to Clarence's parents house and have a very good talk with them about the dangers of naming your kid after frozen water dust.
Clarence gives you 23 whopping tracks on this album because: fuck being stingy. I can't figure out if these are karaoke tracks or if he's got a real band on here. There are absolutely no credits on the inlay, just Clarence's phone number in case you want to call him for a good time. All in all, he's not the most terrible screamer you'll ever hear, but he's not the most exciting orgasm you'll ever have either.
I've included the longest, boring version of "Wind Beneath My Wings" that you'll ever hear, and his extremely terrible rendition of "Are You Lonesome Tonight" where he practically tells the listener, "Fuck you, I'm not doing any of this talking shit in the middle of the song".
Listen to Wind Beneath My Wings
Listen to Are You Lonesome Tonight
Doug Mooney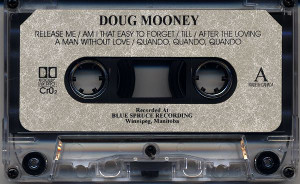 You wanted terrible, you got terrible! First of all, I don't have a cover for this tape. I have no clue if there ever was one, but it would be nice to see what an old man looks like when he's crying from having his stretched-out ballsack being pinched to the floor by the microphone stand. This tape is fucking terrible, and if you know any of these old songs (most of which are Engelbert Humperdinck and Elvis covers), you will want to stand on that microphone stand and make him sing like Mariah Carey (because nobody likes or knows any Mariah Carey songs, and we don't give a damn if somebody sings them badly.)
Doug gives his worst Tom Jones impression on "Delilah" and can't hit the high notes very well. However, his worst song on here is "Man Without Love" by Engelbert Humperdinck. He gets way too fucking excited during the chorus and starts speeding ahead of the backup singers, making himself sound like an ass and ruining the song for everybody. Hell, you don't even need to know the original song to know how badly he's fucking it up.
Listen to Delilah
Listen to A Man Without Love
That's all for this round! If you haven't been following my Facebook page, you'll realize that you've missed out on the Junq Tour videos! You can start watching them below. See you next time, hopefully with less cow shit in your ears so I can re-fill them.