A few years back, I covered the "
Celebrity Answeralls
" series, which contained prerecorded messages for your answering machine. There were other stuck-in-the-closet companies who did similar tapes, and I found three more of them. These damn tapes are kinda difficult to find, probably because nobody wanted this shit. Since I covered the Celebrity Answeralls back in 2012, these are the only ones I've come across. Were they worth it? Maybe one was, but the other two are pretty lousy. Let's get to it...
At The Sound of the Beep... Hollywood & TV Classics Volume V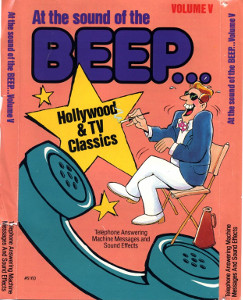 Five volumes of this shit? Seriously???
This isn't too far off from the Celebrity Answeralls series, but if you thought those were bad, these ones are fucking atrocious. This cassette covers TV shows and movies that were popular from the 1960s to the early 1980s. They also had the courtesy to spell things incorrectly such as The Addams Family (Adam's Family) and Gilligan's Island (Giligan's Island). If they can't spell the names correctly, you can imagine how bad the messages are.
Listen to James Bond
Listen to 2001 - An Answering Machine Odyssey
Listen to Giligan's Island
Download the whole piece of shit
No Hang-Ups Tapes Volume IV: Sound Effects Only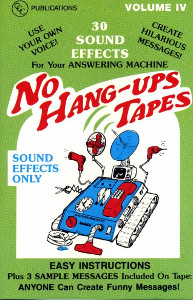 For those of you who are funnier than the assholes who made the previous tape, you're in luck. You can make your own shitty messages with these 30 sound effects. Now just think of that concept... This is a sound effects compilation disguised as a tape for your answering machine. What a sorry-ass way to cash in on your stupidity.
As a side note, I've heard most of these sound effects before, mainly because I own a CD called "Over 100 Hollywood Sound Effects". Yes, I actually own sound effect CDs, and I actually did put them to use when I was making novelty mashups back in the 1990s. For a sound effects CD, the quality of this one is pretty good. It doesn't sound like it was recorded on an asphalt driveway, unlike some of the other sound effects CDs I own.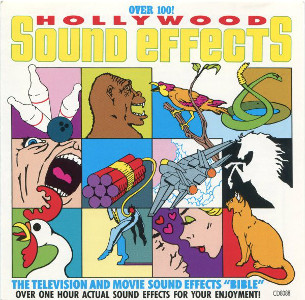 Anyway, there's a couple of scraps worth sharing. The moaning effect is pretty good with it's background music, and there's some sample messages (likely from the other volumes)
Listen to Moaning
Listen to a sample message #2
Download the whole thing
No Hang-Ups Tapes Volume I: General Messages - Female Voice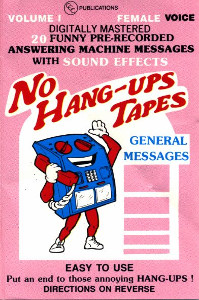 This is the best one out of the three. The people writing these messages had to actually use their brain, but they came up with some decent messages.
I'm honestly surprised they didn't put a warning label on this tape. Some of the messages are a bit... ummm... adult oriented. Apparently, volume 3 is all adult messages. Too bad I haven't found that one yet! Anyway, here's some messages, a download link, and feel free to put these on your voicemail.
Listen to Hi Sexy
Listen to A Dog's Revenge
Listen to Cat's Meow
Download the whole tape
That's all for this round. It felt refreshing to do something other than shitty cover bands for a change. Perhaps I'll keep my ban on crappy covers, at least for the next entry.