These cassettes came from a number of random places, and they looked interesting as hell. I love stuff that comes from radio stations, because you never know what's going to be on them.
First, let me give you a run down of the radio station in question.
Q-94 and 1290 Fox were sister stations, one on the FM dial and one on the AM dial
Q-94 FM was Winnipeg's lite rock and pop station for many years, playing current hits that won't piss off your parents, unlike that evil 92 Citi FM station that played all that demonic AC/DC shit.
1290 Fox for the longest time played music from the 60s, 70s and 80s. Back when I was around 10 years old, it was my station of choice, and I listened to it quite a bit. Kevin McGowan was the morning show host.
Eventually, 1290 Fox decided it was a dumb idea to play music on the AM dial, and decided to become a sports station which broadcast sporting events, had interviews, and whatever else sports people like to listen to.
Football Cassettes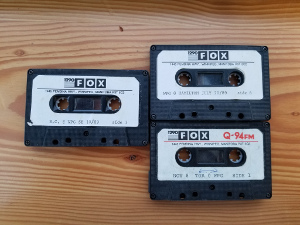 Our first batch of cassettes containg recordings of football games. Judging from the labels, they recorded football games on multiple cassettes and possibly re-broadcasted them. These cassettes are incomplete recordings of three football games. I honestly couldn't give a shit about the football games themselves, but the commercials are where the gold is at. A lot of the places being advertised no longer exist in Winnipeg which is what makes them so interesting. I've pulled the commercials from the cassettes, put them in a wave file, tried to eliminate duplicates, and can present you with a snapshot of Winnipeg radio from 1989, which is interestingly around the time I was listening to 1290 Fox. Here's a list of what's in the audio file:
Rorie Street Marble Club
Space Age Therapy quit smoking
Seal Test Fruit Fantasy Fruit & Yogurt Bars / frozen yogurt
kevin McGowan 1290 Fox
Manitoba Lotteries
Skinner's Wet & Wild
Bryant Air Conditioner
Foster's Lager
Blue Cross
Don's Photo
Kildonan Place
Pembina Dodge
Palamino Club Country Rock Club
Manitoba Lotteries (Great Moment in Football)
Weight Watchers
Eastwood Jeep Eagle Premier
Winnipeg Sun
1290 Fox end football game
1290 Fox Loyal Listener
Manitoba For & Mercury Dealer
Seal Test Parlour Ice Cream
Tetley Tea
Eastood Jeep Eagle
Simplicity Sun Runner Mowers
Belair Air Conditioning
Westroc Battery
Weight Watchers
Eastwood Jeep Eagle
Kildonan Place Food Court Construction
Perkins (new restaurant)
OV Beer
Don's Photo (One Day Photo Finishing)
Henry Armstrong's Instant Printing
Pembina Dodge
A&M Wholesale
Astra Savings
Winnipeg Jets Tickets
Don's Photo (Bell Bottoms!)
Blue Cross Student Accident Insurance
Strawberry's bar
OV Beer
Polar Building Cleaners
Remember, Polar Building Cleaners doesn't just clean the ashtrays and door knobs! Also, put the bikini on mothballs!
Listen to the commercials
Midway Chrysler's "On Hold" Tape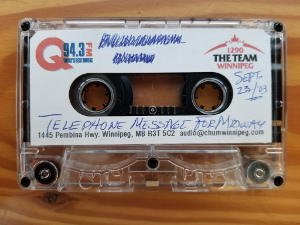 This tape came in a piece of telephone equipment I found at the e-recycler (I still have it, but it's likely buried in a box of stuff that needs to be sorted). It was a unit that was used to play a recording when a person was on hold. In this case, the unit came from Midway Chrysler in Winnipeg which is obvious given the cassette inside. It looks like the cassette was recorded at the Q-94 FM / 1290 Fox station. The background music is in stereo which will work really good on a telephone from the 1980s. The interesting part about this recording is it tells you about Midway Chrysler's website, and gives you an alternative option to contact them if you're not on the internet yet. My guess is this recording is probably from around 1995.
Listen to Midway Chrysler's On Hold Tape
The Life of Brian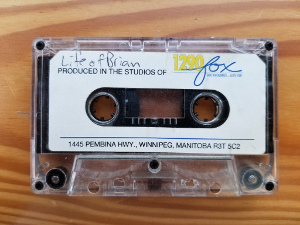 He grew! He has eyes, legs, hands and feet! And that's the entire contents of this short song. My question is, who the fuck is Brian???
I really don't know what the point of this song is. It's really stupid, but that's what makes it so charming!
Listen to The Life of Brian
So there's a few slices of Winnipeg history, yet again. Gotta love finding stuff like this!