Before I dive into my first record store on the tour, I'm going to give you a little summary of what I hope to accomplish. I'm judging the store on their overall presentation, and my goal is to come out with at least one good album and one terrible album. Everything in-between is a given. So here we go...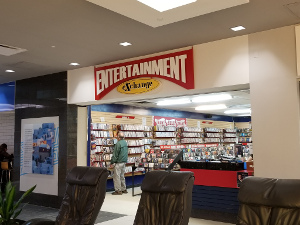 Location: Grant Park Mall in Winnipeg, Manitoba
Rating: 8/10
The Entertainment Exchange was my first stop for my record store tour. I've been here before, and they've swindled me out of plenty of my money in the past by selling me some damn good albums. Today was no different. They used to have two locations (one being on Regent Avenue) but eventually merged them both into one. I was really wondering how well they were going to survive over the years, but it looks like they're still doing well, and deservedly so. This store mainly caters to CDs and DVDs, two physical formats that have been fighting to remain relevant over the past couple of decades.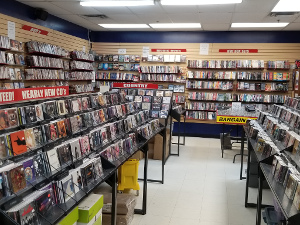 The inside of the store is clean and organized. There was nothing for me to trip over, and there isn't any piles of crap for me to move around in order to see their stuff. The genres are clearly marked along with the artists that they have lots of. What I usually do is pick through the sections that don't have their own artist because I listen to all kinds of weird crap that nobody else has ever heard of.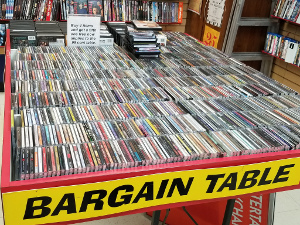 The bargain bin is fantastic. I have raided this bin many times over the years and have come out with mitts full of great stuff that nobody else wants to buy for one reason or another. I pretty much knew that I was going to find my terrible album in this bin which I did after a LOT of digging. It seems they try to keep their grade of stuff somewhat higher than the trash I usually review on this blog.
The one downside with this store is it doesn't cater much to formats other than CDs. There is a small bin of records to dig through, but I didn't find anything amazing in there. There also aren't any cassettes or 8-tracks. If you're into CDs (which are my preferred format), this is a great store to find them.
The Good Album:
The Posies - Dear 23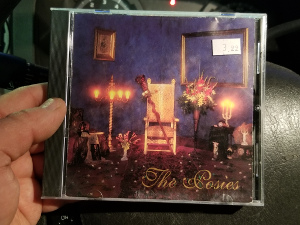 I've been after this album for a few years. I have a downloaded copy, but I always want to have the original. This is a fantastic album and there isn't a bad song on here. The biggest hit The Posies had was "Dream All Day" which isn't on this album. This is power pop at it's best. It's full of acoustic guitars, strong hooks, great songwriting, and an abundance of talent. The best songs on here are
Golden Blunders
,
Suddenly Mary
, and
Everyone Moves Away
, but the whole album is great.
Watch a terrible cover of "You Avoid Parties" on Youtube done by a tone deaf guy who looks like a pedophile, has no sense of rhythm and never blinks.
The Bad Album:
Be Your Own Pop Star '92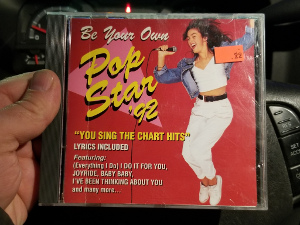 Most of the time, I avoid karaoke CDs. However, the pickings for a shitty album were actually quite slim in the bargain bin. Most of the ones that looked terrible had UPC codes which means the artist had actually put some significant effort into releasing their album which *may* mean they have some sort of talent. The runner up for the shitty album was a band called "Maryland" who released their masterpiece on Panty Records. To my surprise, the album actually turned out to be somewhat decent.
Half of "Be Your Own Pop Star '92" is tracks featuring music hard left and vocals hard right. The other half is stereo versions without vocals. What I've started to notice about some of these CDs that are "karaoke" or "instrumental" versions is they are actually knock-off albums that were released years earlier, and this one is no exception. The only song I had previously is the version of Amy Grant's "Baby Baby" which was released on a cassette called "Rock Calendar '91". I bought this cassette new at K-Mart probably around 1993 and I've been meaning to cover it on this blog. I think I tried making a CD copy of it at one point, but the cassette surprisingly runs longer than 80 minutes.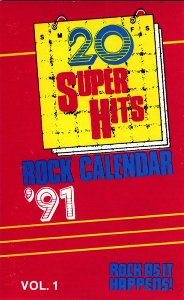 To be honest, I kinda prefer this version of "Baby Baby". Hey, I'm allowed to like one once in a while, aren't I? The version on this CD with the vocal fades out earlier than the cassette. The stereo version without the vocal doesn't fade out at all and stops suddenly as if it got hit by a truck. In other words, none of the three versions have the same ending. However, it was nice to have a version of this on CD because the tape stock they used for the cassette is full of dropouts and hiss. To get an actual digital copy of this, I took the vocal track and mixed it with the stereo music track. Unfortunately, I had to do a speed fix to line them up. For me, mixing my own copy was kinda fun and I'm pretty happy with the result.
The only other decent track on here is the cover of Alannah Myles's "Black Velvet". There's a bunch of the other songs I don't know because the early 90s was filled with a lot of garbage pop songs. The version of Roxette's "Joyride" is pretty bad with it's singers that sound nothing like the original. The most atrocious is the cover of Londonbeat's "I've Been Thinking About You". With the vocal track not being mixed in with the music, you can really hear how fucking terrible the singer is.
Listen to my mix of Baby Baby
Listen to Joyride
Listen to I've Been Thinking About You
The Other CDs I Bought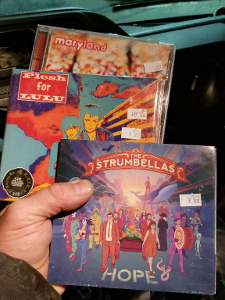 I ended up purchasing a couple others that I was happy to find. I bought Flesh For Lulu's first album. I had previously heard only one song by them, and this album is pretty damn good. I also bought The Strumbellas "Hope" which is also pretty decent. Both of these CDs were a good price.
So that's it for my first installment of the record store tour. It's a decent store. If you like CDs and you're in Winnipeg, this is a good one to visit.