I was going to combine all three Sunrise Records stores into one entry, but after visiting the one in Polo Park mall, it seems that their product is a bit different from the store in Kildonan Place mall.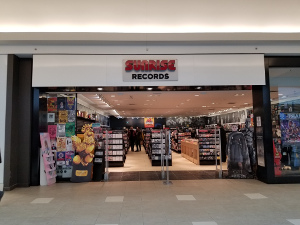 Location: Polo Park Mall
Rating: 8/10
For this review, I had to keep in mind that this is a retail store. Sunrise Records generally sells new products, although I've seen them sell used cassettes. They carry CDs, Records, DVDs, band shirts, and there's a few surprises wedged in between.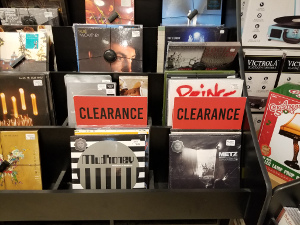 The bargain bin at this store was the shits. There was maybe about ten records in it, and with exception of the Mudhoney record, the rest was unknown crap that was still too expensive.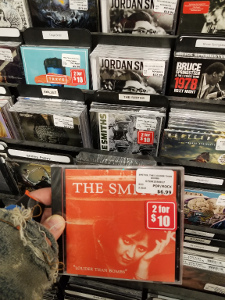 On the plus side, there's some decent CDs here are a good price. Two for ten bucks is right up my alley. I would have bought these two Smiths albums, but I honestly don't know which ones I already own and I'm getting pretty tired of buying duplicates. These shall wait.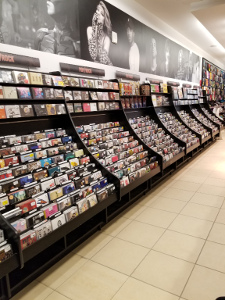 The worst thing about Sunrise Records is they mainly cater to albums that have sold well in the past. There's a lot of greatest hits compilations to buy, so if that's your thing, you'll be in heaven. For people like me who already own all that stuff and/or every album recorded by these best selling artists, it's difficult finding things to buy.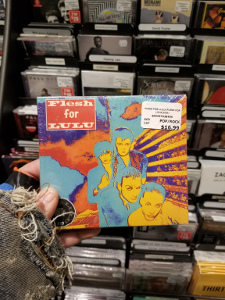 Here's the Flesh For Lulu album I bought at The Sound Exchange. It seems I ended up with a pretty good deal there.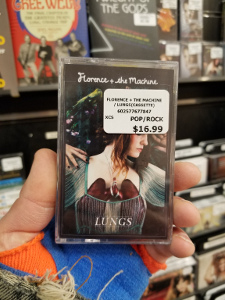 This was a surprise! I never thought I'd see a Florence & The Machine album release on cassette. However, I can likely record myself a better copy for less than $16.99. They don't make Cr02 cassettes anymore, so this was likely dubbed on a plain old Type I cassette without dolby noise reduction. The only value you're getting here is genuine packaging and nothing else. I'd be happier if record companies sold cassette inlays and maybe nice labels for the copies you made yourself, but that's coming close to piracy.
There were a few other albums on cassette along with a small local artist section (which I forgot to take a picture of). What a strange world I'm living in today!
I only walked out with two items, so here they are:
The Good Album:
The 2 Live Crew - As Nasty As They Wanna Be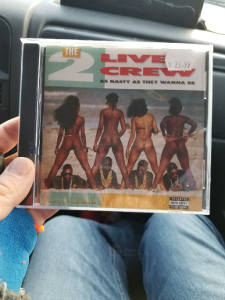 When I was a teenager, copies of this album were getting passed around school on 4th and 5th generation cassettes. I really wanted to get myself a genuine copy, but the album was banned from being sold in stores and apparently retailers were getting arrested for selling it. Over the years, I'd occasionally look into acquiring myself a copy, but every copy I've seen has been way overpriced. Finding it at Sunrise was like completing a 25 year long mission.
This album is probably one of the most offensive things I've ever listened to, but that's the appeal of it. The best songs on here are "Me So Horny", "The Fuck Shop", "Get The Fuck Out Of My House", "Dick Almighty", and I could probably keep going and list nearly every song on the album. I need to find the two albums 2 Live Crew has released. I already own the follow-up album "Banned in the USA" and it's fucking terrible due to them using it to constantly bitch about "Nasty" being banned.
The Bad Album:
Sorrier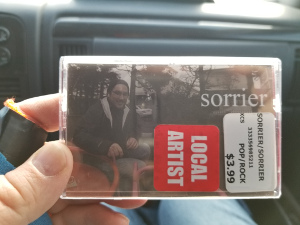 There were quite a few local artists to choose from, so I mainly had to base my choice on the album cover because I was only going to buy one. I ended up choosing what looked like an album with the least amount of effort put into it. You have a picture of a guy at the park with a really generic name. There is no website information on the cassette. As an artist, it's a bad idea to give a great big "fuck you" to yourself and your own promotion. After some digging, I found this guy's bandcamp page, so
here I am to fill in the blank
.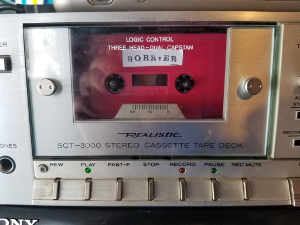 As for terribleness, the cassette is plain pink with a small cut-out label stuck on it that's peeling at the corner. Absolutely lovely. The music? It's not the worst thing I've ever heard. It's just him, his guitar, and his plugged nose trying to become the next Elliott Smith. The songs aren't completely awful, although they kinda sound the same after listening to all five in a row. The last song has him talking in it, so that's kinda unique in an Elvis kinda way.
The recording quality isn't terrible for a plain old shit-brown Type I cassette, but you're not going to find any Dolby noise reduction here, although using Dolby on a Type I cassette makes it sound like it was dipped in mud. Side 2 is blank, so you can record some real Elliott Smith onto it if you put a piece of Scotch tape over the record hole.
It came with an MP3 download code which I could easily use to put a song up for you guys to hear, but I figured it would be more fun to pull it directly from the cassette.
Listen to Don't Be Alarmed. Call Me Tomorrow.
I probably could have found something worse, but I'm not going to spend my hard earned money on retail prices for experimentation. Everyone should just mail me their album for free and I'll make fun of it at their expense.
Guess what? After a very long break, I'm making an appearance on Amateur Hour again! Time to book your flights to Winnipeg so you can tune in to 95.9 FM at 5:00 central on March 11th. We will be doing a spring flooding special.... Yes, at long last, you get to hear a whole hour of terrible versions of "Bridge Over Troubled Water". We will have appearances from such CGE favourites as The Banner County Singers, Barbara McAfee, Teo Mance, and many more!
If you're too cheap to fly out to Winnipeg to hear this hour of wonderfulness, then I suppose you could
stream it live here
.