I have a few piles of knock-off 8-tracks, so I figured I'd get some of them out of the way. First on the chopping block is Anne Murray.
Anne Murray is one of those celebrities who can apparently do no wrong. She's an activist, has her own charity, and she's a proud Canadian. Her songs are so innocent and virginal that she qualifies to be a nun even though she has two children. Her singing voice has always sounded like a middle-aged woman who does the dishes every night. Also, she's kept the same shitty hairstyle since birth.
The funny thing about Anne Murray is she recorded her debut album on my least favourite record label of all time. I can tell you that this is probably the only GOOD album that Arc Records ever put out. I also have no desire to invest my money into the rest of Anne Murray's catalog.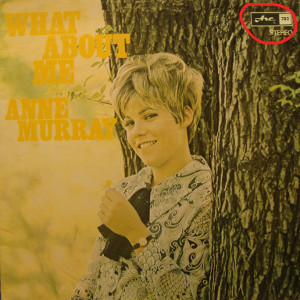 But we're not here to talk about the real Anne Murray. We're here to talk about Anne Murray impersonators.
Thunderbird Singers - Golden Hits In The Style of Ann Murray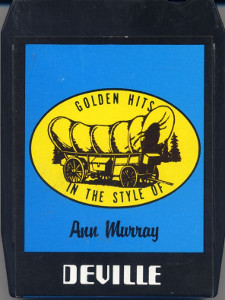 I've covered lots of these Deville 8-tracks in the past. I believe they're the exact same record company as Fantastic F. I was certainly in for a surprise when I discovered how much the woman singing actually sounded like Anne Murray, although we're supposed to be talking about "Ann Murray", whoever that is. If I didn't know better, I would say that this is in fact the real Anne Murray.
Look at that nice cover. They probably stole the picture of the wagon from a can of dog food or something.
The back of the 8-track has the word "Thunderbird" written all over it. We have "Thunderbird Productions", "Thunderbird Recordings & Entertainment LTD", "(C)1978 Thunderbird" and "Artist: Thunderbird Singers". They could have gone a bit further and called each song "Thunderbird Theme 1", "Thunderbird Theme 2", etc.
I'm really quite surprised at how good this tape sounds. The audio is clear, clean, and sounds really good. But then there's program 3. The right channel is blank. How in hell do you fuck that up? Every other track is fine except for that one! Not only that, the last song of program 3 gets cut off at the splice. Why couldn't they do that on program 4 so it sounds like the Anne Murray impersonator gets shot at the end of the album? I would celebrate this tape if they did that!
So yeah, this one is quite impressive for a knock-off except for all those technical fuck ups.
Listen to Snowbird
Listen to Put Your Hand In The Hand (that gets cut off and has the blank right channel)
Thunderbird Singers - In The Style of Anne Murray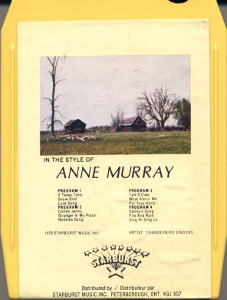 Yes, this is the same album except these are no longer golden hits, the right channel on program 3 isn't blank this time and fake Anne Murray doesn't get murdered. Either Deville/Fantastic F was bought out by Starburst, or they just changed their name. Instead of going for the "can of dog food" look, they just plastered a picture of Uncle Joe's old farm onto the label.
Hits! Made Famous by Anne Murray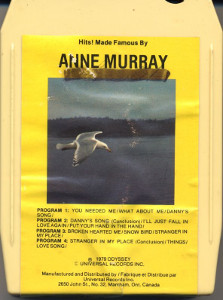 Oh look! We get a picture of a goddam seagull. Is that supposed to represent a snowbird? I'm pretty sure if you unspooled this tape and fed it to a seagull, it would eat it. Those damn birds are nothing more than flying goats.
This isn't the same album because the singer sounds like Rita MacNeil, which makes sense because I think she was best friends with Anne Murray. If she wasn't, then they at least should have been friends since they wrote songs for the same shitty genre.
This one just isn't as Anne Murray-ish as the last one, but at least they spelled her name right.
Listen to Danny's Song
I have a stack of Engelbert Humperdinck tapes to tackle, so perhaps we'll do that in the next installment just to get them the hell out of my queue.