Every time I walk out of this thrift store, I'm usually carrying a real gem covered by feces. This year was no exception. There's a lot of content here, so let's get to it...
Ronnie Prophet - Prophet Pickin'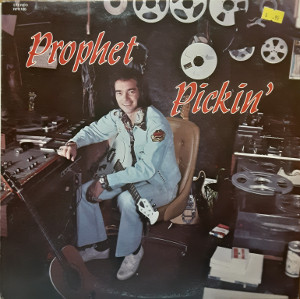 I have absolutely no clue why I plucked this one from the massive pile of records. Perhaps it was my assumption that he was some religious guy, or maybe it was the fact that it was on "Prophet Records", but my God, what a stellar record! It's weird and wonderful guitar-centric music and I absolutely love it! There's a fantastic version of Wildwood Flower on here, and a really trippy cover of Ghost Riders in the Sky.
Apparently, he's a Canadian who ended up on the island of misfit performers (Branson, Missouri). He probably got kicked off for being too talented. This guy is like a cross between a Canadian Jimi Hendrix and Mike Oldfield. He did all the multitracking himself and the guy can certainly play guitar. He also added some weird effects to some of the tracks, but instead of making it sound like garbage, it adds to the charm of this record.
Ronnie Prophet died in 2018 and this album is long out of print, so I have shamelessly made the whole thing available for download. This one is going into my personal collection.
Listen to Ghost Riders In The Sky
The Rock 'N' Roll Circus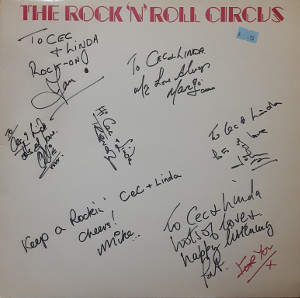 Yup, it's a fucking circus alright, and all of the members scribbled on the cover. Apparently, this record belonged to Cec & Linda who were lucky enough to escape from the circus, but not without taking a few souvenirs with them.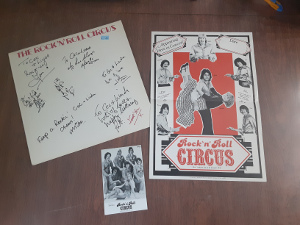 Yup, they got an undated poster and a post card. They probably stole some hotel towels too. On the plus side, I have a new poster for my bedroom! Taco meat will be in my nightmares.
So, let's talk a bit about this one. They had enough money to print all these inserts, but fuck putting a track listing on the back of the album. It's completely blank. Also, although this band would qualify for the island of misfit bands, these guys were apparently in London, England. You poor Brits had to put up with this shit? And lastly, they look like leftovers from the Doobie Brothers and Peter Frampton's backing band.
This album is full of cornball covers from the 50s and 60s. It's exactly how you'd expect those songs to sound in the 1970s - campy and sweaty.
Listen to the Everly Brothers Medley
Angela Kelman - Cafe Brasilia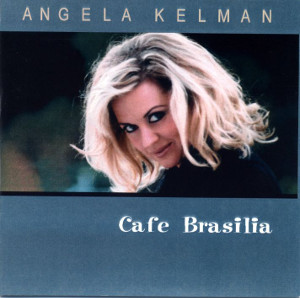 Ever feel like songs like "To Sir With Love" and "My Cherie Amour" are way too fucking exciting for listening? Not to worry, Angela sucked the life out of them for you. The insert of this CD is absolutely blank. No booking information, no thanking God, no fuck you, just selling itself on Angela's bad hair dye job. We have some flowers on the back, but we can get better ones from the Henrietta & Merna video.
Note to self: Don't visit Cafe Brasilia, wherever the hell that is.
Vern Durksen - What a Healing Jesus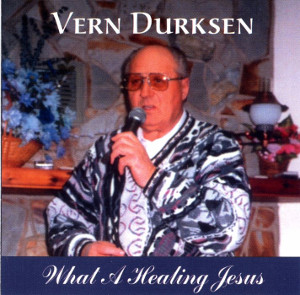 Looks like it's karaoke night at the funeral home!
I'm trying to figure out how to read the title. Here are some possible ways...
"What? A Healing Jesus?"
"What a healing Jesus!"
"What a healing, Jesus"
"What a piece of shit, Jesus"
Vern Durksen is like the Bette Midler of gospel music; Kinda boring and kinda shitty. The only difference is Vern is old and kind of annoying. Oh wait, that's also Bette Midler.
Dave, Duane & Neil - One Nation Over God (or Together Again!)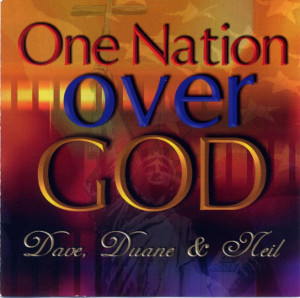 How many old men does it take to make a shitty gospel album? Well, the answer is apparently three.
On the album cover, we seem to have a combination of the mandatory religious sunrise, some jail bars, and a picture of the Statue of Liberty holding a cross instead of a torch. Who the fuck came up with that idea? They need to stop taking their old person medication which is obviously messing with their brains.
Surprisingly, their website is still up and you can buy this album, their other album, or their live DVD which seemingly has more attendees than a Travis Scott concert.
The baritone is laughably bad. It's like listening to a Ween song with Gene's voice slowed down, but even funnier because you know damn well that he's trying to sound like that to sexually energize all the old grannies in the nursing home. Time for some new depends, ladies!
Listen to Set Me On The Rock, Joshua
Mollie B - A Song For Everyone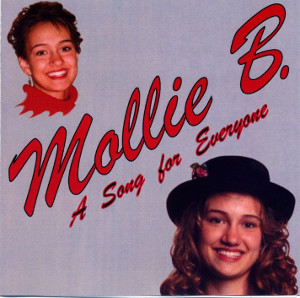 As I look at the track listing, I fail to see a song for me. I shall go into the corner and cry.
This is a crappy jazz album featuring standard jazz numbers such as "Zip-A-Dee-Doo-Dah", "I Fall To Pieces" and "Rainbow Connection". I really don't have a problem with someone covering a song by Kermit The Frog, but can't you at least make it just as magical (if not moreso) than the original? I also have to admit that "Rainbow Connection" is the only reason I bought this damn CD, and I hate it.
Deborah - Soteria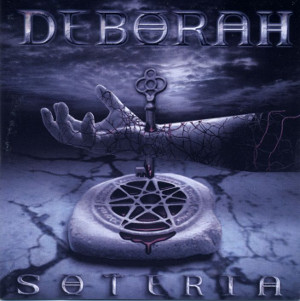 Yes! We're finally getting to some Christian Death Metal! The first time I ever heard Christian Death Metal was when I performed in a battle of the bands competition. I honestly didn't know Christian Death Metal existed and was astounded that some idiot thought it was a good idea. Here I am, twenty some-odd years later, and I'm still astounded that it exists. This kind of music goes well with growling about Satan, but growling about your love for Jesus? How the fuck does that work?
When this album started, I was actually enjoying it's heavy fast-paced guitars and drum beat. The singer is always the one who makes or breaks the song, and Deborah broke the fuck out of it. Yes, it's a female growling about how much she loves Jesus. She sounds more like she shoved in her tampon too far and is choking on it.
In case you don't believe this is a Christian band, here's the lyrics to the song in the forthcoming link...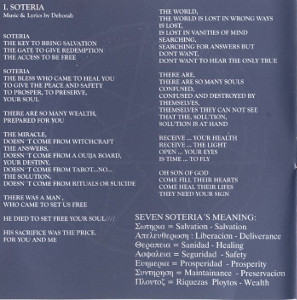 This CD was brand new in the cellophane. I took it out, looked at it, and it's got a big fucking scratch on it. How the hell does that happen? Usually that happens when the retainer in the case is broken, but the retainer is fine. It just came pre-scratched. I'm guessing it was the work of Satan. Anyway, I had a problem extracting the first song (which is ten fucking minutes long), so I copied it manually by playing it in my CD player. It took me a while to realize that the damn thing was skipping because much of the song sounds like it was already skipping. I don't think any of you will cry at my failure to extract all ten minutes.
Quest Musique Recitals 2011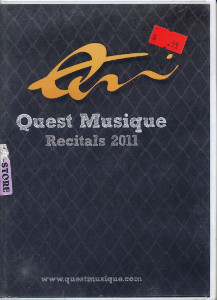 This is a three DVD set. I figured it was just some local bands or some shitty musicals, but holy fuck what a monstrosity this one turned out to be! Talent is far and few between, and most of this is mediocre to horribly awful covers of classic songs. There's some really boring stuff on here, but you know I'm gonna filter all that shit out. Quest Musique is a music store in Winnipeg, and because I'm a musician myself, I've made multiple purchases from there in the past and will continue to do so. It's a very good music store! I'm guessing that they give music lessons, but given how awful this DVD set is, I wouldn't be broadcasting that.
I'm bringing you a total of 14 videos that range from one excellent performance to a whole pile of dog shit. Let's get to it...
Angeline The Baker
I feel really bad for this poor girl. You can pinpoint the minute that she starts holding back the tears because she knows how much she sucks at the violin. Her evil parents were probably trying to shove the violin down her throat and all she wants to do is play with Barbie dolls. This violin performance is worse than nails on a chalk board
Rocket Queen (Guns N' Roses cover)
This kid is YOUNG, but he's doing a pretty good job at beating the piss out of those drums. I also had to ask... What the hell is a kid this young doing listening to Rocket Queen by Guns N' Roses? Then I remembered that I was probably about his age when Appetite for Destruction came out and all my classmates were listening to Rocket Queen. If you didn't know, there is audio of Axl Rose and a woman named Adriana Smith having sex during the break of the song.
Little Bones (Tragically Hip cover)
The Tragically Hip is on the list of my two most hated bands (the other is Meat Loaf). I genuinely can't stand listening to them, and they play them on the radio all the time here in Canada. I'm a pretty terrible Canadian by definition; I don't like coffee (or anything from Tim Hortons), I have absolutely no desire to watch hockey, I'm not French, and I don't like the Tragically Hip. However, I would take any recording by The Tragically Hip over this absolutely horrible cover of one of their songs. It's so bad that even Youtube can't figure out what it is.
Have Faith In Me (A Day To Remember cover)
I've never heard of this band, but here's some girl who can't sing them very well.
I Want To Hold Your Hand (Beatles cover)
This guy thinks he's gonna sit under the bedroom window of a girl he like and play this shit. He'll be lucky if she doesn't drop a sofa on his head.
Bye Bye Blackbird (Miles Davis cover)
Well, since it's Jazz, I guess she doesn't have to sing in time (or on key)
Star Wars Theme
Someone needs to use this for a Star Wars parody on Youtube. If you do, have at 'er!
Aces High (Iron Maiden cover)
Rolling, turning, diving... It's like watching a truck fall off a bridge. On the plus side, the kid on bass is kinda cool. The singer needed to throw his vocal cords in the garbage after this one.
Tom Sawyer (Rush cover)
If you ever wanted to hear the whiniest Geddy Lee impersonation that ever existed, this is it. The best part of this video is the drummer. The guy beats the piss out of those things. Neil Peart would be proud!
Don't Stop Believin' (Journey cover)
This is the worst one on here. It's also one of those "so bad it's good" videos. I've watched it over and over, and I never get tired of how awful it is. The girl singing is giving it the fucking diva treatment, and it fails really badly. Half of the guitar player's hand has fallen asleep and is tripping all over the strings. It's just pure crap at it's finest.
American Woman (Guess Who cover)
Okay, fuck the guitar solo, fuck singing in time, fuck playing in time. Youtube hasn't figured out what this is either.
Bad Medicine (Bon Jovi cover)
Hey look! I guess the singer from Aces High didn't throw his vocal cords in the garbage after all, but he's still not great. The kid on drums is pretty cool and the girl on bass is just so fucking chill. It's interesting watching all of these misfits performing together.
Love Story (Taylor Swift cover)
This one doesn't sound bad when it starts. To be honest, the first girl actually seems to have a spark of talent. Then the girl who sang in the Journey video comes in and fucks it all up. Thanks a lot.
Poker Face (Lady Gaga cover)
I decided to end this one on a positive note. This version of "Poker Face" is sung by two girls who are sisters, and they're very talented. I could listen to this all day.
We have one more stop in Brandon, and I'll be getting to that after I move all my shit into my new work space. Yes, it's all done, and I'll be posting pictures of the glorious mess. It's become evident that I'll have to invest some cupboards for some of my junk. I suppose that will come in due time.