On Thursday, I was finally able to wrap up Agnes's Journal. It took almost 4 months to post 105 entries.
Now, for those of you who have been paying attention, you may have noticed as early as a month ago (if you looked at my favoite books) that I have yet another Journal to put online for your reading pleasure (or displeasure).
The Journal was written by a woman in her mid-20s named Kim. One thing that distinguishes the difference between Agnes and Kim is that I've actually met Kim.
At the time of writing her journal, Kim was a single woman in her 20s. She is also a Jehovah's Witness. I inherited her journal when she gave me her Commodore 64 back in the mid-90s. I was able to extract her journal using a program called The Star Commander: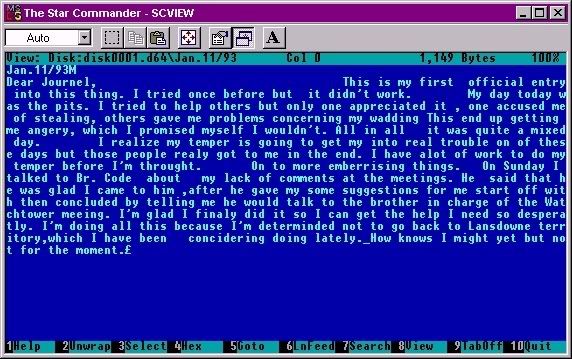 Kim's spelling is atroucious, her joural is extremely depressing, but her entries are nice and short. Her journal only spans about one year as opposed to Agnes who's journal spanned a total of 8 years.

So now, I bring you Kim's Life Journal. Enjoy!