I haven't written an album review in a while, so I figured I'd do one. I also want to start giving my albums a rating using a scale of 1 to 10 (1=shit, 10=kick ass)
Anyway, here is another offering from the Springboard label which I came across about a month or two ago. You may remember the first album I reviewed from the Springboard label,
The Complete Music from the Movie Sgt. Pepper's Lonely Hearts Club Band as Performed by Abbey Road '78.
Springboard seems to be notorious for their long-ass album titles.
This time around, we have
The Hits of Elvis Presley Vol. 1 as performed by Bucky Dee James and a bunch of Hoopy Drunken Yokels from Nashville
. If you look at the
unofficial Springboard discography
, you'll see that Vol.2 does indeed exist. This is by no stretch the first Elvis tribute album in existence. Many people are aware of the "popular"
Golden Ring Elvis tribute albums
that likely graced the K-Mart bargain bins at some point in history.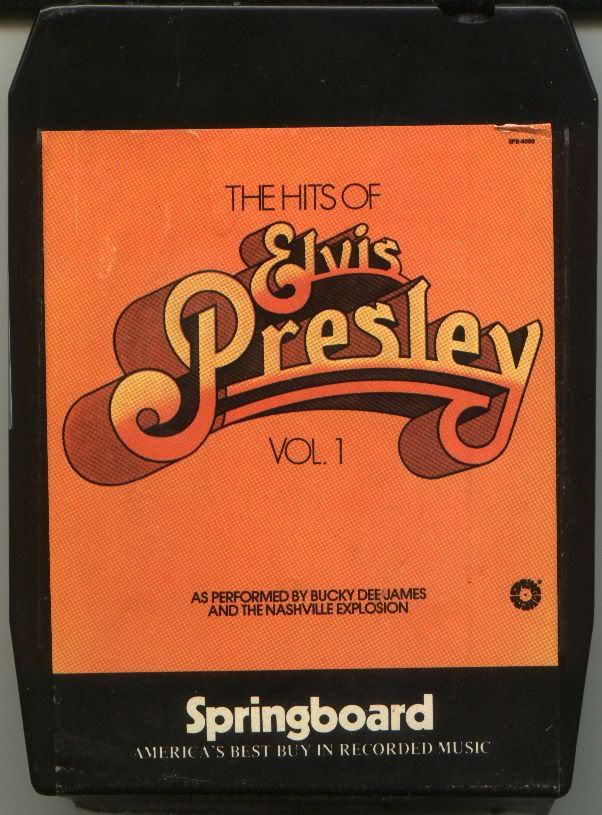 Poor Bucky and his gang aren't the stars of this album, as their band name is put into fine print on the album cover, and Elvis Presley gets all the credit. Of course, Springboard is hoping nobody reads the fine print and buys this 1977 bargain bin 8-track thinking that it's full of genuine Elvis tunes.
The album is around 15 minutes long, since Elvis didn't bother writing songs much longer than two minutes, and Springboard milked the consumer by releasing a 30 minute collection of Elvis songs as two seperate volumes. Here's what we get in Volume one:
- Heartbreak Hotel
- Love Me Tender
- Blue Suede Shoes
- Don't Be Cruel
- Hound Dog
- All Shook Up
- Teddy Bear
- Jailhouse Rock
- Stuck On You
I must say that Bucky and his Nashville Explosion perform the songs quite well... I mean well enough for a crappy Elvis impersonator and a bunch of studio musicians. The vibrato in Bucky's voice on "Love Me Tender" sounds like it was created electronically. If I warbled like that, I would take myself in for repair.
CLICK HERE TO LISTEN.
I give the album a rating of 4/10
Here's where it lost points:
- The shitty performance of "Love Me Tender"
- Bucky's name in fine print (1/2 point)
- Boring album cover (1/2 point)
- It's not real Elvis
- Bucky tries too hard to sound like Elvis
- It's only 15 minutes long
- Incorrect lyrics sung in "Don't Be Cruel"
Other than that, it's the best not-Elvis collection that ever graced the earth. Okay, so I lied... The Golden Ring series is probably the best not-Elvis collection that ever graced the earth and Bucky's album, in comparison, is a piece of shit.
Believe it or not, Bucky also released another album on Springboard where he does nothing but Glen Campbell impressions. If I ever come across it, you bet I'll be writing about it.