Way back in January 1995, a selected group of people had won a trip to see the Superbowl in Miami. No, not Miami, Florida where the game was actually held, but in Miami, Manitoba where the game was shown on a TV in a bar.
Scruff Connors and Larry Updike who were radio DJs here in Winnipeg hosted this contest, and yours truly caught everything on tape. I faithfully listened to Scruff every morning, and would set up my reel to reel tape recorder to record the remainder of the show that I would miss while I took the bus to school. When I got back from school, I would playback the tape, and listen to everything I had missed.
Reel to reel tape was the only available media in the 1990s which could record hours of non-stop programming, maintenance free - well at least until the tape ran out. I had a few four hour tapes I used for this sole purpose.
Anyway, back to the prank. Here are two sound clips of Scruff and Larry going through the faxes that were submitted into the contest:
Faxes Part 1
Faxes Part 2
Pretty harmless, isn't it? After the 15 winners (and their guests) had gone to Miami to watch the Superbowl, a couple of them got together and complained to the media about what had really happened. Here is the recording of Scruff getting pulled off the air:
Scruff Gets Suspended
And here's the newspaper article (the next day) regarding the incident: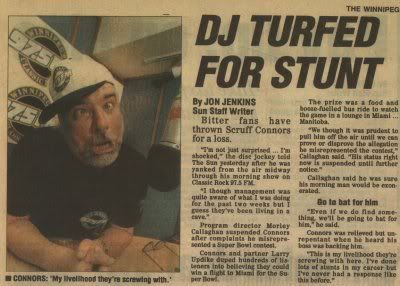 An investigation was conducted, where over 40 hours of recorded broadcast would be gone through, just to see if Scruff or Larry had at anytime mentioned that the winners were going to Miami, Florida. If they had, they would be deemed guilty and have the plug pulled on their morning show.
After the recordings had been gone through and the word "Florida" was never mentioned, Scruff was allowed to return to air. He didn't show up:
Scruff Calls The Station
And finally, here's the recording of him returning to work, dedicating a song to those who helped in pulling him off the air:
Scruff Returns!
This was not the first time Scruff had pulled radio gags.
According to Wikipedia
, Scruff held a contest in 1990 for listeners to see "New Kids". Limousines pulled up, and out walked mothers with newborns!
Now tell me that's not funny!