Winkler is a small town in Manitoba. A small town with 16 churches! Just look at this map: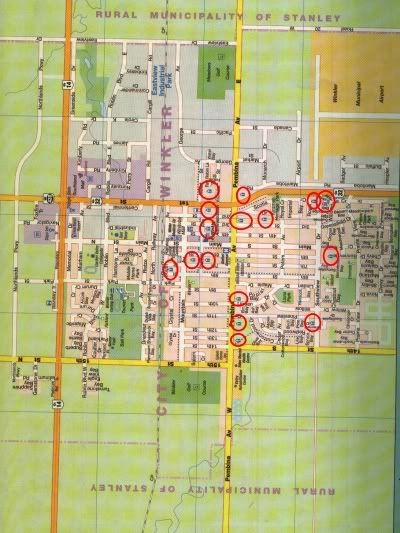 And if you can't find a suitable church in Winkler, take the five minute drive over to Morden (another small town) where there's
23 more to choose from
.
The thrift store was obviously over-run with Christian material. I bought a couple of things that looked somewhat interesting:
Ghoti Hook - Sumo Surprise
WORST ALBUM COVER EVER. Musically, they're okay. They're a Christian punk rock band. The singer has a really horrible fake accent though. If you're going to sound british, then get a british singer! Still, I wouldn't mind hearing the album of cover songs they did called "Songs We Didn't Write" because we all know how much I like hearing other people's renditions of popular songs.
Five Iron Frenzy - Quantity is Job 1
This is apparently a Christian ska band, again decent on the talent level. This album gives us an okay cover of Electric Light Orchestra's "Sweet Talkin' Woman"
But the real treasure here is the spoof musical "These Are Not My Pants (The Rock Opera). I generally hate musicals, so I tend to enjoy the hell out of anything that spoofs them. I've put the entire Opera online for your listening pleasure. There's a very good chance that you will NOT be able to sit through the whole thing because it's really fucking retarded.
Click Here to Listen!
The best treasure I found in Winkler isn't at all Christian related. It's a record entitled "Good Housekeeping's Plan For Reducing Off-The-Record"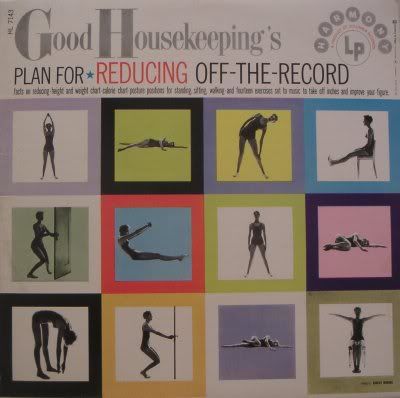 There's an entire series of these things, but I'm guessing I've got a fairly early version which makes it all that much more entertaining!
Trim down that double chin with this exercise:

I really can't see how anybody can take this exercise record seriously with the music that they've chosen. I think the purpose is to degrade the fat woman into making her feel absolutely rediculous while doing these exercises. To see what I mean,
click here and listen to exercise #2
.
On the plus side, if you splice some of these segments together, you can make your own animated audio porno!
Here's the one I made
.
Next installment in the Junq Tour: The Pas, Manitoba. I found some fantastic stuff there!