....and I got one:
Archie Wood and his Friends Christmas Album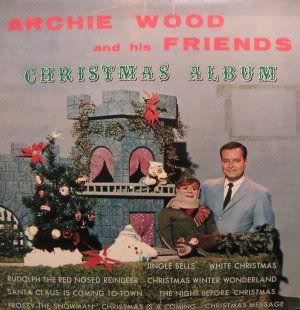 This album was essentially created by four people:
Bob Swartz: All vocals and voices
Agnes Forsythe: Creepy Organ Player
G. L. Bazin: Recording (the guy with a tape recorder)
Gil Savoie: Album Cover (the guy with a camera)
And that's it. The Album sounds as good as four people can make it sound, even though the camera guy didn't do squat except take the picture. The record was pressed and distributed by nobody. The only identifying mark on the record label is "E-500-A" which leads me to believe that the production was done by a robot. Perhaps it was done by Robbie the turkey-eating robot whom is mentioned on the album.
This album (unlike the
Funtown
album) has all original recordings. Not a sped-up Anne Murray song in sight.
Anyway, here's Uncle Bob playing the part of Petite the dog, singing "Frosty the Snowman". Petite wasn't squeezing her balls hard enough because she's flat on the high notes.
CLICK HERE TO LISTEN!
And if you'd like to hear the entire thing (I doubt it),
the whole thing is available for download
on the Christmas Yuleblog.
Also, please forgive me for being a bit sluggish with the entries. After all, it is Christmas and I'm busy as hell trying to make it a good one :)