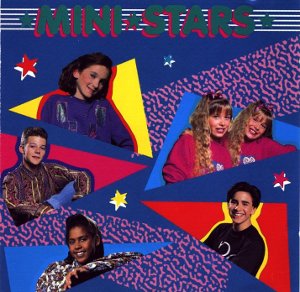 I'm heading back out to Ashern for the week, so I figured I'd squirt out a quick blog entry for your enjoyment.
After the original Mini Pops were dropped in 1989, Quality records (who released the final three Mini Pops albums in Canada) decided to continue making albums with kids singing pop songs. Thus, the Mini Stars were born. These kids don't have british accents, so I highly suspect they were Canadian.
This is the second-worst fucking thing I've ever listened to (the first is here). If you listen to the original Mini-Pops albums, the kids are all pre-puberty with the occasional adult backing the vocals just to make it sound a bit more full. In this horrible follow-up, the kids have entered puberty and their voices have changed. All the kids who haven't entered puberty do the back-ups, giving it a Sammy Davis Jr. "Candy Man" sound. The song "This Beat Is Technotronic" is mis-labelled as "Pump Up The Jam".
These song renditions are completely terrible. I have a feeling that there were NO kids who enjoyed this unbelievable piece of garbage, and were much happier spending their money on the original albums done by Roxette, New Kids on the Block, and MC Hammer.
First, I'm delivering to you this hilariously bad and somewhat re-written version of "U Can't Touch This".
LISTEN HERE!
I pulled this second song out of a Medley. I'll warn you now, this hurts both the ears AND the brain! I really wish this kid didn't fall for Leader Of The Pack:
LISTEN HERE!
My sincerest apologies for doing that to your ears, but if I have to go through the pain, so do you!
Download the full album
HERE!