It's been a while since I've been on tour, but the next month or so is going to be jam-packed with adventure! I was able to travel up to Thompson and browse the thrift stores up there. But before I get to that, here's some pictures I snapped along the way...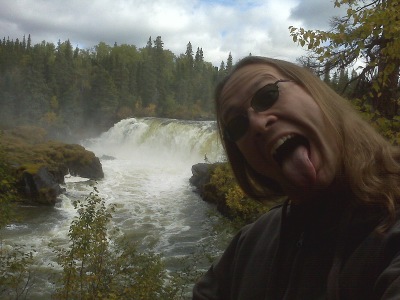 This is me enjoying the beautiful sights and sounds of Pisew Falls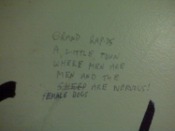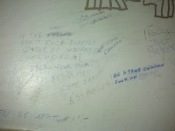 Here's some lovely graffiti on a gas station bathroom wall in Grand Rapids.
And now, straight from Thompson....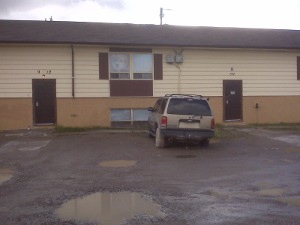 It's 392 Thompson drive! Why is this significant? Three years ago, I posted a recording of my Uncle talking to a prank caller
in this post
. This is the building he lived in. What a fucking dump.
Anyway, enough of the scenery. Let's get to the goods...
There are two thrift stores in Thompson. One is on Thompson drive, and is full of mostly terrible junk. The only thing remotely interesting was the Christian blooper video of 100 Huntley Street which I didn't buy. Come on, this isn't Jerry Springer for chrissake!
The other thrift store is on Fox Bay, and was jam packed with stuff. I spent a whole $1.50 on the crap you'll see and hear below...
As a side note, this blog entry should be alternatively titled, "Talentless Album Art Directors"
Hits of the 50s Vol. 1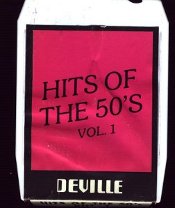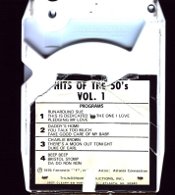 Pink background, black letters. This is what you're getting folks! It may not be by the original hits by the original artists, but these are hits of the 50s!
Wait a minute, what's "Runaround Sue" doing on here? That was recorded in 1961.
HEY! What's "Bristol Stomp" doing on here? That was recorded in 1961 too!
Jesus Christ, "Da Doo Ron Ron" is on here as well! That was recorded in 1963.
I got fucking RIPPED OFF!
Now, for your pleasure, here is "Beep Beep" originally done by the Playmates (yes, this is a hit from the 50s - I wouldn't rip off the loyal readers of my blog!) The assholes who recorded this version used a pussy-ass synthesizer to simulate a horn. It sounds just as funny as a squeaky fart.
Listen to Beep Beep!
Instrumental Gold Vol. 1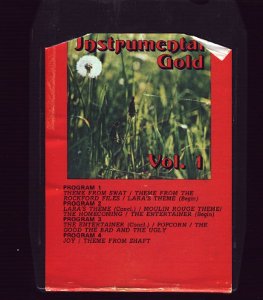 Art Director:
We need cover art for our new "Instrumental Gold Vol. 1" album. Any ideas?
Photographer:
Sure, we could rent some musical instruments and take a picture of those!
Art Director:
What? You're fucking crazy! I don't have that kind of money!
Photographer:
This is a record label. You make all kinds of money!
Art Director:
This is "North American Superhits"! We sell our albums for $2 each!
Photographer:
Oh, sorry. I thought you were a real record label
Art Director:
Never mind that. Go take a picture of those dead Dandelions outside. That'll give the listener a good clue of how great this album sounds.
Photographer:
Okay, boss!
And if it wasn't Moogy enough for you, they tried to make the song Popcorn even more Moogiful! It doesn't even sound like real popcorn anymore, and the Moog player messes up playing it.
Listen to Popcorn!
Wayne Bartlett - The Dream Still Lives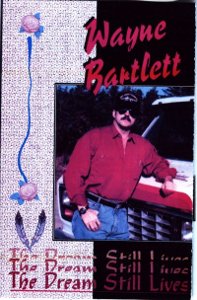 I love it when people flip through their photo albums to choose a photo for their album cover. They see one, point, and say "THAT ONE!!!" Wayne Bartlett released this cassette in 1995, but the photo screams "1983!" I love his giant sunglasses, his trucker's cap, and his 1983 Chevy van. Also, nothing says "manly" more than those big puffy pink flowers on the cover, thanks to Wayne's wife's lovely art direction.
The scary thing is this is Wayne's FIFTH album. I wonder if the other 4 are just as shitty as this one. I had to listen to this song TWICE to make sure I heard what I heard. Then I checked the lyric sheet, and it was worse that what I heard:
"Just last night I went and peed
On a light pole down the street
I had the urge to show my bird
To that new dog on the street
And all the little doggies
Smellin' to the doggy do-doo
Oughtta be down here in this hole with me
Instead of being up there with you"
The good people at Robinson-Blackmore botched the insert. They printed the lyrics to side one TWICE and completely left out side 2.
I can't help but wonder how many songs Wayne wrote about peeing on random things. Perhaps after I'm done making a digital copy of this song, I'll pee on the tape and see if Wayne's singing improves. On second thought, maybe not. I don't need to be cleaning piss out of my lovely Onkyo deck.
Listen to Heart Like A Grindstone!
And that wraps it up for Thompson. Next on the Junq Tour, we get to re-visit the thrift store in Ashern!